TV Placements
When it comes to increasing exposure for your business, you have to be innovative.
In an age of on-demand, streaming content, you may be tempted to write-off TV as a viable marketing channel. But you'd be wrong.
Sure, people may not watch TV like they used to. Commercials can be easily skipped and TVs are being traded in for tablets and Smartphones.
We all watch TV on our own time now. Services like Hulu, Netflix, and Amazon have done away with the concept of commercials in between programming.
This leaves no place for you to air your $3,000-$5,000 thirty-second commercial in a regional market. If you do, it's likely to fall on deaf ears.
Yet, there is a way to get audiences engaged with your brand through TV.
You just have to make it part of the shows that audiences are still tuning in for, such as live sports, local news, daily lifestyle shows, talk shows and late-night segments.
With the right approach, we can get you a 3 to 5-minute segment on air for free.
It just takes some creativity, pavement-pounding, and dedication.
Create segments that are relevant and engaging
To ensure traction, we'll create stories that viewers will be interested in.
These could be relevant to current events or something seasonally timely, or tied to sharing universally useful information.
For example, Tropical Cafe made excellent use of flip flop day: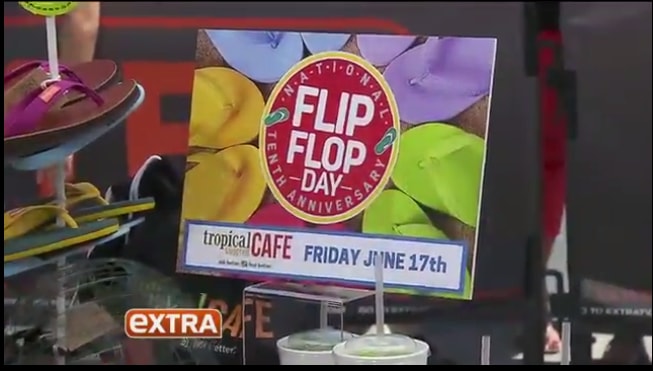 No producer is going to air a thinly-veiled advertisement for your brand or product during their news show.
However, if you are an expert in the field sharing useful information that doesn't focus specifically on something you're selling? You'll get much farther.
For example, as saltwater pools gain popularity in the US, a pool maintenance company could create a segment that talks about "5 steps to transition from chlorine to saltwater."
As Jane Doe from Magic Man Pool Cleaning, you're getting brand exposure and access to an audience that's interested in pools – and you positioned as an industry expert. Win.
Make it worth watching
If you aired this story just sitting behind a desk talking, no one will stay engaged or interested.
We'll help you create visually engaging segments.
This may include live demonstrations, the use of props or b-roll that give the viewer something to focus on and arrests their attention.
Target the right shows
Just because a show is ready to take you on doesn't mean you should commit to any on-air opportunity.
If you go on the news in Phoenix but have a core audience of young adults from Las Vegas, you're not going to get as much value from that segment.
We'll help you target shows which your demographic is likely to watch.
We'll never suggest a pay-for-play solution. Airing a segment during morning and afternoon infomercials is unlikely to yield a viable return.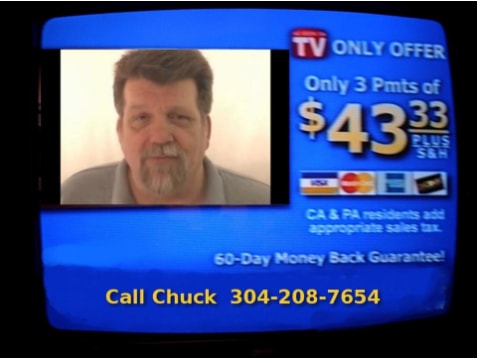 Communities rely on their local news channel for information.
As a result, people trust the news and don't associate the space with salesmen making pitches.
When your segment comes on, they won't skip over it because they'll never feel like it is a commercial to begin with.
Nothing shows your authority better or signals trust in your brand than having a local news anchor or celebrity talking about your company or service.
The benefits just keep coming
Getting on a legitimate and trusted news or morning show provides you with social proof that increases confidence in your business.
We'll capture and professionally present your video in a format that makes it post-worthy and shareable.
Your video can be spun and repurposed in various ways.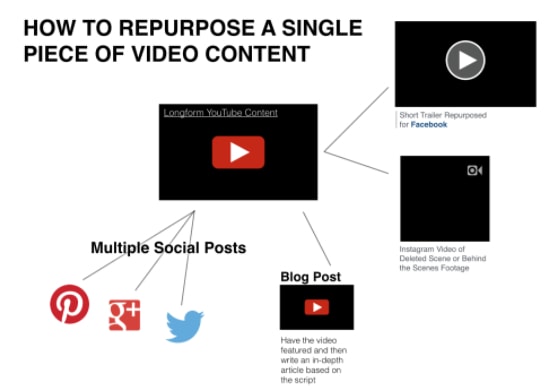 For example, we can turn it into a blog post or remodel it for social media to provide you with extra ongoing exposure.
A dedicated landing page with added value, like videos showing additional details, links to discounts, or other content upgrades, increases the likelihood of scoring a link in the show notes.
These notes are posted on the host channel's website. A link from a trusted news website provides you an invaluable SEO boost.
Lights, camera, ACTION!
Send us a message to find out how we can get you unparalleled exposure from finely crafted TV segments.
FAQ
Why should I consider TV Placements?
Television still draws in an impressive number of viewers in almost any niche imaginable.
Done right, you get an engaged audience and a trusted platform. Viewers stay tuned to learn more instead of tuning out or skipping over your ads.
What makes TV placements so effective?
With TV placements, you are part of the show, not a commercial interrupting the show. When your segment airs, your message reaches your target audience and residual benefits from reusing the video, social proof, brand legitimacy and link gold will serve you for years to come.
Are TV placements right for my business?
Yes, TV placements are great for businesses of all sizes, within every niche. Local businesses and national brands – all benefit from a properly placed, engaging segment.