Search Engine Marketing
To grow your business online, your customers have to be able to find it.
If you're not ranked on the first page of search engine results (SERPs), you might as well not exist. This is because most people don't go past the first page of results to find what they need.
Our team of specialists will act as your trusted confidant to help your brand get discovered.
Our approach utilizes search engine marketing (SEM), which involves both search engine optimization and pay-per-click (PPC), to build your authority and ultimately improve brand awareness.
Get discovered on search engines organically with SEO
Our SEM team will help your brand achieve higher rankings on the popular search platforms like:
To propel your site to outrank the competition on SERPs, we first narrow down and select a target keyword.
Subsequently, both on-page and off-page SEO tactics are used to ensure a balanced approach is taken to organically list your site on the first page.
This increases visibility of your business as a potential solution without having to spend a penny on paid advertising.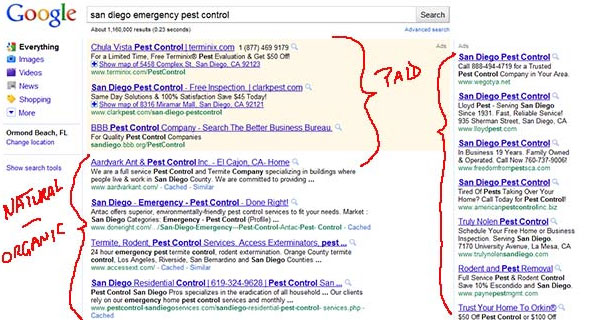 Fast-track your visibility with PPC
Pay Per Click advertising done right doesn't just drive customers to your brand. It provides invaluable analytical data.
What keywords do your customers respond to?
What motivates them to buy?
Before you spend hours of your valuable time and marketing resources crafting SEO driven content for your site, you have to know what keywords to target. PPC gives you that data.
We constantly optimize ads to ensure cost remains low but ROI high, while ensuring views and clicks turn into profit.
We begin by developing an understanding of your audience, competition, challenges, resource capabilities, and your definition of success.
Then we take the time to brainstorm and carefully launch a campaign with a gameplan so that when searchers enter a specific keyword, the first thing they see is your ad.
We continuously work to improve ad campaigns with ongoing testing that meets your objectives at minimal cost.
Don't waste time and money hoping to get found.
Get in touch and let's begin our journey.
FAQ
What are some examples of on-page and off-page SEO tactics you implement?
For on-page:
Well-rounded internal linking to improve navigation and indexing.
Clean up HTML code to ensure tags contain keywords.
For off-page:
Content promotion on forums and niche community websites.
Social media strategy to signal relevance to search engines.
These are just a few examples from a long list of proven tactics we implement.
Is search engine marketing right for my business?
Unless you've time-traveled back a few decades before search engines were popular, your business will benefit in some form (example – awareness, leads, or sales) from SEM.
How do I measure the success of a SEM campaign?
Success depends on your overall objective.
If you're trying to drive awareness, you can track "impressions" of a paid ad or listing. However, to measure success of a lead generation campaign, you can track registrations completed after click-through.
Can you guarantee me #1 spot on Google?
No one can and you should be beware of these kinds of false promises. What we can do is work with you to achieve high rankings for specific keywords and if the circumstances are right, you might reach the #1 spot.
Are SEM and SEO the same?
SEM is an umbrella term that encompasses all activities of promoting a website on SERPs of which SEO and PPC happen to be two popular formats.