Product Page Optimization
eCommerce and digital storefront owners face a unique challenge.
Product Pages need to convince and convert potential shoppers into paying customers, sometimes with just glance.
These pages act as the final step in your conversion funnel.
You've optimized the top-half to bring shoppers in, so you absolutely don't want to mess up at this penultimate stage.
This is where you earn ROI for every marketing dollar spent so far.
Today's online shopping experience is extremely personalized. A badly planned product page costs you money and damages your brand image.
This is where we step in.
We analyze your product pages with laser-guided vision to remove any obstacles affecting your bottom-line.
Optimized product pages must deliver:
A Personalized Experience
Customer segmentation is critical for personalized shopping experiences.
No two shoppers are the same. Factors such as their location, choice of device, demographics, and previous purchase history are all decisive factors affecting conversion.
We audit your site's product pages with analytics to understand the following.
Who are your visitors?
Where do they come from?
Where do they drop-off?
What prevents them from completing a purchase?
Armed with this knowledge, we put in place dynamic product page solutions that act as a round-the-clock salesperson helping shoppers make informed-decisions.
Let's say you run an adventure-sport clothing brand.
A young male from Alaska visits your site.
An optimized product page will show him men's outerwear rather than women's shorts.
Personalization creates a seamless experience that brings customers one step closer to a sale.
Reduced FUDs (fear, uncertainties, and doubts)
Even with personalized experiences, customers can get cold-feet if they don't trust your brand.
Customers look for tell-tale signs that your products can solve their pain point.
We tackle FUDs by using:
User reviews and cross-selling.
These instill confidence as 70% of customers trust opinions of their peers online.
Product descriptions that don't suck.
No one wants to read boring, manual-length descriptions.
Engage shoppers with exciting, shareable descriptions and they'll identify with your brand.
The product description will make anyone want to own this "Boating Blazer" from The J. Peterman Company: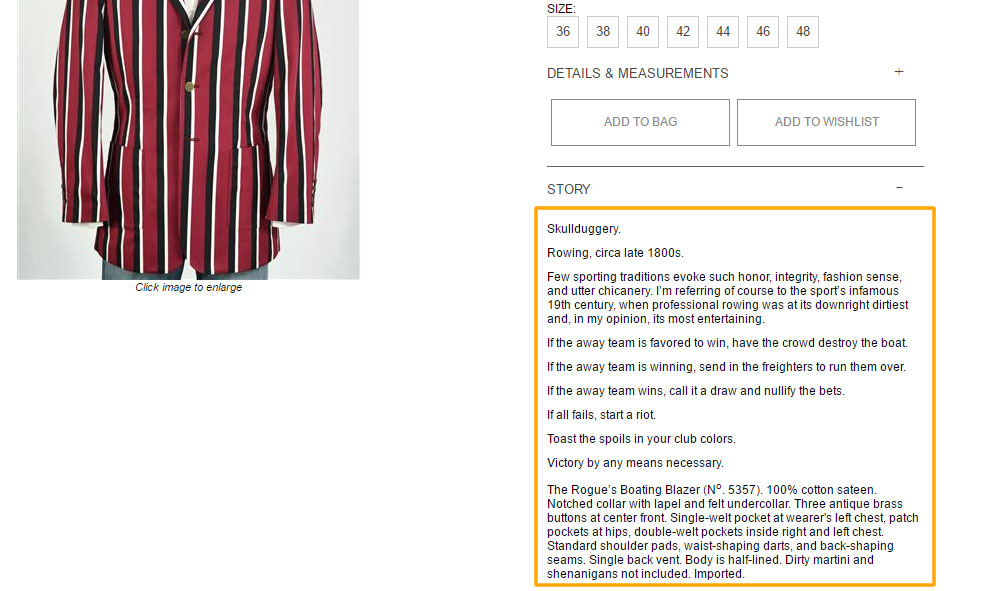 Visual interaction to place products in context.
Replicate a physical shopping experience through high-quality visuals.
Customers can't touch and feel products online – make them feel like they can.
3. Decreased Shopping Cart Abandonment
With shoppers ready to purchase, there's just one final peak to scale: the checkout.
At this stage, customers are extremely sensitive about handing over their information or money.
In fact, nearly 70% of carts are abandoned because brands lose customer trust at this stage. Put differently, poorly designed pages only realize 30% of potential sales.
Reasons for cart abandonment include: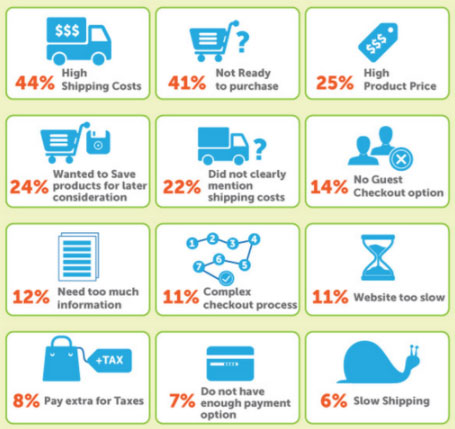 Our cart optimization strategy ensures purchase completion once your call-to-action is clicked.
We turns one-time shoppers into loyal repeat customers, increasing customer lifetime value.
Ready to give flight to your revenue?
Our team is just a click (or call) away, ready to pilot your sales and brand towards success.
FAQ
Do you create and manage entire category pages?
Yes. We help you configure your entire product listing by creating and optimizing the following information related to products:
General details such as product name, description, and keywords
How products are displayed with dynamic sorting based on factors such as price
Custom design
Do you help with product images and/or video?
We will create, edit, or enhance product images to create high-quality zoomable thumbnails and 360-degree rotation that appeals to shoppers.
How about creating listings for online marketplaces?
We assist businesses in listing products on most major online marketplaces such as Amazon and product comparison engines such as Google Product Feed.
I run a brick-and-mortar store but am interested in complementing my in-store experience with an eCommerce store. Can you help me?
Yes, we work with brick-and-mortar stores to develop and execute a comprehensive strategy that encompasses website creation, product listing, website promotion and maintenance.
Do you optimize for mobile eCommerce?
Mobile eCommerce optimization is a necessary component to maximize sales from all channels. Whenever possible we will optimize content for the mobile experience.