LinkedIn Marketing
Marketers have traditionally shied away from LinkedIn.
The platform is widely known as a place for professionals to network rather than business promotion.
Yet, it would be unreasonable to completely overlook this social network.
There are over 500 million LinkedIn users.
Amongst them are decision makers of businesses you wish to work with. Getting noticed and connected with such individuals lets you nurture and convert them into customers.
Rather than using your private account, setting up a business profile is far more effective.
Our team can help you construct customized LinkedIn marketing campaigns.
Optimize your company profile
To start, we'll construct your business profile to match your company's branding.
Our team of designers and copywriters will craft your page with images and copy that speaks directly to your prospects.
IBM's LinkedIn page is visually consistent with its other social media presence and educates visitors with a comprehensive company background.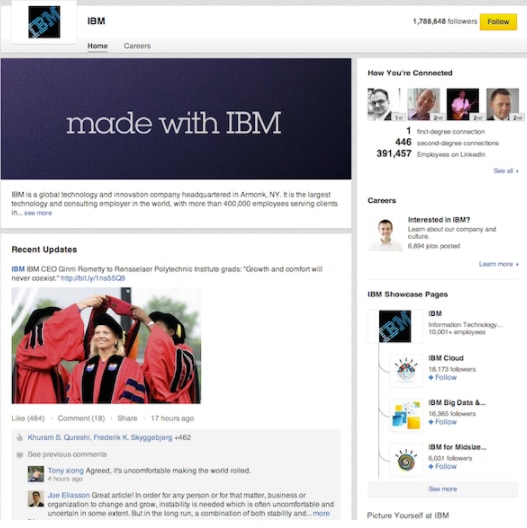 A winning content strategy
To entice visitors and followers to take action, you need to demonstrate trust.
By consistently producing relevant content that readers find helpful and share-worthy, we'll help build your brand's authority.
We will post different formats of content such as:
Blog posts
SlideShare presentations
Infographics
Videos
The content may relate to happenings in your industry, updates at your company, or helpful posts that provide value to your readers.
Build your reputation
Following a "post it and forget it" approach is extremely dangerous.
Rather, we'll help you interact regularly by responding to comments and inmail requests.
We will also participate in LinkedIn Groups on your behalf.
This increases visibility and further strengthens your reputation. We will identify which groups you should be active on and engage with members appropriately.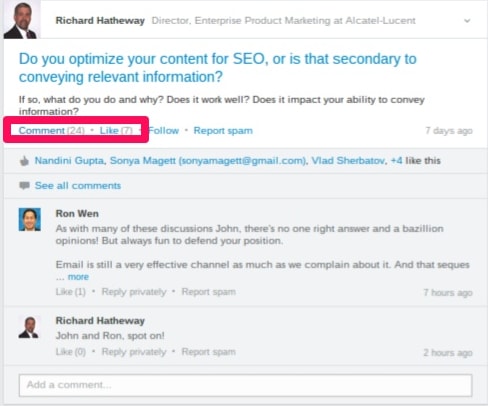 Broadcast your message to the right audience
For those times when you need quick results, paid advertising can be a path to exposure.
We will create advertising campaigns that work hard to ensure money is not spent without results.
We hone in your preferred audience using highly selective target factors.
This may include the industry, job title, or groups prospects associate with. This helps us place your business and message in front of the right people.
Here are a few advertising formats we employ:
Sponsored content
InMail
Dynamic
Leave no stone unturned
Contact us to find out how we can connect you to potential customers with LinkedIn.
FAQ
Is LinkedIn the right fit for my business?
As the go-to business social network, LinkedIn provides value to any company looking to increase their visibility or generate leads regardless of niche.
It's more a matter of a properly crafted message – one that's engaging without feeling like blatant promotion – that will make you successful on LinkedIn.
What's the difference between a LinkedIn page and group?
A company page is dedicated only to your brand. You can directly promote your business here by posting brand related information or content.
A group is a community where like-minded individuals gather. Here, you have to indirectly promote your brand by providing insight in relevant discussions.
Do personal connections automatically carry-over to a business page?
No, your personal connections do not automatically become followers of your business.
Will you provide a detailed performance review?
Yes, we'll share a detailed report with you every month.
This will include information such as clicks, impression, and engagement rate and our opinion on what worked and what changes are needed.