Landing Page Creation
Failing to impress visitors on your landing page?
With less than a second to convince readers to stick around, your landing pages need to act as conduits for conversion rather than drop-offs.
Otherwise, your landing page will be the first (and probably last) impression a visitor has of your brand.
Whether you're running a pay-per-click campaign, a social media drive, or remarketing blitz, we help create high-performance landing pages that create a consistent experience.
This leads to only one possible outcome.
Results.
How do we do it?
By working with you to create clean yet informative landing pages that educate rather than overwhelm potential customers.
A data-driven approach
To begin – we never use templates.
Rather, we follow a data-driven approach to first understand your target audience and their goals in order to create landing pages that speak directly to your customer's needs.
From squeeze pages to microsite-styled landing pages for products with long decision cycles, we build landing pages that are individually designed for your business.
Complete mastery over landing page anatomy
We deep-dive into landing page design to ensure a framework that converts visitors into leads you can nurture and eventually turn into customers.
Our landing pages include the following features:
Design that matches your brand's voice and layout
Killer headline that convinces your visitor to stick around
Copy that focuses on benefits over features
Scannable content that provides a direct path to conversion
A single conversion goal that leads to a powerful CTA to help visitors understand what happens next
Here is the basic framework we follow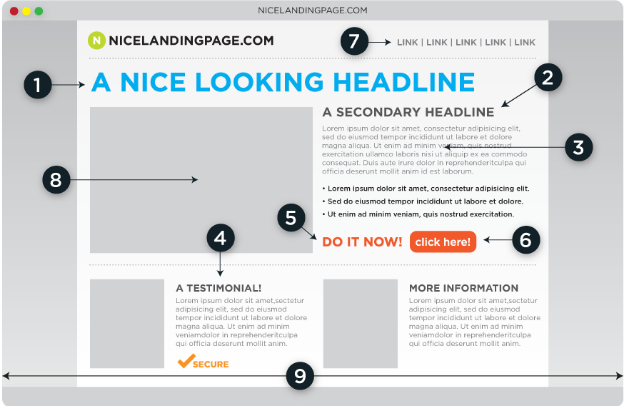 A psychological tinge to tie it all together
Experience has shown us that a conversion-oriented design is more than just changing size of a call-to-action (CTA) button or number of fields on a opt-in form.
While optimization of these elements is important, it only leads to small short-term gains.
If you want massive boosts in conversion, your landing pages need to target user psychology.
Our designers apply psychological principles in tandem with stellar design to create landing pages that visitors can't help but act on.
Some of the principles we employ are as follows:
Well-planned information gaps to elicit curiosity
Harnessing the power of loss aversion with scarcity (limited stock) and urgency (time-bound offers) to inspire action
Telling a great story that audiences can relate to
Price framing to influence visitors to select your ideal price point
You can't help but take action on landing pages which combine these elements.
Optimization with ongoing A/B testing
We truly believe that there is no such thing as a 'finished' landing page.
We continuously run A/B testing (aka split testing) to identify opportunities which we can optimize to deliver better results.
If you feel one element has been overplayed, we'll pitch you new ideas to test.
Stop losing leads unnecessarily.
Work with us to create landing pages that meet expectations, communicate trust and convince visitors to act on your offer.
FAQ
What is a landing page?
A distinct page, separate from rest of your website, built for a single conversion objective.
Why are landing pages important?
By limiting the amount of choice, landing pages make it easy to lead visitors to your desired action.
How do you build landing pages?
We use a combination of landing page tools and coding chops to create uniquely customized landing pages not found anywhere else.
What's the difference between a squeeze page and landing page?
A squeeze page is a special type of landing page designed only to collect email addresses, whereas other landing pages focus on other goals such as sales.
What are examples of A/B tests you run?
Almost anything on your landing page can be tested by running two pages against each other and measuring which page converts better.
Here are common elements we test.
Images
Pricing
CTAs
Headlines
Copy
How long should a landing page be?
As long as they need to be.
If you're asking someone for their email, landing pages shouldn't drag out. On the other hand, if you're trying to get users to buy a $2000 software package, your landing pages will need to be thorough, informative and detailed.
How do you define landing page success?
We measure your landing page conversion rate in comparison to the industry standard.