Link Building
What a Winning Link Building Strategy Looks Like
"The secret to ranking on the first page of Google is great content."
That's almost right…
The truth is that your content also needs to be popular.
There will be occasions when you knock it out of the park and people share your content on their own.
That's not always the case though.
In fact, rarely so.
Most of the time, you have promote your content (despite how great it is) to a group of targeted individuals to earn links.
Modern link building is an integrated process that requires skill in various domains.
Thinking of begging for a link? Buying a link? If low-quality links are your thing, I won't stop you.
But if you want to learn how to earn authoritative links that bring you tons of traffic and boost your rankings, I'll show you how.
Let's begin:
Your Content Must Be Flawless
Before I show you how to build links – let's get one thing straight.
Your content must be flawless.
Consider the risk a referring domain bears when linking to your site. They are directing traffic away from their site and placing their reputation on the line to vouch for the quality of yours.
Backlinks (a hyperlink that refers users from one domain to another) are closely guarded.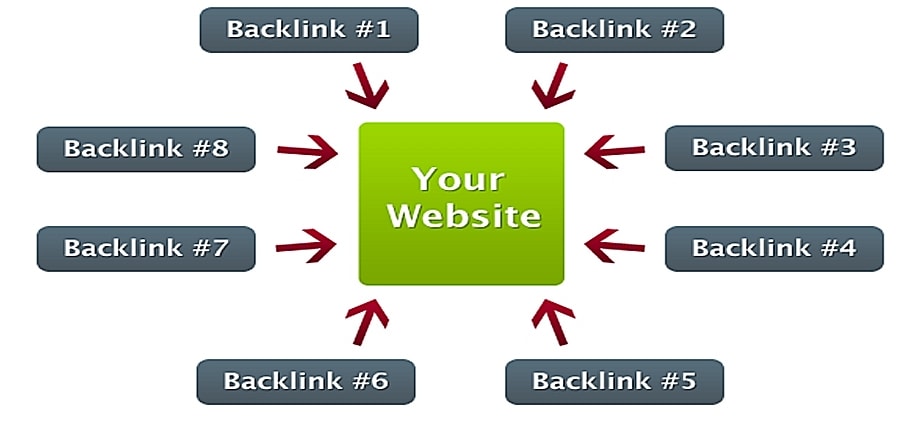 Why would anyone bother to take this risk?
There are two predominant reasons:
You have an existing relationship with their brand
You're a valuable resource for their audience
Unless you personally know a site owner, you'll need to rely on the latter.
So, how do you become a valuable resource?
By creating highly readable content that educates readers or helps them solve a problem. This can be in the form of blog posts, infographics, educational videos, or slideshare presentations.
That's all there is to it really.
Just bring something to the table.
This doesn't mean you need to spend hours creating the best piece of content in your niche.
If that was the case, there would only be a handful of links to go around.
Here are a few ideas of content formats you can start creating right away to provide value:
Original research or new data
There's a shortage of originality online.
Popular content is reworded, rephrased, and respun many times over but all say the same thing or link to the same research.
Content that provides a new narrative or new research is welcomed.
This doesn't have to be difficult.
For example, you might run a survey that asks experts in your niche a specific question and then present the insight as new data.
Moz is famous for running surveys like this: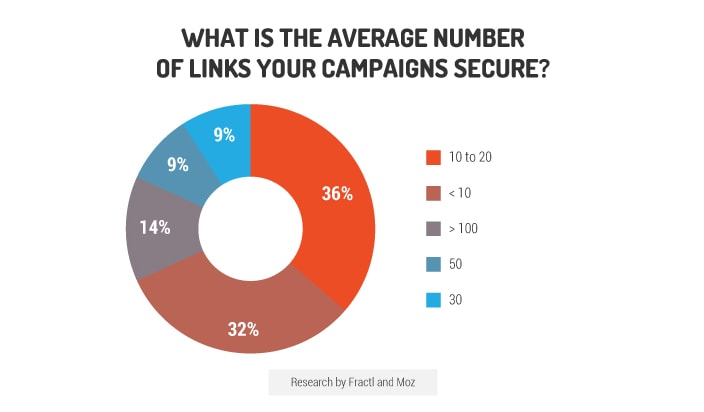 Make sure to include this new insight in your content, expanding on the data and making it useful to a potential reader.
As people become exposed to it, some are bound to link to it or replace their existing links to point to your research instead.
Industry trends and benchmark reports
This tactic is similar to adding original research but adjusted for fast-moving niches.
If your niche changes regularly, recurring industry trends or insight reports that discuss new tactics or strategies can draw in links.
How?
As people rush to spread information about new trends, they need a source to link back to.
Your industry trend report is a great starting place.
Here's an example from a report by MarketingProfs: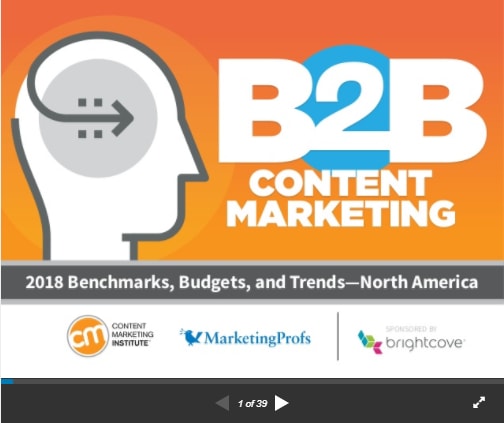 Link roundups are weekly or monthly curations of your industry's best content.
Roundups provide value to readers as they act as the go-to place for readers to catch up on the latest trends and development in their niche.
Here's an example of a link roundup for content marketing: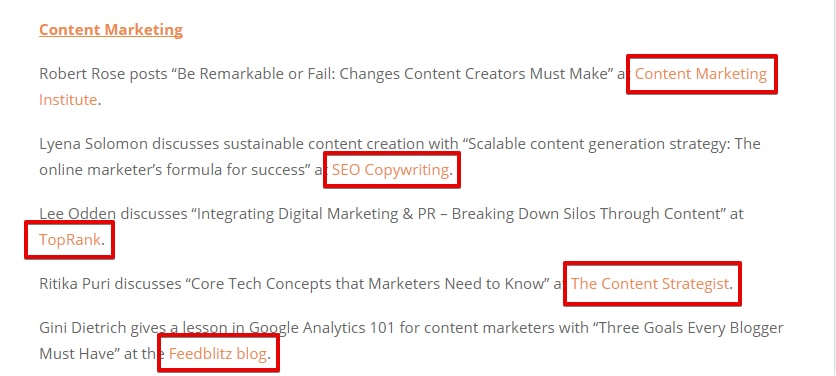 Helpful content for beginners
Ever noticed how there's an abundance of 'how-to' and ''what is' type articles online?
That's because every niche or industry has a learning curve.
People are always looking for helpful content that makes learning new concepts fun and easy.
Content that educates users tends to do well to draw long-term links.
Here's a great example of what helpful content looks like: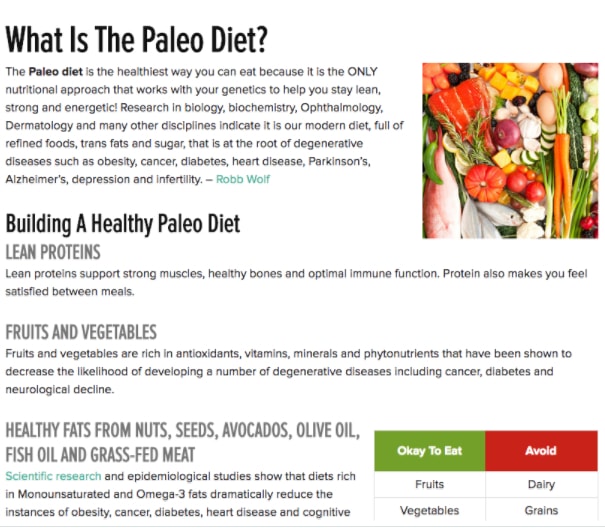 Spend some time creating these types of content (if you're not doing so already). Make them easy to read with page layout, design and graphics.
This will help you convince others to link to you when you reach out to them (more on this later).
Before I share how to find linking opportunities, I'm going to go a bit off-course and talk about technical SEO.
This is necessary because your pages need to be optimized for Google crawlers.
Remember that ranking is a combination of on-page and off-page factors. Optimizing for one but not the other negatively impacts your rank on SERPs.
Technical SEO
In their enthusiasm, many marketers jump straight to outreach when they have some great content.
I can't blame them. Interacting with real people and waiting for a positive reply is much more stimulating than a deep-dive review of technical SEO.
Yet promoting content without the proper technical SEO base is shooting yourself in the foot.
Technical SEO helps your link building campaign in a number of ways:
Ensures you derive maximum influence from a link
You need to be mindful of elements like your header tag, meta descriptions, URL structure, etc.
They are important for building a strong backlink profile.
Why?
If there is any mismatch or discrepancy between what crawlers think your page is about and the pages that link to you, your site will be too 'risky' to rank.
Conduct a thorough sweep of on-page elements to ensure they set the right context.
For more information on why technical SEO is key in link building, head over to our organic search for lead generation post.
Lets you take advantage of hidden linking opportunities
Sites that have been around for a while (whether your own or competitors) are likely to have pages with a few broken (dead) links.
Broken links point to a page that no longer works.

This tends to happen during site migrations or when people rename or move a webpage to a new URL.
Take a minute to think about why this is huge.
Someone out there found a page worth linking to in order to improve the user experience.
Unfortunately, that link is no longer serving that purpose. For the recipient of that link, the broken link is also meaningless as Google's algorithm isn't counting it.
This is your opportunity to jump in and claim that link.
It requires a different approach from the outreach process but it's low-hanging fruit that you absolutely need to pick off.
Let's break this process down from the beginning.
Run an audit to uncover technical snags
Start by running a site-wide SEO audit of your site.
There are many tools on the market that can help you do this but I recommend Screaming Frog.
It's a small (but robust) program you install on your desktop (PC or Mac). It has everything you need to run a comprehensive audit.
When you first run the program, you should see a window similar to this:
Enter your site's URL in the search bar and hit start.

Wait for the program to crawl your site (similar to how search engine crawlers do).
Results will begin to populate below the URL bar in a few seconds.
You should see a bunch of tabs like 'meta description', 'h1', and 'images.' These are clickable filters that let you review different issues in an organized way.
For example, let's say I'm only interested in looking at meta descriptions.
Click on the meta description button and you'll see a drop-down menu from which you can pick various mistakes types.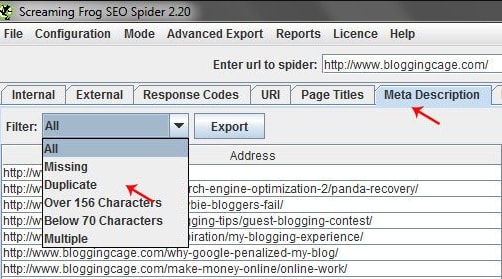 Sorting issues like this helps you make informed decisions on where to focus your attention in order to resolve on-site problems.
Fixing what may seem like a minor mistake can make a big impact on your ranking.
Take time to go through the results and fix all identifiable on-page factors.
When you're confident there's nothing holding crawlers back from understanding your content, it's time to start sourcing places that will link back to you.
Finding Link Opportunities
When you have content worth linking to, there's not much you have to do.
You just have to know the places that are likely to link to you and reach out to them.
I'll go over a few lesser-known tactics that your competition is probably ignoring here. Think of these places as easy pickings.
I've broken this section down by technique:
Testimonials are used to push on-the-fence customers over the finishing line.
Many sites that use them often add a link back to the reviewer's website or social profile to prove that the endorsement is genuine.
You can see this in action on Ahrefs' homepage: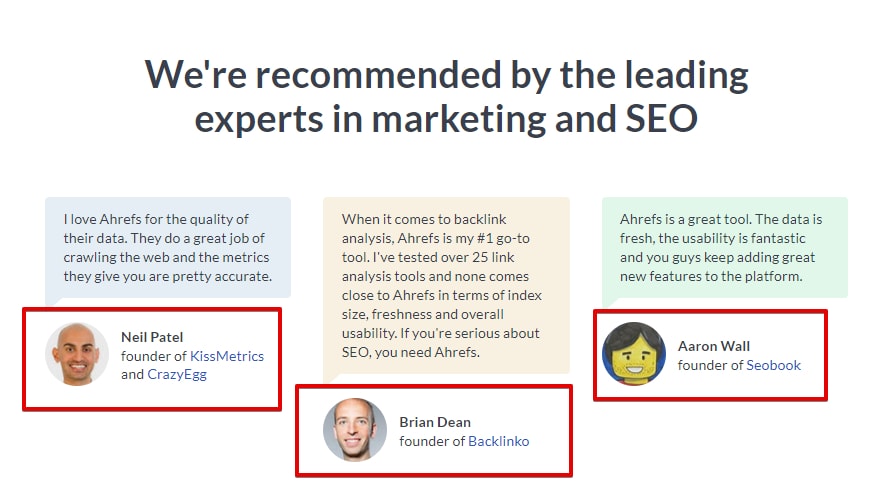 Notice the blue clickable links?
This is a great way to acquire some backlinks without having to ask.
Here's what you need to do to earn testimonial backlinks:
Make a list of products or services you use with the site's contact details
Write a genuine testimonial and send it off
In your outreach email, make sure you let the recipient know that they can use your testimonial on their website.
For example, let's say you run an SEO agency and need some backlinks.
The first thing you need to do is visit each website of the tools you already use and look for the testimonials section.
Are there any? Do they link back to the source website?
Let's pretend the SEO agency uses both Moz and SEMrush for keyword research. However, they find that only SEMrush features testimonial backlinks.

They should add this service to the list of places they reach out to.
If the services you use don't feature testimonial backlinks, consider investing in places that do just to get the backlink.
Remember the link roundups from the previous section under favorable content types?
You're not the only one who's creating them.
Hundreds of others are creating the same type of resource in your niche.
Why does this matter for backlinks?
Creators of these other roundups are actively looking for great content (and links). If your content fits the bill, you can get featured on other people's roundups.
This strategy works well because you're saving a creator's time and making their life easier.
Here are the steps you need to follow to feature on link roundups:
Find active link roundups in your niche
There are a number of ways you can do this.
Google Search
Head over to Google and type in a search query like "your keyword + "link roundup."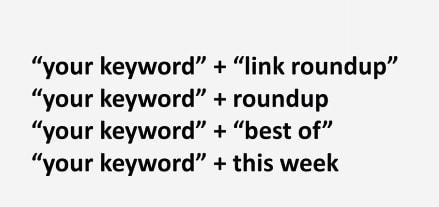 Sort and rank the results based on sites with favorable domain authority.
Note: Domain authority is a metric that marketers use to determine where a website is likely to rank on SERPs for a given keyword.
It's measured on a scale from 0-100.
The higher the score, the more weight a backlink from this roundup will hold for you.
To determine domain authority of a page, head over to Moz or Ahrefs and plug your target link into their tool.
Twitter Search
Twitter is another great option to find roundups.
While you won't find the same volume of results as on Google, many roundup creators are promoting on social.
Use a broad search term here.
For example, here's what I see when I enter "seo roundup."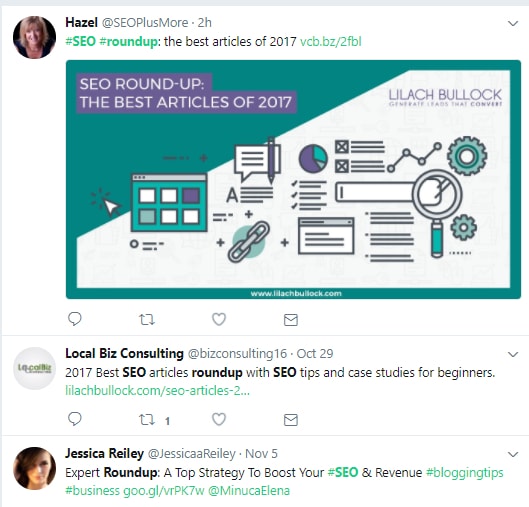 Pitch your content to the roundup owner (more on this later)
As long as you have targeted the right roundups and don't beg for a link, your content will do the talking for you and help you earn a link.
I'm sure we've all been irritated by this experience.
You're reading an article and the author drops a brand name but doesn't link to it. As the reader, you have to navigate to it on your own.
Notice the unlinked mention here?

Unlinked mentions like this can be reclaimed and turned into backlinks.
See, when someone mentions your brand but doesn't link to it, it's usually an honest mistake.
Maybe the webmaster simply forgot or couldn't find your site's URL (a common issue for domains that don't use .com)
To reclaim these unlinked mentions, you first have to find them.
You can do this easily through a tool Buzzsumo, Mention, or Google Alerts where you set an alert every time your brand or product gets mentioned online.

For each mention, browse to the actual source to see if a link is included or not.
If not, send the site owner a friendly email reminding them to link out to you.
This technique tends to have high conversions.
That's because if someone has mentioned you in their content, they probably like you. They won't hesitate to link back to you if you ask them nicely.
Like unlinked mentions, you can also claim broken links.
It's a more advanced strategy warrants its own section. Hang tight for more on that in a minute.
This is the only link building tactic where backlinks come to you.
HARO or Help a Reporter Out is a service that connects journalists with the sources they need to complete upcoming media pieces.
Expect to find the biggest players in your niche here.
Even journalists from Wall Street Journal, New York Times, and Mashable use this platform, which means you can get some real authoritative backlinks.
Here's how to make the most of HARO:
First, sign up for the service as a source.

You'll receive 3-4 emails twice a day from reporters seeking contributions.
Requests are organized by niche which makes it easy to find something relevant.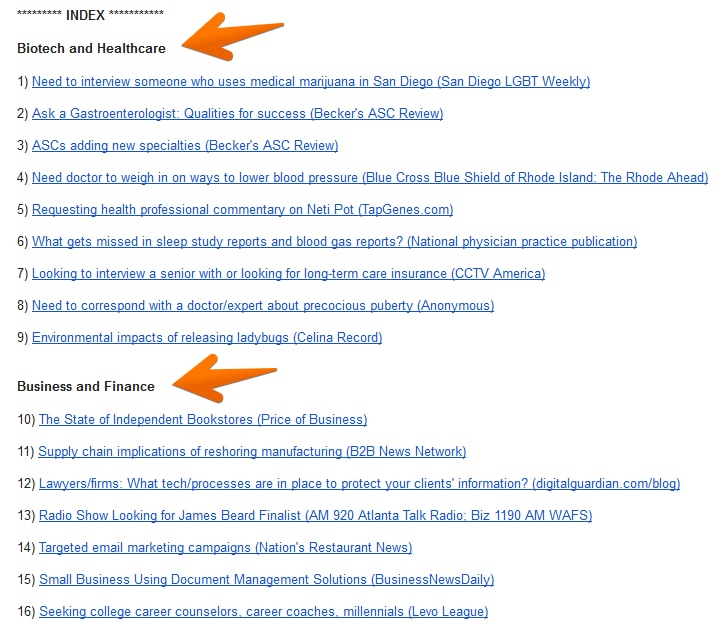 If you're unsure about the value of a link from a certain publication, run their domain through a tool like Ahrefs.
Domain authority is provided right on the dashboard.

Competition is stiff – especially for journalists needing input for authoritative publications.
Provide a detailed response that can be copy-pasted into their article to increase your chance of success.
Make sure to include your author bio and website link at the end of your pitch.
If you're successful, the author will publish your insight along with a link back to your website.
Remember to be patient. Your response may not always be selected but don't let that dissuade you from answering.
By now, guest posting is no secret in the world of link building.
A guest post is when you publish an article exclusively for a third-party website or blog.
It's a classic example of the "I'll scratch your back if you scratch mine" relationship.
By letting you post on their site, the site owner gets to share fresh content without having to put in the effort for content creation.
In exchange, you'll get a backlink (johnson box with author info).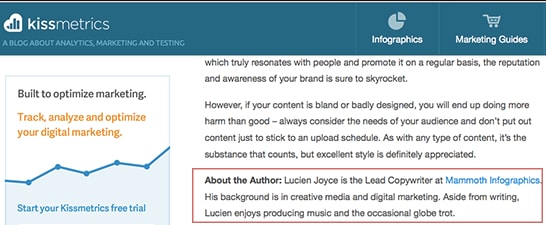 For this tactic to work, you have to provide valuable, relevant content.
It also requires you to pitch your topic very well. There's been an explosion of guest posting in recent years and site owners are flooded with requests.
When reaching out, your focus shouldn't be on the link but rather the value you provide.
I'll show you how to fight through the noise and get your request approved in the email outreach section.
First things first: take the time to find guest posting opportunities available in your niche.
One method is to search for terms like "your niche + "write for us" or "your niche + "guest blog opportunity."
Here's an example of a search in the SEO niche:

While this method does work, everyone reaches out to these sites.
For a higher guest blog acceptance rate, you want to guest post on sites that don't promote guest posting opportunities.
Here's how you can identify these opportunities:
Find a guest post by a popular blogger or influencer in your niche.
Right-click the thumbnail used in the author box and select "search by image." Google will list all the pages where this image shows up.
Since bloggers use one image across the web (for consistency), you'll see all the places they are contributing.
All of these sites are opportunities where you might also guest post.
Here's what I see when I look up Neil Patel's image: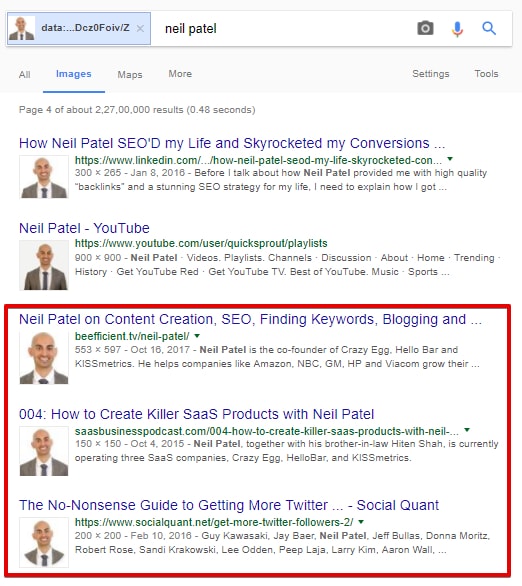 The bottom 3 links seem like good targets to approach.
If you still need some help finding a blog that accepts guest posts in your niche market, check out izideo's list of quality blogs that accept guest posts. 
Similar to guest posting, you can also try your hand at content syndication.
This is when you give others permission to post either a complete or an abridged version of your existing content on their site.
Take a look at this graphic to understand the difference between a guest post and syndication.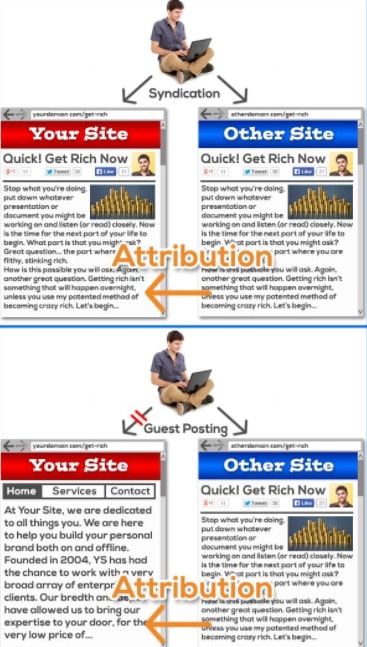 Where guest posting requires that you create unique content for the "other site" (at least in most cases), syndication lets you leverage a single piece of content multiple times.
This increases your exposure and link profile (range of links directing to your site).
You can tell if a site accepts syndicated content by looking at the footnotes of a page where they cite permission to share an existing piece of content.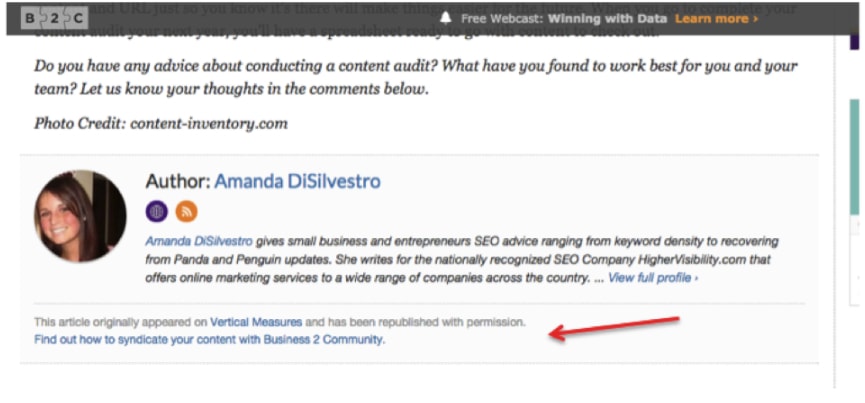 Be careful not to syndicate every piece of content on your site. This gives people little incentive to visit your website.
Also, avoid having exact replicas of your content posted in multiple locations.
This leads to duplicate content issues.
While this isn't technically a penalty, it makes it hard for crawlers to determine which version to include in their index and subsequently which version to rank.
The end result is dilution and content that never achieves its potential search visibility.
Unless you've emerged from a time-capsule, you've probably heard of the skyscraper method.
It requires you to take content that is already popular and improve it. The idea here is to divert traffic to your resource.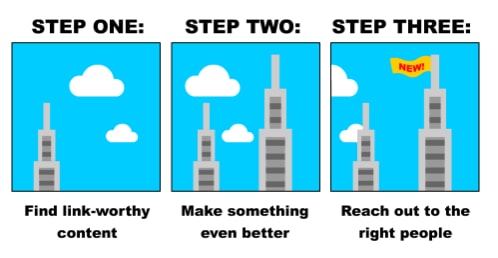 You can also use this technique to have existing backlinks point to your new resource instead.
Here's what you need to do step-by-step:
First, find content in your niche that people want to link to.
Head over to Google and run a search for your target keyword. Look at the results on the first page – these will have many sites pointing to them.
If you want to see how many backlinks each listing has, enter the URL into a tool like Ahrefs or Majestic SEO.
You'll get a complete link profile of the page.
Once you find a piece of content that you feel can be improved and has a solid amount of backlinks, make it better.
Here are some ways you can make the existing content better:
Make it longer
Be more thorough
Update old data or add new insight
Your goal is to 'wow' readers and make your piece the go-to resource for this keyword.
Next, reach out to the people who have linked to the content you just improved. Inform them about your new and better resource.
Again, don't ask for a link.
Simply let them know that they might find your content helpful.
You may not always get a positive response, but there will be times when the webmaster updates the original link to point to your new resource.
Score!
That brings us to the end of this section.
I've covered many strategies you can use today to find link opportunities.
There's one more approach I've yet to share with you: broken link building.
And it deserves it's own section.
Finding Broken Links
Remember when I suggested Screaming Frog in the technical SEO section?
Well, it can do a lot more than just help you identify and fix on-page problems on your own site.
The real value of this tool is in its ability to easily find broken links on your site and that of your competitors.
Remember that a broken link is when you're directed to a 404 page after clicking a link.
Broken links are rarely replaced because webmasters may never realize that a page they are linking to has gone down.
We're going to take advantage of this information gap.
How?
By finding broken links and alerting webmasters to them.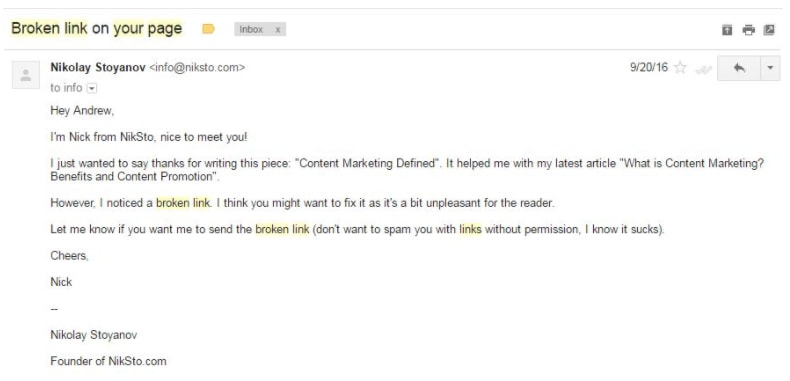 This tactic works because no one wants broken links on their pages.
It's simply bad user experience.
If you let a webmaster know about a broken link on their site and provide them with something similar (or better) to link to, they'll usually be happy to do so.
The real killer here is that you don't have to target broken links only on your own site.
You can use this strategy to steal links away from your competitors as well.
Just crawl your competitor's website as you would your own.
For example, if you find a broken link that originally pointed to a competitor, you can contact the webmaster and have them change it to point to content on your site.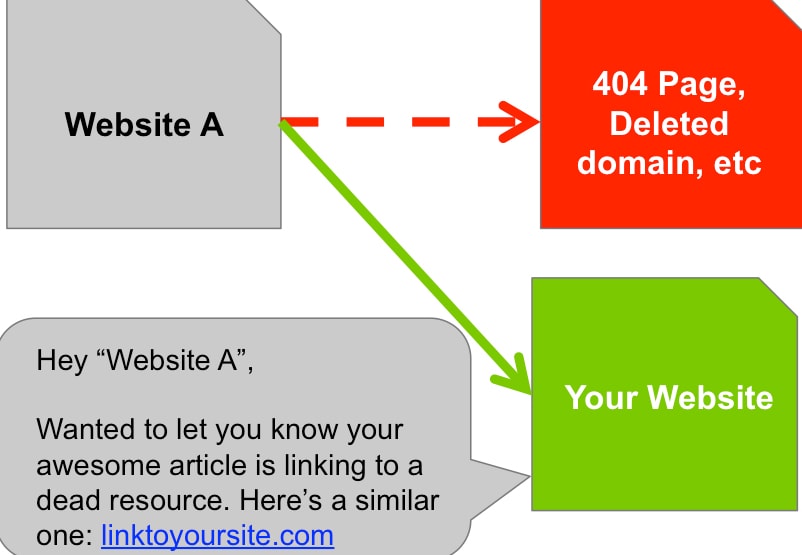 If you're really savvy, you'll even create new content (unless you already have the perfect fit already written) just to get that backlink.
The skyscraper technique really works wonders here because you're offering something even better to the webmaster.
Now that you know the two ways to take advantage of broken links, let's walk-through how you can use Screaming Frog to find them.
Like before, start by entering your website's URL into Screaming Frog's search bar.
This time though, we're going to look for pages that are down on your site.
You can easily see this information by filtering the results section by 'status code.'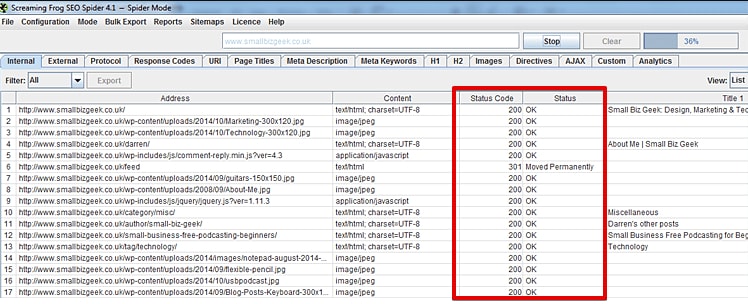 This shows you all the different types of errors on your website.
For example, you might see a long list of 200 or 301 redirects when you filter with this option so make sure to scroll down a bit.
Since we're only interested in 404, there's a better way to filter for them.
Instead of clicking on 'status code,' use the 'response code' tab.
Click on any of the results you see listed on the page.
Scroll to the bottom of the window and Screaming Frog will show you which web pages contain a broken link pointing to this page on your site.
Make sure you have the inlinks option selected (this shows broken inbound links).
In this case, the website has a broken internal link.
I also recommend plugging your 404 pages into a tool like Moz's Open Site Explorer to get a second account of sites with broken links pointing to your pages.
Here's how I organize this entire process:
Create a spreadsheet of all the sites with broken links that point to your pages.
Make sure to include the site's contact details and which page they were originally pointing to.
All you have to do now is reach out to the webmaster and inform them about the broken link and provide an alternative URL.
Repeat this same process, but this time plug in your competitor's website instead of your own into Screaming Frog.
You can also add a list of bulk URLs so you don't have to audit competitors one-by-one.
Another great tactic to find broken links is by simply browsing online (especially resource pages and link roundups).
Install a browser plugin like Check My Links to streamline this process.
Every time you visit a page, the tool will color code both live and dead links differently so you can quickly find broken link targets.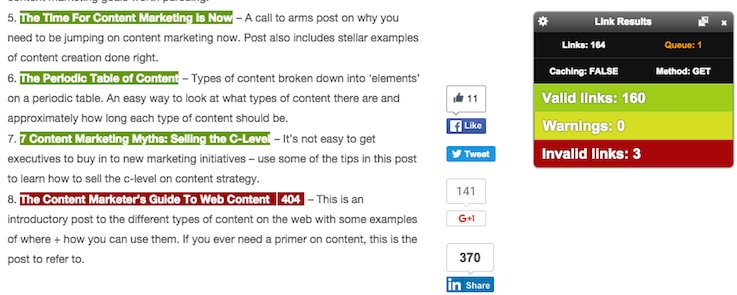 Up until now, I've covered how to source link opportunities.
While important, it's not what defines whether you'll earn a backlink or not.
It's about how well you can pitch people – typically via email – to link to you.
Email Outreach
I'm sure you must have noticed how each technique in the previous step culminates with emailing someone.
Like with any email campaign, you can templatize this process, especially if you're sending outreach emails for unlinked mentions or reclaiming broken links.
Just keep in mind that a form letter that looks like spam will dramatically damage your chances that the recipient will read your request, let alone act on it.
For samples of sure fire link outreach templates, check out our link building outreach templates for common situations.
Otherwise, it's best to send outreach emails the old-fashioned way – manually.
This gives you the most control over your message and lets you target the 3Ps that makes link building outreach successful:
Personalization
Positioning
Persuasiveness
Personalization
Outreach messages need to be personalized for the reader.
I'm assuming you already know all about email subject lines that improve open rates and addressing your recipient by name, so I'll get right to the meat of your message: the email body.
If this section isn't personalized, don't waste your time sending the email.
Building links today is about establishing real relationships and exchanging value.
An outreach email like this will never get a response.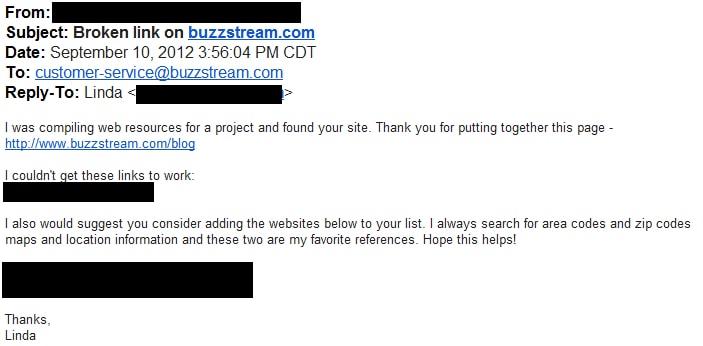 In between work emails, spam, and others just like you asking for something from the reader, most people are going to ignore you.
The reader is only going to take a few seconds to decide whether to read or trash your message, so use this time to build a connection.
A great way to do this is by being relatable and making a reference to a topic or idea the recipient is passionate about.
How do you find this information?
Spend some time following them on social media or in the online communities where they hang out.
When you send an email, make a reference to something they've stated.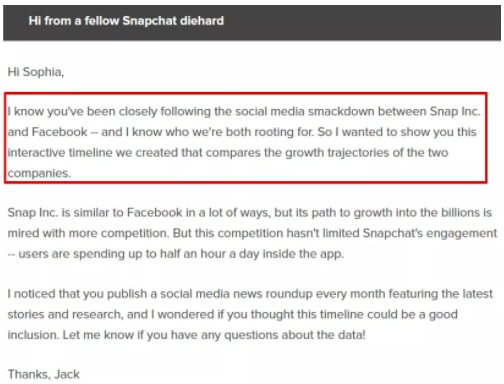 Also, a little flattery (without making it super obvious) never hurt anyone.
Now that you have the reader's attention, we're going to make the pitch for a link without making it seem like we're asking for something.
Positioning
Positioning in link building is how you frame your request. If you get it right, the reader won't even feel like you've asked them to do something for you.
It's really powerful stuff.
To do this right, understand that every site (and its pages) have some intention.
For example, let's say you're targeting a tech blogging site. Their primary goal is likely to build a blog that people want to read.
Knowing this, you can frame your message to focus on their audience development.
You might say something about how you have a new piece of content or data that shows how a less-talked-about growth hacking tactic delivers stellar results.
Be direct and ask if they are interested in 'sharing', 'including', or 'citing' your piece.
Ideally, you'll identify a specific on their page where your content will add value.
Avoid mentioning the words 'link to' in your message.
Pro Tip: Rather than sharing the link outright in your first message, ask the recipient if they are interested in seeing it.
This makes your message look less spammy and piques interest increasing the likelihood of a response.
Be Persuasive
A strong outreach email must be persuasive.
Hoping the reader takes your desired action or responds to your message translates to sloth-like link acquisition.
A little persuasion works wonders, given that this is as persuasive as most link building emails get: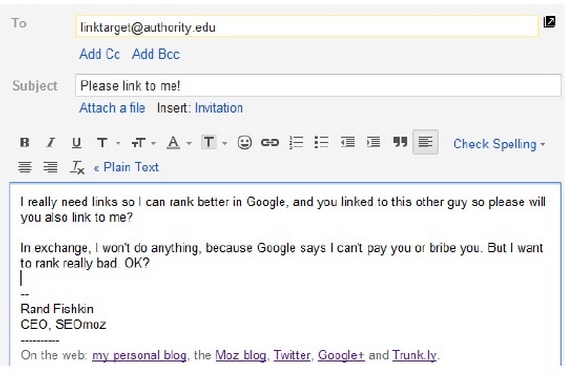 Just kidding! Pretty sure that was last year's SEOmoz April Fool's Day post. Still, you get the idea.
Personalized messages that are persuasive have better response rates.
How can you make your message more persuasive?
Use Dr. Robert Cialdini's 6 principles of persuasion and include one or more signals of the following in your message:
Reciprocation
Consistency
Social proof
Liking
Authority
Scarcity
For more information on each of these in the link building context, take a look at this article about improving link building response rates.
Conclusion
Link building is something that everyone tries but very few succeed at.
That's because most people make link building about themselves.
This is the opposite of what you need to be doing. Link building starts with the foundation of giving value. The link comes in response to the relationship you build.
Once you get this, link building is a breeze.
Create content that people care about, be genuine, and forge real connections. Get this process right and you'll find your page and site moving up in SERPs in no time.