Digital Marketing
Dominate Your Market Through Ruthless Competitive Analysis
Most people build their marketing campaign around guesswork.
"I think my lead targets are looking for…"
"I think my lead targets will like an ad that (looks like, says, etc…) XXX…"
Guessing and hypothesizing with no data creates campaigns that appeal to whoever is designing your ads, not your potential customer.
The result?
Money down the drain and valuable resources wasted building an unsuccessful campaign.
To avoid such setbacks, you need to do your homework. A competitor analysis helps you build a marketing strategy that's guaranteed to be successful.
In this post, I'll show you step-by-step how to thoroughly analyze your competitors to decode their strategies, benefit from their legwork to replicate their successes and avoid their pitfalls.
Use your competitors to build a solid foundation for your next marketing campaign.
What Is Competitor Analysis?
A competitor analysis is an investigative look at your competition.
It allows you to assess the strengths and weakness of the companies you're trying to outshine.
Dissecting competitors helps you highlight your competitive advantage. Your analysis must be thorough and cover every facet of your competitor's marketing strategy.
Platforms like Google, Bing, Facebook, YouTube, Twitter, etc are great starting points.
Over time though, you should be able to answer questions like these: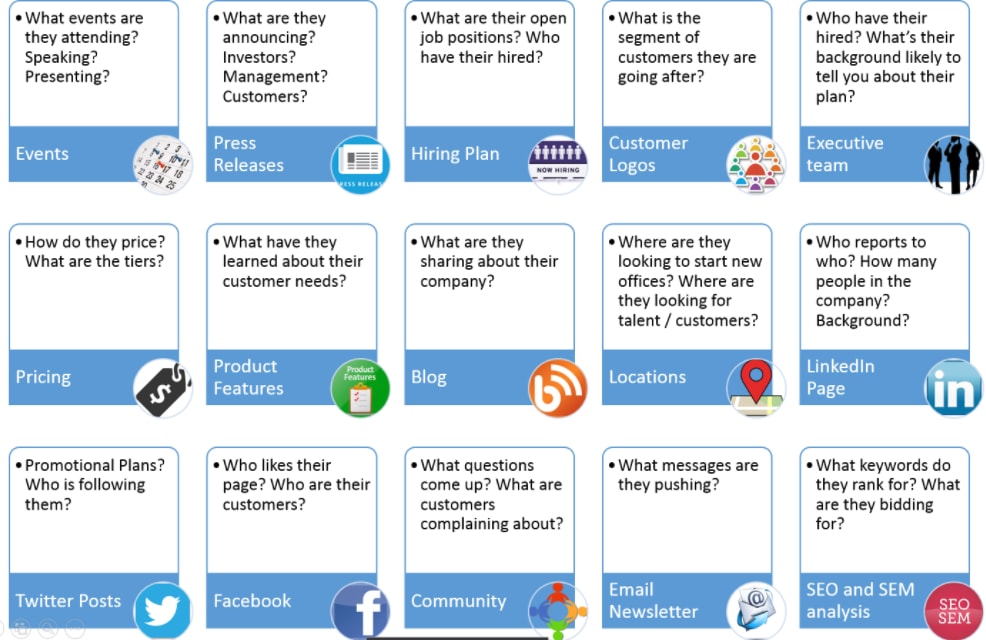 Your goal is to understand the ins-and-outs of every business that poses a threat.
Why Bother With All This Work?
Competitors, much like coffee stains are difficult to rub off.
Sure, you can buy a new shirt but that too is at risk of getting stained. Likewise, even if you're the first to market in your niche, it won't be long before others join you.
A competitor analysis lets you uncover the weaknesses of those who stand in your way.
For example, consider the challenge of establishing a keyword strategy in a new market.
As a new entrant, you're likely to look for more targeted but less popular keywords in your niche.
How do you determine if a keyword is popular or not?
By looking at what keywords your competitors are targeting and which they are ignoring. You can then hone on in those keywords that are less competitive and make a data-driven decision of their potential.
Are they being ignored for a reason (deliver poor results) or are they hidden gems?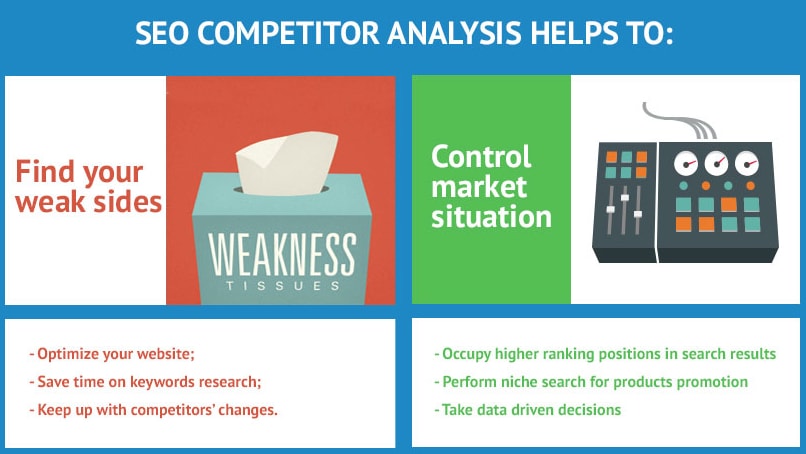 Hence, analyzing your competition provides direction to your strategy.
How to Dig Up the Dirt on Your Competitors
Carrying out competitor analysis isn't rocket science.
Yet, it does require several steps and diligent attention to data collection in order to be helpful.
With many tools available on the market, it's easy to study your competitor's content, keyword strategy, SEO structure, and social media profiles in-depth.
With so much information to uncover, it's good to have an organized plan of attack.
Let's look at the entire process from start to finish:
Step 1: Identify your competitors
You'll come across two types of competitors in the market: direct and indirect.
Direct competitors operate in your industry and sell the same product or service as you. Indirect competitors 'pull' customers away from your business, despite having a different product.
For example, let's say you're DirecTv.
Direct competitors would be other cable services like Dish, Comcast, and Charter whereas streaming services like Netflix and Hulu are indirect competitors.
Spend some time to compile a list of both types of competitors: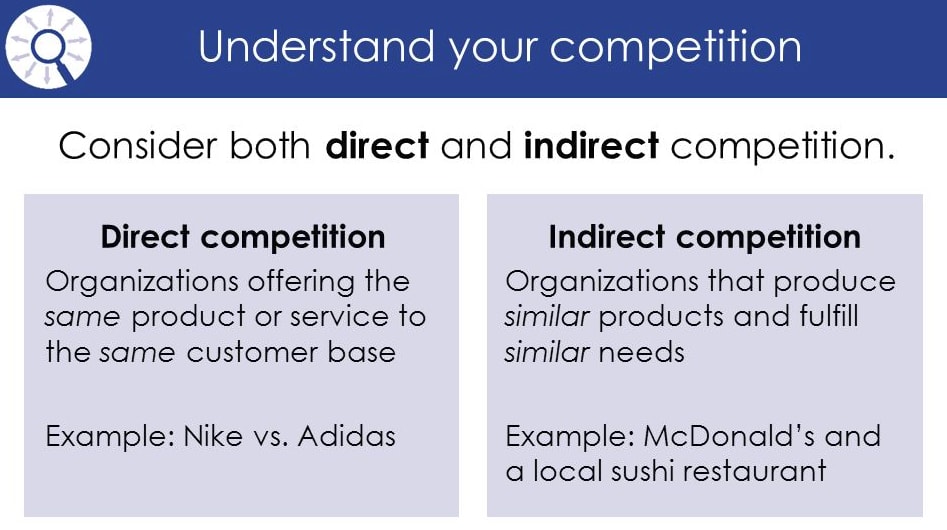 List at least 10 competitors (if possible) in each of these categories.
Here's an example of an early stage competitive analysis for Pepsi Cola: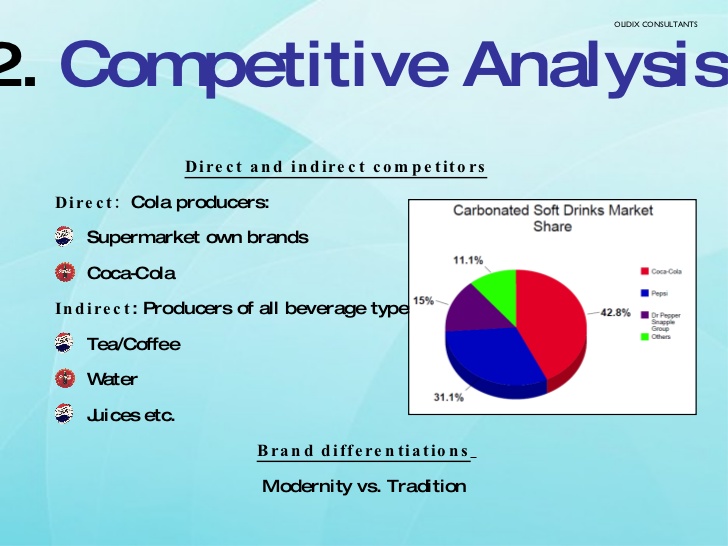 Once you've identified the categories of competitors specific to your product or service niche, take time to identify specific brands and companies.
Some of you may already know your competitors, so feel free to skip to the next step.
However, I'd recommend reading on to discover (new) ways to uncover competition that you may not be aware of.
Survey your staff
Your sales and customer service team is on the 'front lines' every day. They likely have some insight into the threats you face.
Here are some questions you can ask them:
Who are you losing sales to?
Who are customers mentioning most often?
Are customers canceling your service to migrate to a different company? Why?
Is there a company that's attempted to poach them?
Use strategic searches
Remember that awesome keyword matrix you created? For a refresher, check out episode 3 in our podcast series " How to Gain Leads without Cold Calling or Door-to-Door Sales."
Plug in your target keywords into Google. For example, let's say you're targeting "seo training denver."
Google this keyword.
What do you see on SERPs?
Note the company name and URL of businesses running paid ads for this search phrase.
Also, look further below at the organic results. If companies are playing the long game to rank for a keyword, there must be value in it.
Step 2: Organize your data
Use Google Sheets, Excel, or the spreadsheet tool you prefer to organize your competitors by keywords from the previous step.
This helps you visualize who poses a threat and for what keyword(s).
You have two choices at this point: You could add entries into rows and columns by hand, OR you could use software like SEMrush or SpyFu to automate some of this process for you.
Let's explore the automation route a bit deeper.
Head over to SEMrush and type your target keyword into the search box. For example, we're going to test "leather watch bands'.

On the results page, scroll down to the 'organic search results' and 'ad copies' section.
You'll be shown the top SERP and paid ad results for that keyword. At the bottom, click on export data and choose your preferred format (spreadsheet, csv, etc)
Other tools that perform a similar function, like SpyFu, should offer a similar export results function.
Step 3: Isolate your biggest competitors
Go through your data and look for patterns.
Identify competitors that show up often and determine which amongst them pose the biggest threat to you. There's no right or wrong way to do this.
Protip: Look at long-tail phrases to find immediate rivals instead of broad generic keywords.
This demands some cognitive decision making from you.
Let's say your brand is looking to launch a new line of organic soda.
If you look at the keyword "soda" to find your direct competitors you'll see that keyword is dominated by Coke and Pepsi (brands who aren't your direct competitors).
So what keyword makes better sense here?
In this case, "best organic juices" or "top organic teas" are much better options. Filtering for businesses with these long-tail phrases reveals your immediate competition.
If you're planning to launch locally, focus only on competitors in your area.
This could include a large brand at the supermarket or small-time players at the farmer's market.
Step 4: Hone in on strengths and weaknesses
Up until now, we've spent our time identifying competitors.
Next up is where the real fun begins.
We'll pick each competitor apart and identify their strengths and weaknesses. In the process, you'll be exposed to opportunities you can take advantage of.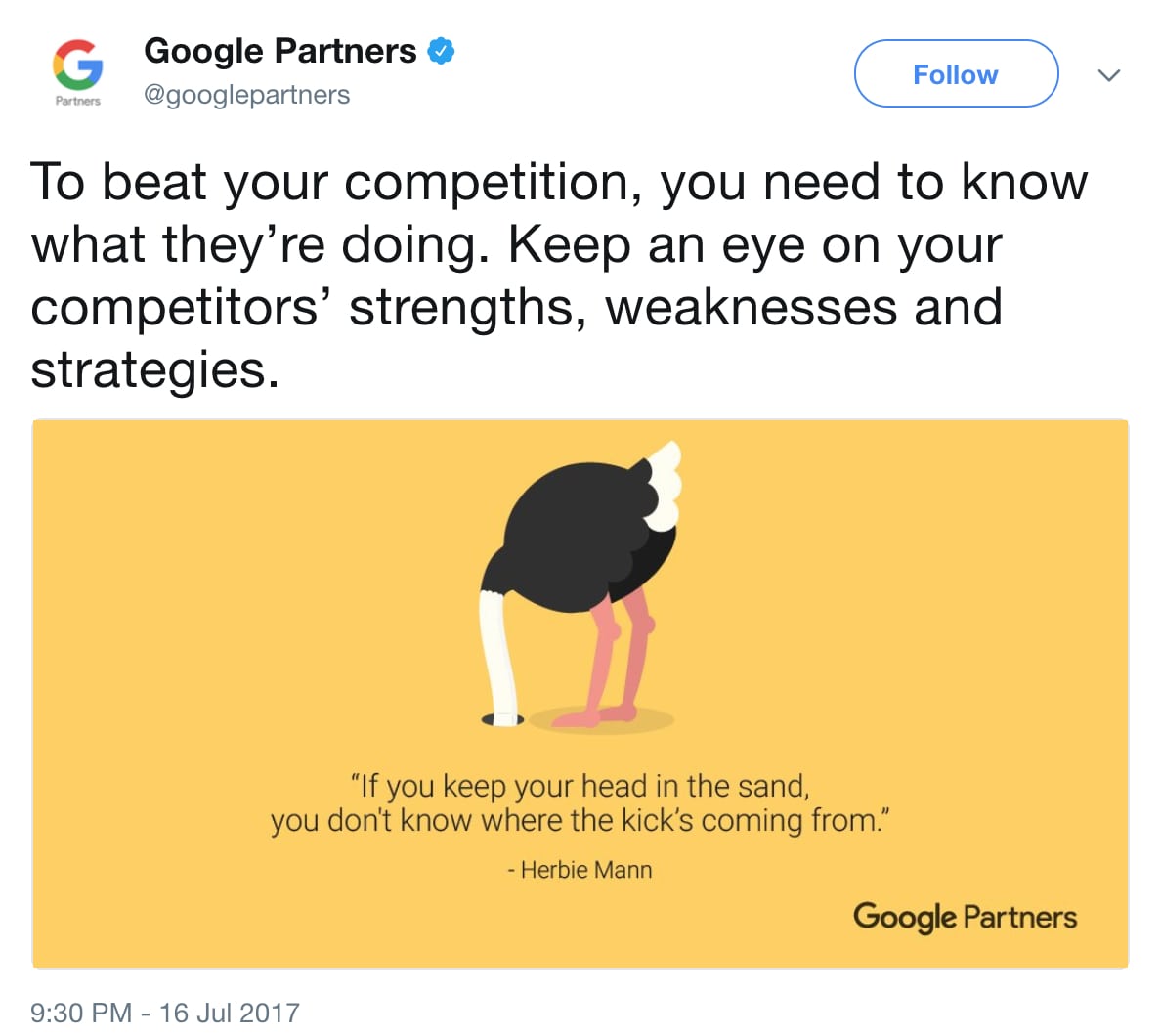 Target Your Competitor's Strengths and Weaknesses
Pick 4-5 firms and ask yourself the following questions for each:
Where do your competitors have the advantage?
Do they have a larger marketing budget?
Do they have existing loyal customers?
How is your product or service better?
Faster?
Cheaper?
More flexible?
Use a SWOT analysis to organize your answers.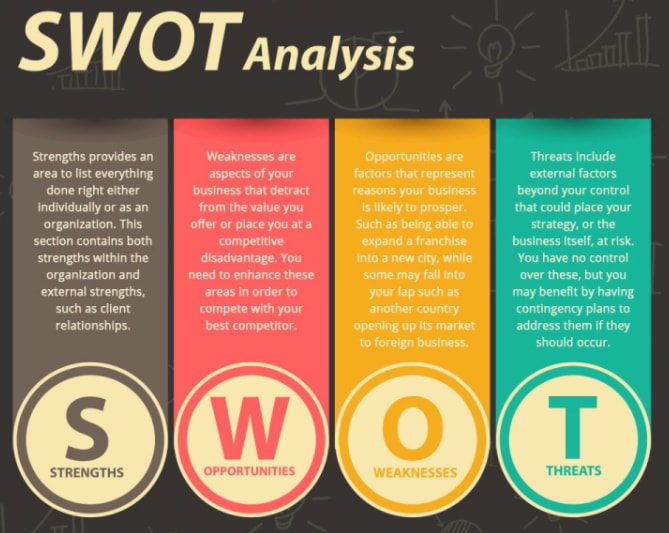 Let's explore the 9 different approaches you can use to unlock strengths and weakness.
1. Walk the customer's path
Websites act as the 'digital storefront' of a business.
Walk through your competitor's site. Make sure to take in the entire customer lifecycle from start to finish – from prospect to lead to customer.
As you browse, make notes of the following:
Is the site up-to-date?
Is it easy to navigate?
What value propositions grab your attention?
For example, if you're looking at rival organic juice brands, how do they use copy to describe their product?
Make note of lines like "our juice cleanse will make you…(sexier, happier, more vibrant, etc)"
For example, take a look at this landing page from Bidsketch.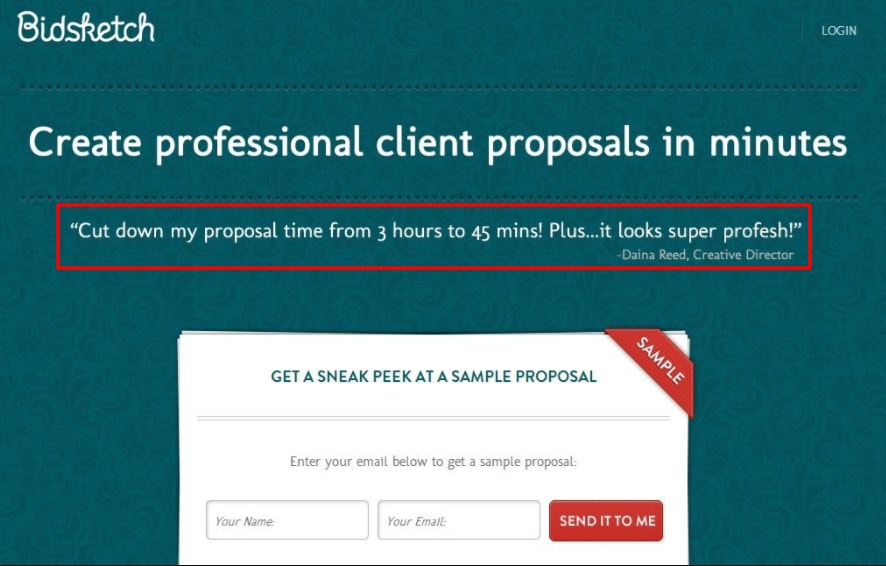 Notice the use of benefit-oriented copy?
As you consume your competitor's content, be on the lookout for opt-in forms.
If you see one, provide your email address.
What happens next?
Do you receive a welcome email? Does the company follow through and send the eBook as promised?
If they do, is the eBook any good or does it regurgitate the same old advice?
Remain a part of their email list and wait for future communication. How do they attempt to warm up cold leads?
How often do they send emails? Are the messages broad and untargeted?
If not, what makes their message targeted or compelling?
Map out your competitor's entire autoresponder sequence. Does each message help build a relationship with the subscriber?
If so, use it as a framework to build your own email campaigns around.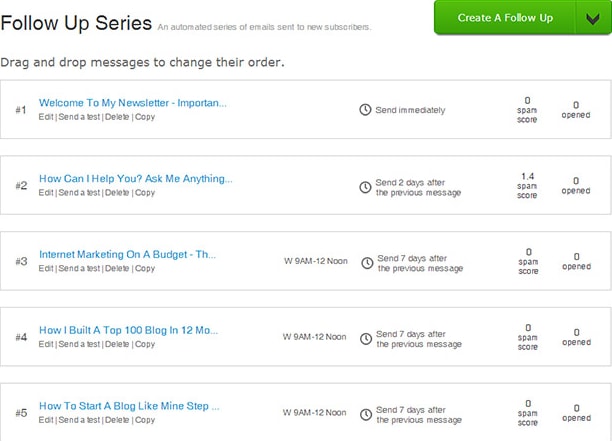 As you're working your way through this process, take note of your emotional response. How does the content within their automation sequence affect your perception of the brand?
Next, investigate the purchase experience.
Do they have their own e-commerce platform or are you taken to a 3rd party platform like Amazon?
If they do sell products through their site, go ahead and buy something.
Is the process smooth? Are items out-of-stock?
Are you offered a new customer discount? Shown a suggested upsell?
If you abandon your cart, is there a follow-up process?
Are their shipping charges reasonable? How fast does an item arrive?
With this, we've completed the buyer's journey.
Take a mini-break and freshen up because there's still one more thing to investigate.
Testing plays a big role in the optimization process. What tools or services are your competitors using to improve themselves?
Ghostery makes this question easy to answer.
It's a free browser extension that detects and blocks trackers collecting data on a website.
Install the tool and browse your competitor's site as normal.
When you're finished, click on the Ghostery logo on the top right of your browser. You'll have a report of all the trackers blocked during your session.
Which tools are gathering data? Google Analytics, Facebook Pixel, or something else?
Take note for now. This is only the tip of the iceberg.
2. Assess organic keyword strategy
Relevant traffic is important for long-term growth and survival.
This is why you've spent considerable time creating a list of high value, high-intent keywords to go after.
Still, it's always good to know what keywords your competitors are targeting.
Are they targeting the same keywords that you have your eye on? Or are they going after something else?
More importantly, are they ranking for their target keywords? If so, how much of that is due to paid ads vs. organic ranking factors?
To find the answers to such questions we get to use tools… and more tools!
There are tons of SEO tools that help you track your website performance. You can use them to assess your competitor's sites as well.
I mentioned a few already, but some of the same tools that you may have used to identify relevant competitors in your space are useful here as well:
SEMrush
SpyFu
Keyword Spy
Let's walk through the process of how you can use one these tools – SpyFu – to compile a comprehensive overview of how a competitor ranks in paid and organic search results.
Head over to Spyfu and enter your competitor's domain URL.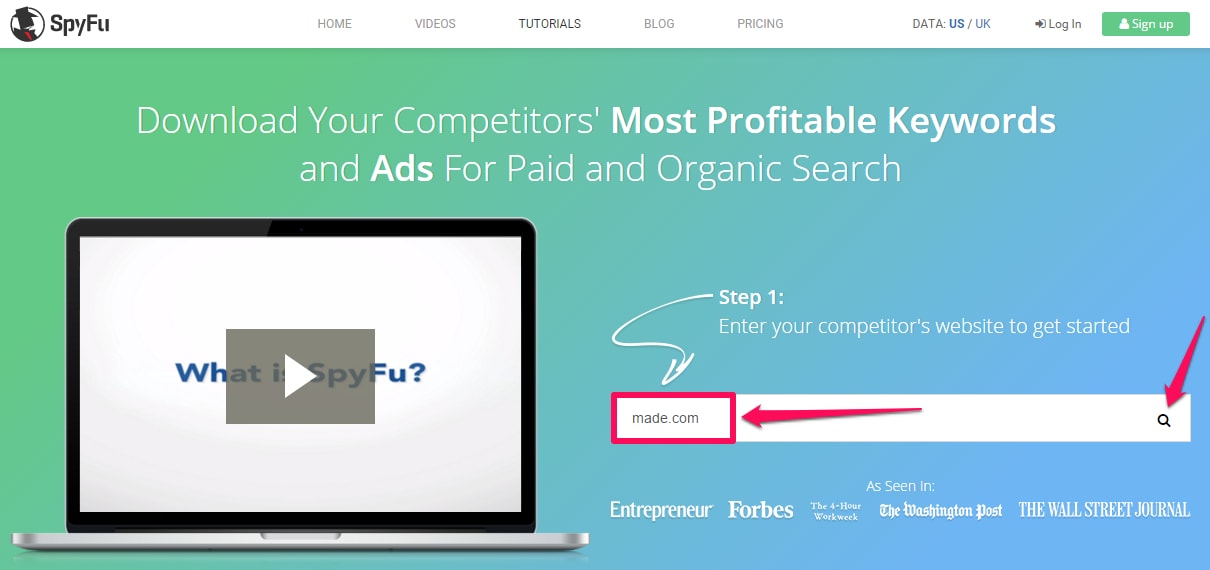 Hit search and wait for the results to filter in.
You'll see a monthly overview of domain performance Look for the organic and paid keyword data.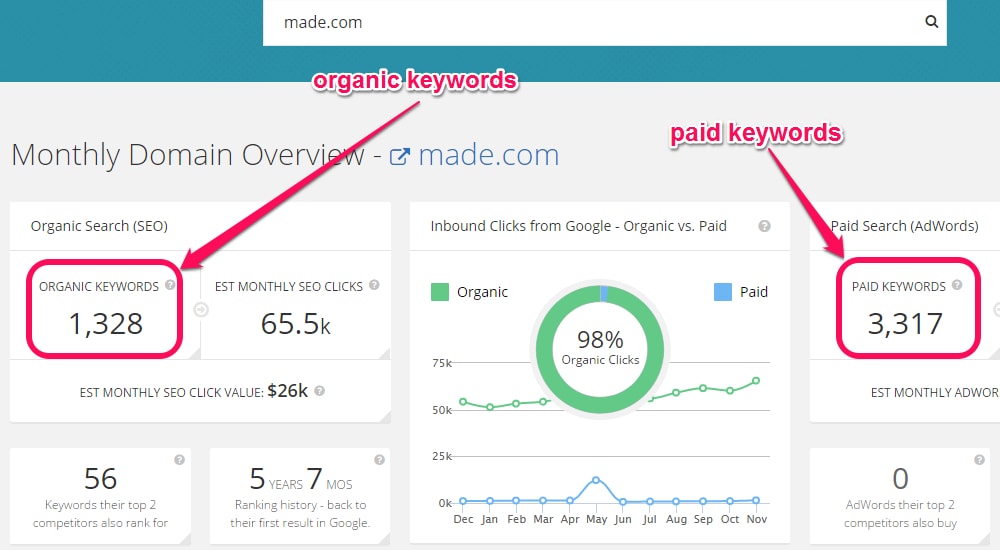 Click-through to each to unveil the exact numbers.
Are they ranking in the top 10 of SERP for any keywords?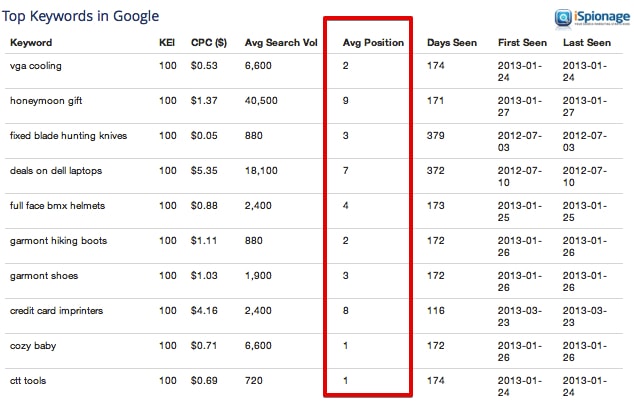 For pages that show a high average search volume AND a high average position (such as "vga cooling" in the example above), visit the page and take note of the content format.
Is it a colossal 5k blog post, an interactive quiz, or a video?
Protip: Run your website through the same process using these tools.
How accurate is the tool in identifying your SERP rankings, strategy, and costs? Use this information to factor in margin of error.
3. Analyze paid ads
Up until now, we've looked at the keywords competitors go after without spending money.
How does their approach change when they pay to promote a keyword?
Generally, companies use paid ads to motivate prospects to take a specific action – such as purchase a product or service, provide an email address in exchange for an offer, etc…
Using the paid ad data collected in the previous steps, we can expose that desired action.
Start by isolating ads that rank above the fold (before you have to scroll) on the SERP page for your keyword.
Currently, Google shows up to 4 ads above the fold of organic search results.
Since these ads are the first thing a searcher sees, you can 'steal' traffic away from a competitor without having to outrank them on SERP.
Look at the ads and ask yourself if you're compelled to click? If so, break down the ad to uncover what makes them so good.
Consider:
What is the ad format used? Is it a display or text ad?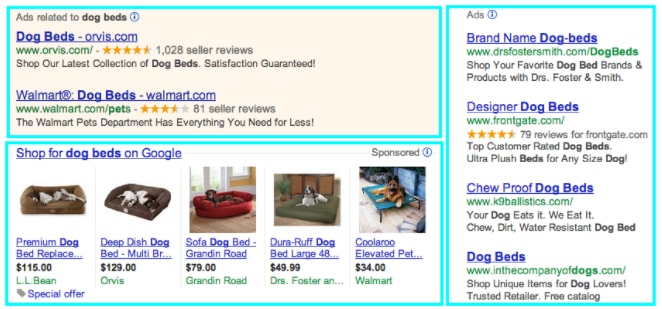 If you're reviewing competitor ads on a social platform like Facebook, are ads boosted posts or sponsored content?
Do they call out a competitor? This could include statements like "we're better than company X because of blah blah blah."
How about playing up their value proposition? This could involve reminding prospects that "we are the cheapest" or "our platform is customizable."
Other things to look for include:
Color schemes
Calling out pain points
Offering discount codes
Go ahead and click on an ad to see where it sends you.
Are you taken to any of the following?
Homepage
Content page
Landing page
Squeeze page
Checkout page
This ties back to isolating the goal of the ad. Was it lead generation, sales, or something else?
Next, figure out the target audience of the ad. Does it seem likely to resonate with who you had in mind if you had created an ad for that keyword?
For example, a designer paint company may have planned to only target homeowners when going after contractors also works.
Note: If you find yourself on a sales page, go through the checkout process.
Were you offered any upsells or cross-sells? If you abandoned the purchase mid-way, did that activate a cart abandonment email sequence?
4. Explore the 3Ps
Assessing keyword strategy reveals what competitors are attempting to sell.
How do they ensure that a click results in a sale?
To answer this question, we need to explore the 3Ps – pricing, placement, promotion.
Explore your competitor's site and observe which products are promoted the most. Head over to the pricing page and observe the following:
The price of the product, including additional shipping and handling fees.
Are there any promotions offering discounts or value-adds?
For example, in the SaaS world, it's common for brands to compare features side-by-side and 'mark' the plan they wish prospects to buy.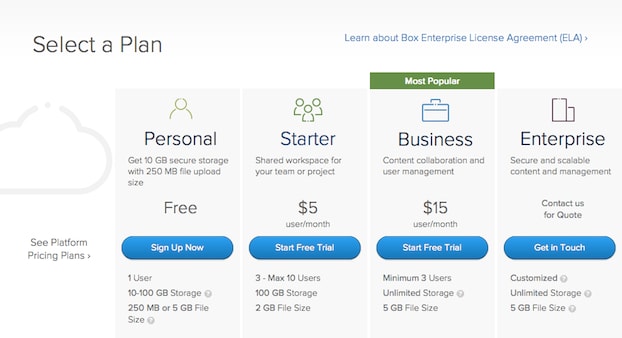 The 3Ps let you see the price point that your competitors feel is reasonable to prospective clients, the value add points that encourage a sale, and the features that your competitors feel are most important.
5. Look at their content
Content is at the heart of modern marketing.
Good content that gets linked to (delivering leads to your site from all over the web) provides value for prospects and cements your position as an authority.
Yet producing content that ranks requires careful planning, strategy, and execution.
You don't want to waste time and money pumping out content only to find your target audience isn't interested in the information you're sharing.
Your competitor's content can help you identify:
What type of content works and doesn't work
Content ideas you can use to beat your competitors at their own game
The content analysis process is pretty straightforward.
Start off by going to your competitor's site and looking at the content on offer. Is there a regularly updated blog? Is the content easy to access, or is it "gated" (requiring a download or login through a paid account)?
What SEO keywords are being targeted in the content?
Remember, all of the following is 'content':
Blog posts
Whitepapers
eBooks
Videos
Webinars
Podcasts
Slides/Powerpoints
Visual content
FAQs
Feature articles
Press releases
News
Case studies
Buyer guides
If you find relevant content that's performed well, add the topic to your own content calendar.
We're going to use the skyscraper technique to make a similar content piece that's more thorough.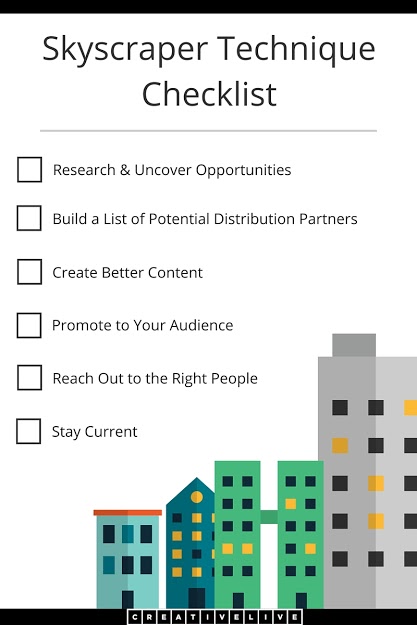 Start with the keyword that you're targeting and looking to create content for.
Search for the keyword to find the content that's already ranking. Review the top organic search result articles or landing pages.
Your goal is to model your content on that which is already ranking but to improve upon it. How do you make something good, better?
Use content analysis tools like MarketMuse to look for improvement opportunities.
Run a search to find what content is already ranking for that keyword. Review the top organic search result articles or landing pages.
Your goal is to model your content according to what's near the top of SERP.
Make your make-like piece better. How do you make something good, better?
Use content analysis tools like MarketMuse to look for opportunities for improvement.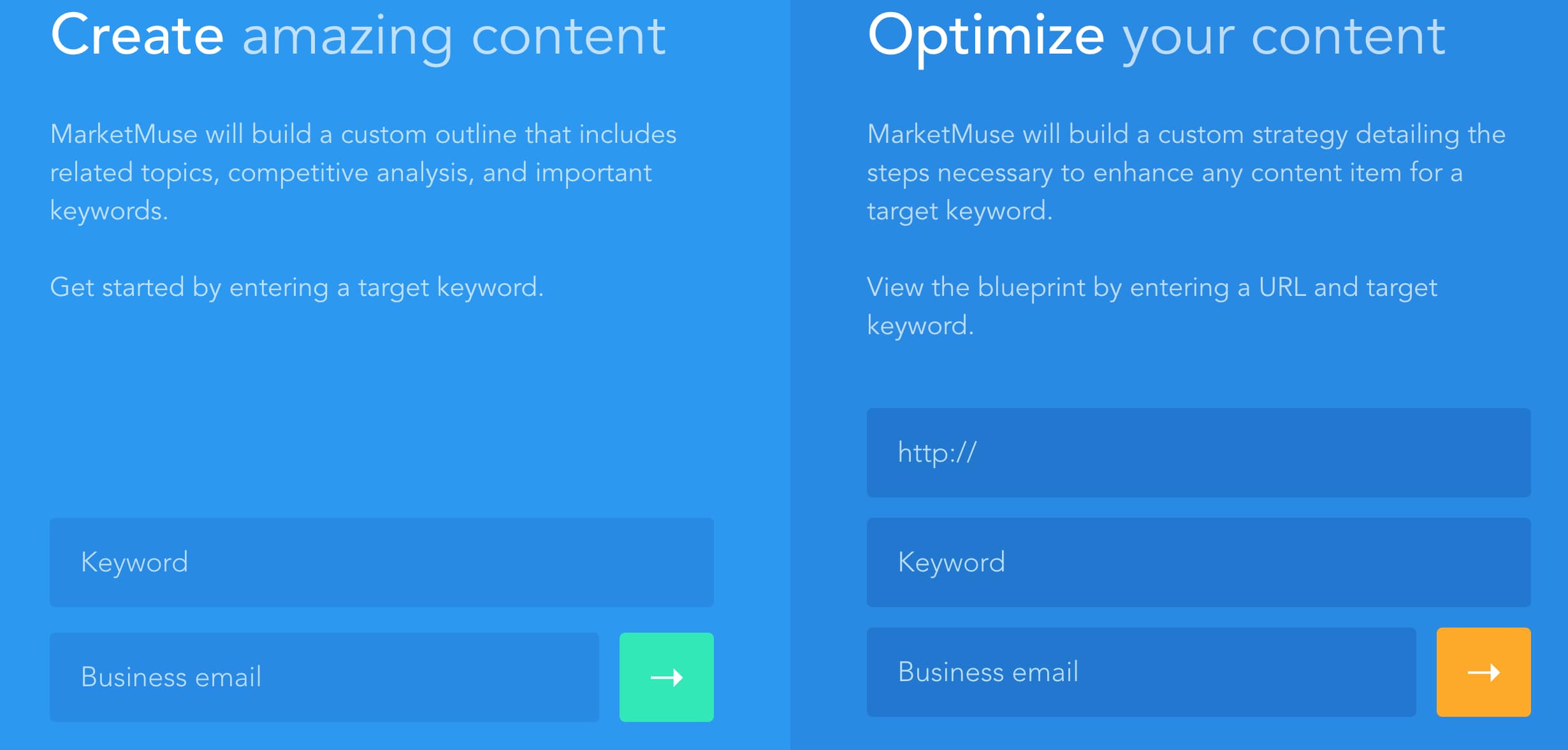 Use the "Optimize your content" option to optimize a competitor's content.
MarketMuse will suggest variations on the keyword you are targeting as well as ways that the content can be improved to better highlight your specific keyword.
Some key factors to consider are:
How is a competitor using a keyword throughout their content?
Did they miss any related (LSI) keywords in their piece?
If so, sprinkle them into your content to be more 'comprehensive' for Google's crawlers.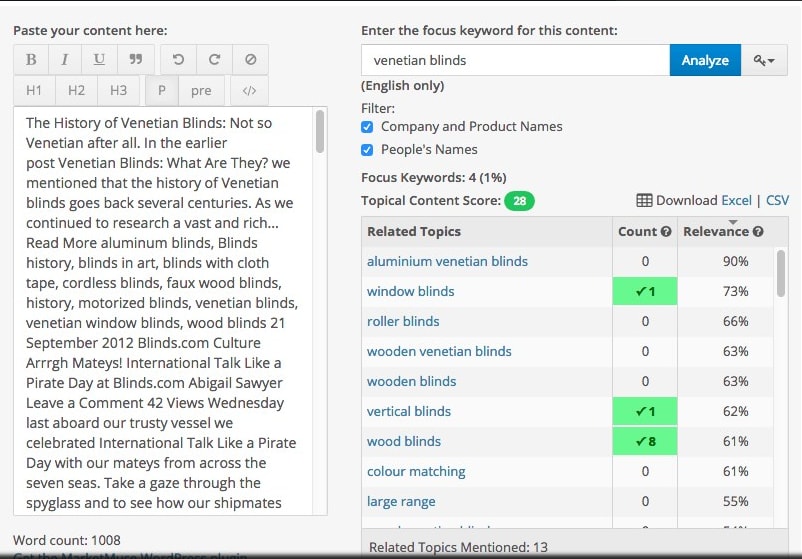 Your goal is to beat your competitor's 'content score'.
By one-upping your competitors like this, your content becomes the definitive resource.
Now that you have a superior content piece, it's time to promote it to the world.
Use resources like Ahrefs or SEMRush to identify pages that are linking your competitor's content. Reach out to these sites to suggest/request that they link to your page instead.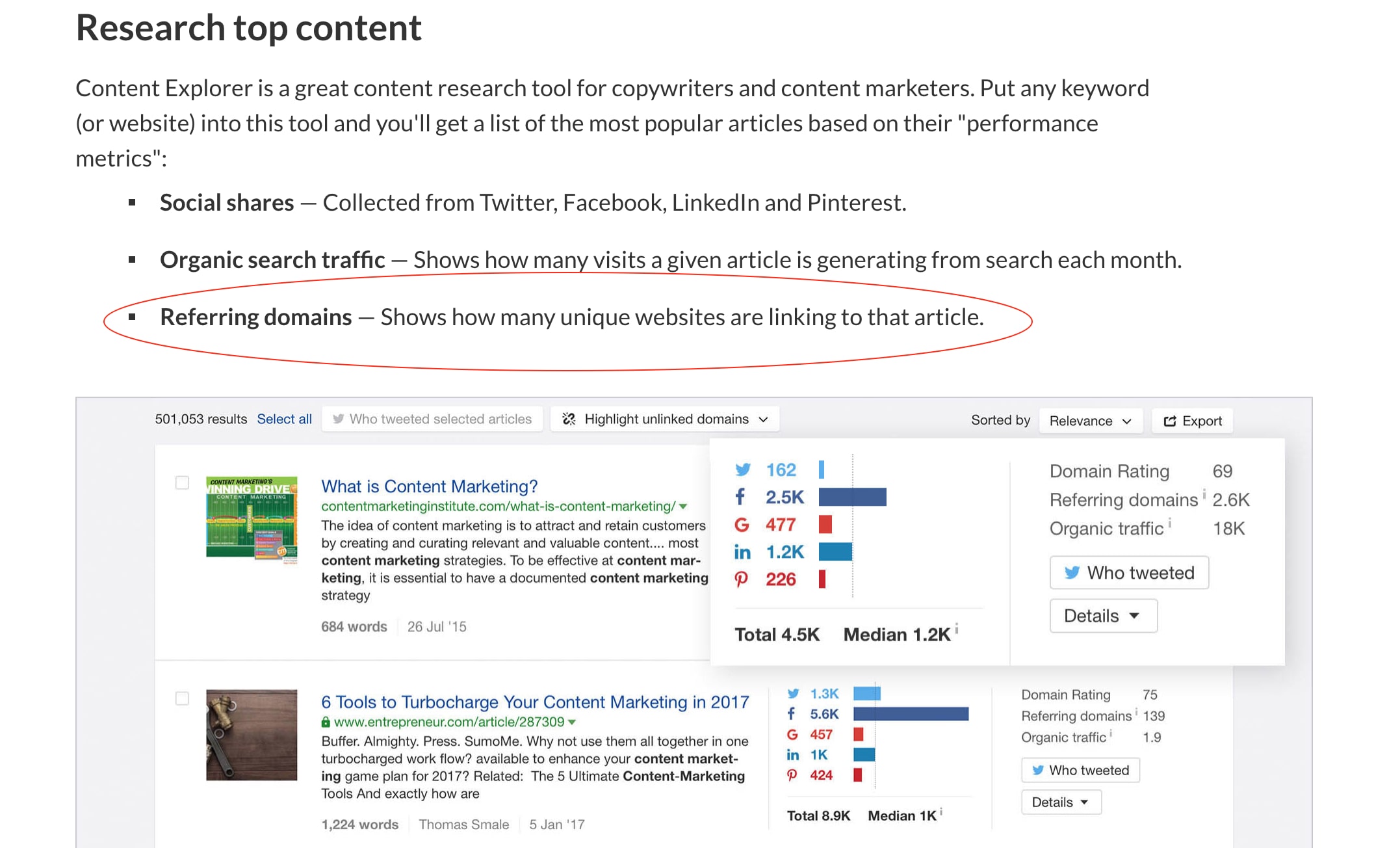 6. Explore other marketing channels
Successful businesses understand that their customers are active on platforms like Facebook, Twitter, and Instagram and so they are too.
Social media holds as much relevance as search and needs to be a part of your marketing strategy.
Be sure to visit each social platform your competitor is present on to see what they are doing.
Here are some things to look out for:
What does their content look like? Is it informational, user-generated, or promotional?
What channels are they present on? Facebook, YouTube, Twitter, Instagram, and Snapchat are the usual suspects.
How big is their following on each channel?
What is the like-to-share ratio on their content?
Are they engaging with the audience through comments and creating a community?
Are they running ads? If so, what type of ads?
Social media management tools like Buffer and QuickSprout speed up this process with a few clicks in their 'insights' feature.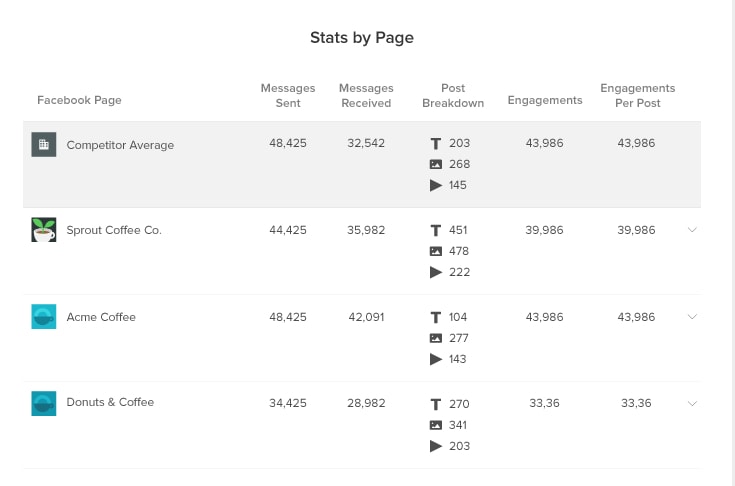 We've focused so far on digital channels your competitors are active in. However, don't overlook their activity on "old school" marketing channels like billboards, TV, radio ads, or direct mailers.
For example, are your competitors getting TV placements?
If yes, what type of shows?
How are they using the video beyond TV? Are they posting it to their website or sharing it on their social channels?
Stay on top of new activity by setting up alerts for brands on Google Alerts or Mention.
Look out for news coverage or any hint of PR activity in action.
You can also sometimes find references to their offline marketing through posts on their social media accounts or in the "press" or "in the news" section of their website.
7. Evaluate competitor health
To get a full grasp on the viability, successes and potential shortcomings of your competitors you need to look beyond their marketing.
If your competitor is publicly traded, go through their annual report to assess financial health.
Head over to Yahoo Finance, AnnualReports, or the SEC filings page. You'll be able to find financial reports from most companies here.
Analyze the data for information like which product line drives the most profit and if they've recently invested in a new product launch or the development of a new service or division.
This helps you draw a clearer picture of your competitor's financial situation.
For example, a company may be extremely profitable due to only one spectacular product line while the others perform miserably.
There is financial data available for many privately held companies, but it may require additional digging.
8. Monitor 'behind the scenes' action
Day-to-day happenings can reveal weaknesses that otherwise may not be so apparent.
One tactic you can use to find such weaknesses is to look at your competitor's hiring activities.
A large number of similar job openings hint the stage a company is in.
For example, if you see a lot of open positions for salespeople, what does that tell you?
Lead generation is a concern.
Some things to consider when making inferences from this: is the business a new entrant to the market? If not, might they be developing a new product?
Here's a snippet from Slack's career page that lets us draw some conclusions about what portion of their business they're putting energy toward improving.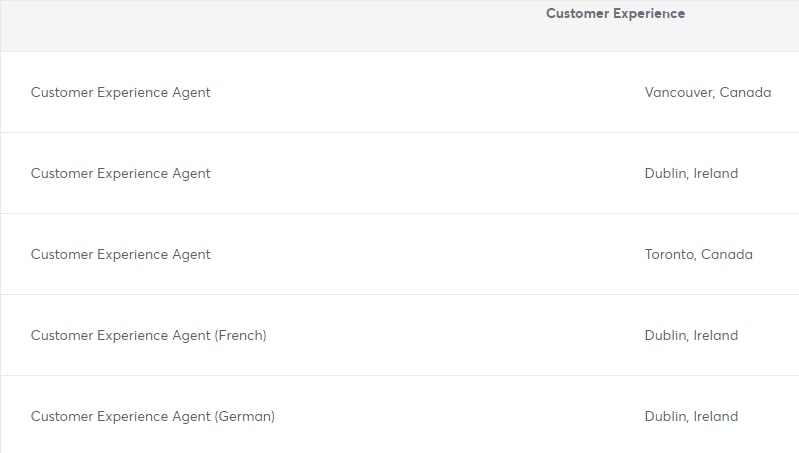 It's clear they're making a big push for customer service.
On top of hiring practices, also look at their networking strategy.
What type of conferences are they attending?
Are any of their employees giving presenting as speakers?
Are they members of any trade affiliations or organizations?
If your competitor sells a product, figure out their supply chain. Which manufacturer do they use? What price do they pay per unit?
This helps identify where you may be able to improve your own manufacturing process.
9. Make improvements based on reviews
Online reviews help you understand how customers feel about your competitors.
Complaints are windows of opportunity. Positive comments show you the behaviors you should mimic.
Let's say you come across a number of reviews that complain about lack of product durability and poor customer support staff.
Use this insight to base your marketing message around these points.
For example, your copy could include phrases like "always available," "reliable for life," etc…
What about when comments are praising the company? Reading reviews in the example below, it's clear to see that customers love that the cable is lighted.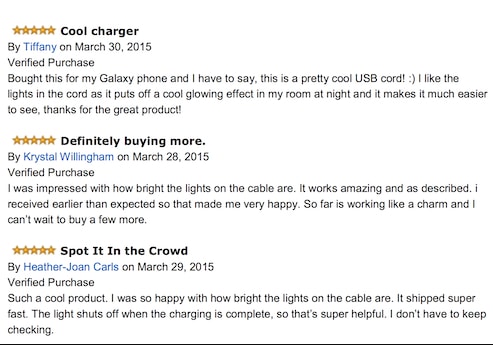 View this as a hint that you should consider including light indicators in your competing product.
Competitor Analysis + Keyword Matrix: Putting it all Together
A competitor analysis works hand in hand with your keyword matrix.
By identifying the keywords that your competitors are targeting, the key features that appeal to your mutual customers and which search terms they've deemed worthy of developing content around, you've developed a comprehensive list of keyword opportunities.
So, how do you pick which keywords to target?
By comparing keywords from your matrix against keywords targeted by your competitors.
You're looking to highlight:
Keywords that you planned to target that are being actively targeted by your competitors.
Keywords that you overlooked.
Keywords that you planned to target that are NOT being actively targeted by your competitors.
For those words that are being actively targeted by your competitors, you now know how they are structuring their ads and landing pages, the features or offers they're highlighting to customers and how successful their campaigns are.
This allows you to learn from their successes and failures and make an informed decision about if you want to join the fray and compete for placement in the same categories.
What about keywords your competitor(s) are targeting that you overlooked?
Why didn't you include it? Should you consider going after it? If it's a long-tail, high traffic keyword you could have found a gem of a keyword that would have been a missed opportunity.
For those that you planned to target that are NOT being actively targeted by your competitors, it's time to roll the dice. Are you sitting on an opportunity to get SERP placement in a search term that isn't highly competitive but could bear dividends? Or are you risking investing time and energy chasing a non-starter that your competitor has already tried and ditched?
With all the information, statistics and data you've gathered, you can be confident that your decisions will now be informed.
Conclusion
In the end, competitive intelligence is more about you than your competitors.
Instead of taking a risk reinventing the wheel, use your competitor's proven marketing strategies as the foundation on which you build your competitive edge.
After all, it's a dog eat dog world out there.