Digital Marketing
Smart Marketers Outsource. Here's Why.
Outsourcing is part of daily life.
From hiring an accountant to handle your taxes to the plumber that fixes your kitchen sink, you can't be an expert in everything and so you outsource.
Except when it comes to marketing.
Businesses are reluctant to hand over control and want to do everything themselves.
The reality is that marketing is hard work and – if you want it done well – better left to the experts.
Still don't believe outsourcing is a good idea?
In this post, I'll show you exactly when it makes good business sense to outsource and how you can execute it effectively.
How To Know When It's Time To Outsource
Marketing is the lifeline of every business.
If it's not done right, growth will stagnate and you'll be driven out of business. This makes it critical to know
whether your marketing campaigns are delivering results or not.
How do you figure this out?
By being on the lookout for these warning signals:
Marketing is a multi-channel function.
You can't assign one person the task of copywriting, web design, social media marketing, pay-per-click advertising…
you get the picture.
If you do, they will be overwhelmed.
Got a marketing schedule that looks like this?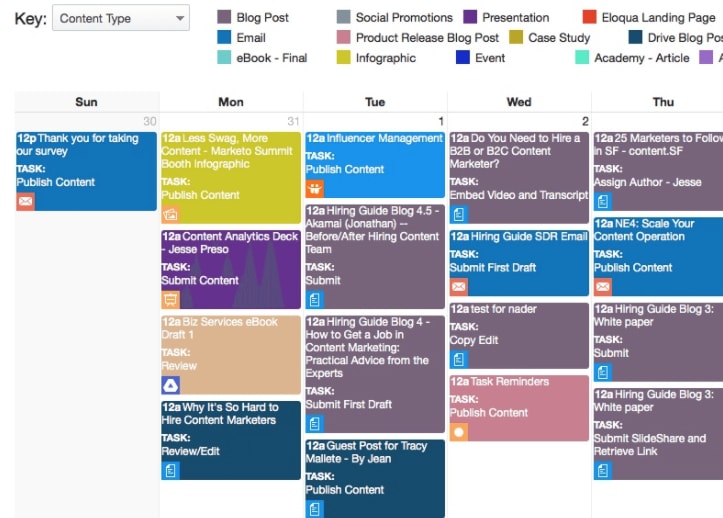 This person is working solely on content creation and promotion.
What would happen if you expected this same person to manage your community development and social outreach, for example?
Something isn't going to get done well, or both tasks will suffer.
You'll need a team of marketers to handle this effectively.
Otherwise, marketing will become a task-oriented process. Your overall marketing strategy will get lost in an
overwhelming sea of to-dos.
Lack of expertise amongst your team
New business owners typically try to do everything themselves in the interest of cost-cutting.
Unfortunately, marketing should never be left to self-taught experts.
Answer questions like these honestly:
Do you know how to figure out where your potential customers are hanging out?
Do you know how to run product integration campaigns?
Perhaps most importantly, do you know how to determine where your customers are coming from and your cost to acquire
a customer from each source you invest in?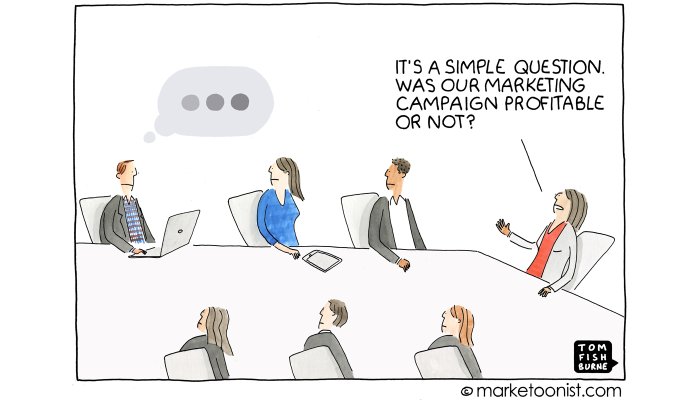 But it's not a simple question, is it?
If you answered no, consider how much money your business could be wasting investing in ineffective marketing
avenues.
Do you really have the time to teach yourself how to do something like build an effective squeeze page or set up an
email automation campaign?
Do you have more important things to focus on?
Your company can't you afford to miss out on the customers you would be getting if you had a robust marketing
strategy and deployment capability.
You're unhappy with current results
Increasing traffic and building quality leads are just a few (of many) high-level activities marketing departments
should be engaged in.
Is your marketing effort bringing in high-quality leads and nurturing them into customers?
If not, it's time to bring in the experts.
They will know the strategies and tactics that work in your niche.
Employees going on too many vacations or jumping ship?
Hiring in-house means you have to bear various additional costs, including the time spent by your department manager finding a candidate, interviewing, hiring, not to mention paying two employees to do one (often slower) job while the new hire is training.
Here's a look at the real costs of hiring in-house: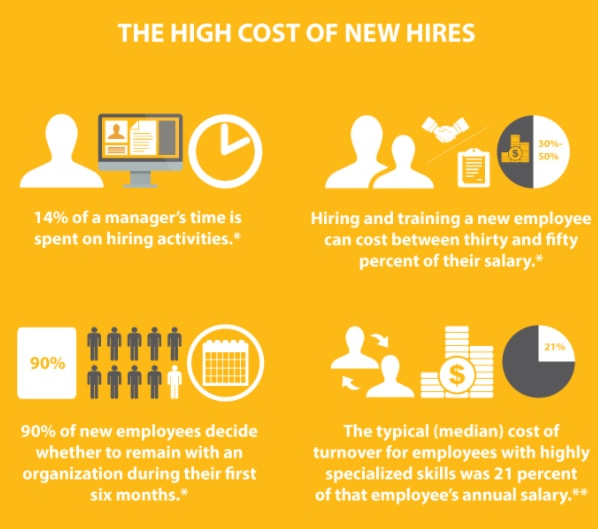 And then there are the challenges of hiring for a position that you aren't proficient enough in to judge the
candidate's qualifications.
When you outsource, you don't have to worry about training or finding replacements.
Marketing is a measurable activity.
If you don't know how each campaign affects your bottom line, you're just shooting fish in the barrel hoping to hit
your target.
When you outsource to agencies, you can measure success in terms of ROI.
How?
By tracking and linking their efforts to a specific monetary value of revenue or profit.
The Benefits of Outsourcing Your Marketing
Outsourcing core marketing activities makes sense when your in-house team isn't up to the task.
But are there any other reasons, benefits, or motivation to outsource?
Well, yes!
Let's look at a few other benefits of outsourcing:
Freelancers or marketing agencies don't require full-time benefits like medical or paid time off.
By outsourcing, you get access to a cross-functional team of marketers for the price of a single in-house
marketer.
Here's a look at the cost to the employer for
various marketing roles: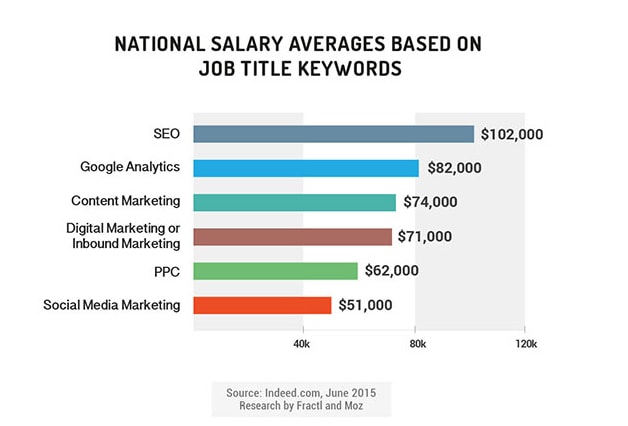 See how expensive an in-house team can be?
Access to fresh perspective
Agencies work with clients across many industries.
In comparison, your in-house marketing team is pigeon-holed to the same ideas and tactics that everyone in your niche is testing.
If they've been with your company for a while, they're likely entrenched in your existing branding and marketing
methods.
When you outsource, you get access to more diverse creativity and out of the box thinking.
Sometimes "but that's just not how we do things" is a good sign.
Reliable ongoing optimization
Every successful marketing campaign has one thing in common.
It's tweaked over time to ensure long-term success (agile
marketing).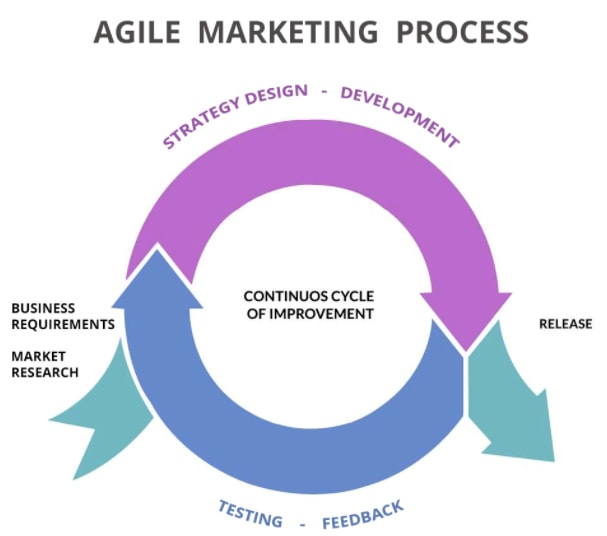 This means you need to be up-to-date with the latest trends and tactics.
Agencies have to stay current on trends and new tactics to attract and win clients. They can't afford to be a
one-trick pony.
Can you say the same about the person handling your pay-per-click strategy? Are they constantly learning new
techniques, A/B testing new ideas and implementing improvements?
Again, if you're understaffed or don't have the expertise, outsourcing is a life-saver.
You can choose your level of involvement
It's a myth that outsourcing means you have to give up complete control.
In fact, when you outsource, you can choose how much (or how little) you want to be involved in the process.
One option is to let the experts handle everything.
Alternatively, you can work with your agency reps and learn how marketing works at your own pace without the pressure of making high-level decisions.
Anything in between is also possible.
What Channels Of Marketing You Can Outsource?
Marketing is not one-dimensional.
It includes all of the following:
Lead generation
Pay-per-click
Email automation
SEO
Social media
Content creation
Here's how to outsource for each activity effectively:
Most companies already have an actionable plan in place to acquire leads.
However, it's still entirely possible to outsource segments of the lead generation process.
For example, you could bring in an agency to:
Identify high-quality leads from a large database of prospects
Verify contact information on opt-in forms
Identify key players in the companies you're looking to target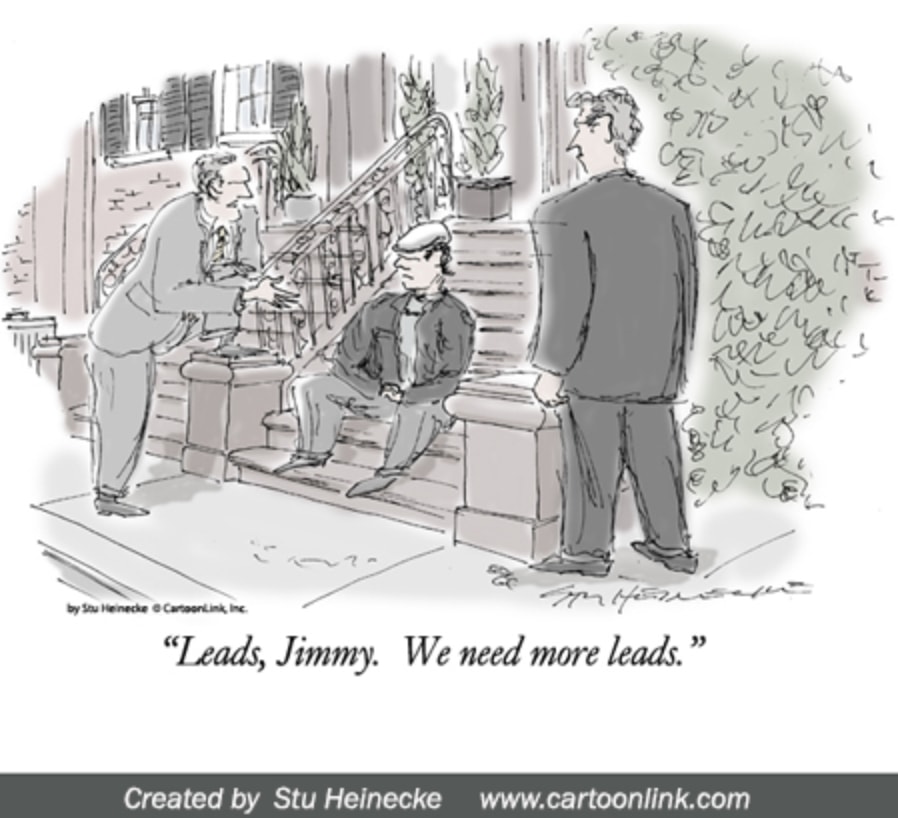 If you don't have an actionable plan for generating leads, you can outsource this too.
Just make sure the consultant you hire has demonstrated success in your (or a related) niche.
PPC campaigns require constant tweaking for optimal performance.
If you don't have the ability to efficiently manage campaigns yourself, don't waste the time or money trying to.
Just make sure that you're not handing over responsibilities to a novice advertiser.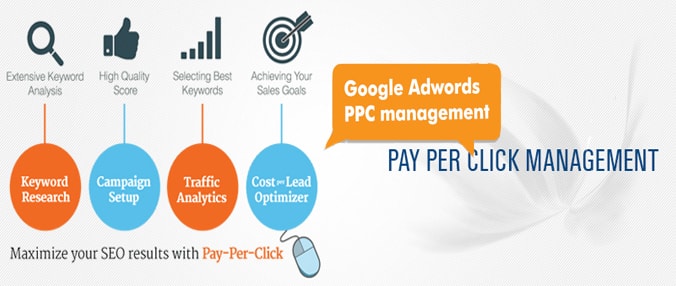 Set up a call with your prospect and filter for the following qualities:
Engagement with your brand
Drive to understand your customer
Creativity
Data-driven decisions
Firm grasp on using analytics to determine success
This will save you from many headaches down the line.
You may think that email is dead, but you'd be wrong.
Nearly 54% of the planet's population uses email.
That's right: of the planet's population.
But you don't have time to hand type emails to every prospect on your list.
And what if that potential lead would have turned into a goldmine client with just a bit more nurturing, but they
fell through the cracks of your DIY email outreach strategy?
An automated email system, fine-tuned to be personal, engaging and representative of your brand culture, will return dividends for years to come.
Unless you have the time to dedicate to identifying the best email automation platform to meet your company's needs, learn how to set up that program to sort your lead list and customers by their actions and interests, compose multiple email campaigns, integrate your copy into a design or template and schedule out your campaigns, you should hire a professional.
Someone who's familiar with the ins and outs of the various platforms and knows how to use them will save you (and
your company) countless hours reinventing that wheel.
SEO is much more than just content.
A good SEO team (whether in-house or outsourced) must know how to build links and clean up technical or on-page SEO problems.
Here's a review of common SEO tasks that businesses outsource: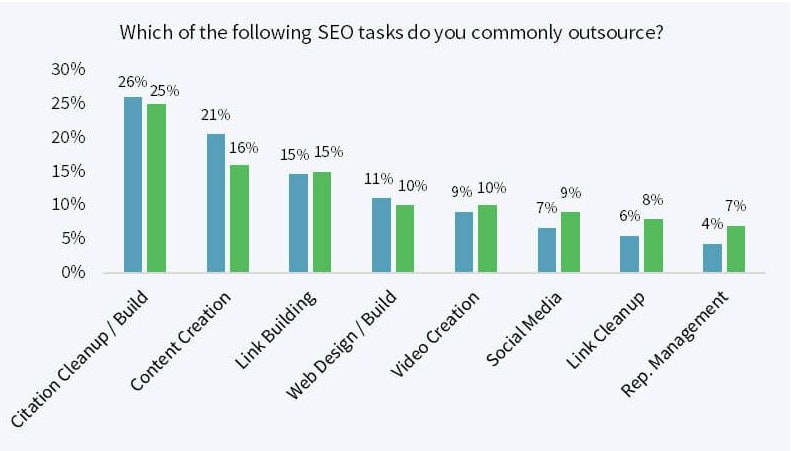 Ensure your SEO expert is well-versed with all of these elements.
Don't fall for any individual or agency that tries to sell on rankings alone.
Outsourcing social media activity presents a different set of challenges.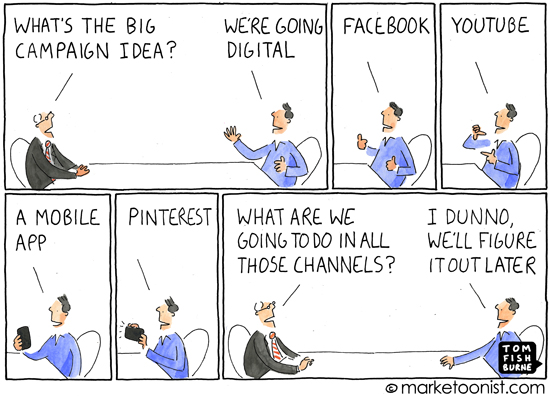 Whoever you choose to run your social accounts must understand your company's vision and be able to communicate to your audience in the same tone of voice as you.
Before you hire someone to handle your accounts, have them provide you with some sample posts that they put together for your company to ensure they capture the feel of your brand and your desired messaging.
Also, make sure to establish terms about how often you expect them to post.
Content is the easiest (and most popular) activity to outsource.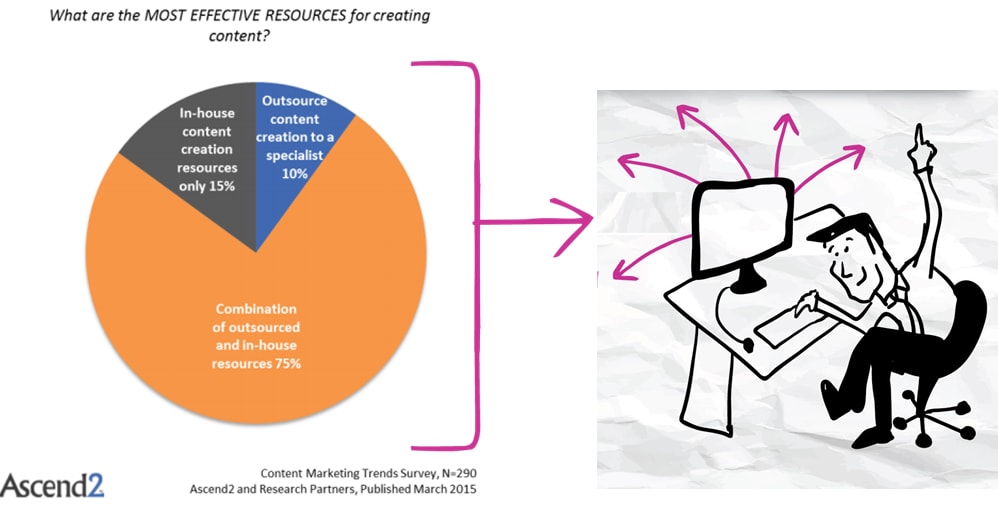 But it's not always going to be cheap.
It's entirely possible to have content created in bulk at an affordable rate, but you'll have to compromise on
quality.
If you want premium content, you'll have to pay premium rates.
If content is important to your marketing strategy, go with the latter option.
Make sure to share your goals and strategy with your writer(s) and have an editor to help ensure content stays on
message.
How To Choose An Outsourcing Model That's Right For You
There are 3 'levels' of outsourcing model you can choose from:
Freelancers
These are standalone individuals who operate under their name or under a sole proprietor business name.
They tend to specialize one or two activities, such as pay-per-click management or web design.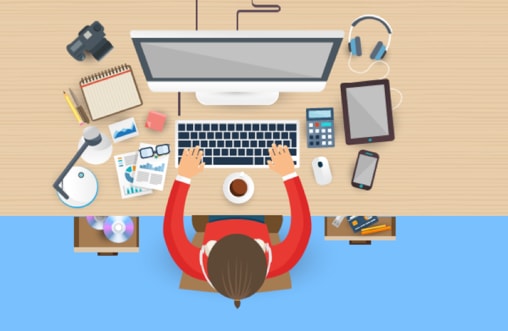 They tend to be the least expensive option and take longer to complete projects especially if they're working with
multiple clients.
But this doesn't always hold true.
Many established freelancers charge industry-standard prices (or higher) and load up on projects by outsourcing it
down to their own trusted freelancers.
Freelancers are a good option if you don't have multiple activities to outsource.
Consulting agency
A consulting agency is simply a team of consultants. This gives you one point of contact with experts in
multiple domains.
They give you recommendations on how to run your campaigns, but you're still responsible for execution.
You can pass this work down to freelancers, but this setup ends up being costly.
I only recommend consulting agencies to business owners that already know how to execute tasks themselves but want a second opinion in terms of direction.
Full-service agency
Full-service agencies are a combination of the previous two options.
These are firms that house both experts and employees in a single location.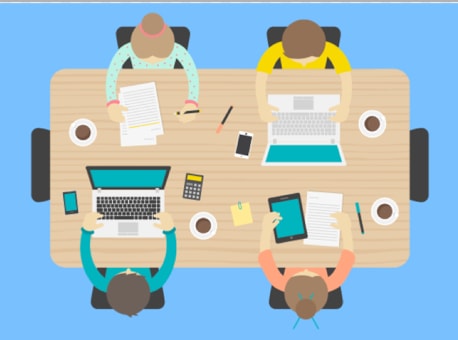 The experts consult you on how to run your campaigns and in-house team of employees executes those recommendations for you.
Full-service agencies are great for those who want a comprehensive, cost-effective solution to replace their reliance
on an in-house team.
You get access to experts and 'freelancers' in one place.
Conclusion
Successful businesses are rarely (if ever) run by a single person.
At some point, everyone needs a bit of help.
Take advantage of the pool of expertise available to develop and execute a comprehensive marketing strategy, without the traditional costs of hiring in-house employees.
Wise outsourcing will pay for itself in lead generation and nurturing.