SEO
No Location? No Problem. Rank In SERPs with City Pages
As a local business, ranking in the location(s) where you operate is very desirable.
If you operate in only one town or city, the ranking process is straightforward.
Just list and claim your business on Google and optimize for local SEO. If you do this right, your business will be
visible on the local 3-pack.
But what if you service a region that spans multiple towns and cities from one location?
Google is strictly against ranking businesses where they have no physical presence.
Fortunately, there is a workaround you can use to game the system – without getting penalized – and start ranking in
multiple cities today.
How?
Create local landing pages for local organic results.
If that sounds like a bunch of gibberish, pay close attention.
In this post, I'll show you how to use local landing pages to reach potential customers in every target market.
What Are Local Landing Pages?
In many ways, local landing pages are like 'normal' landing pages.
There is one key difference, though.
A local landing page is tailor-made to target potential customers in a specific location whether it be a village,
town, or city.
Here's an example of a local landing page.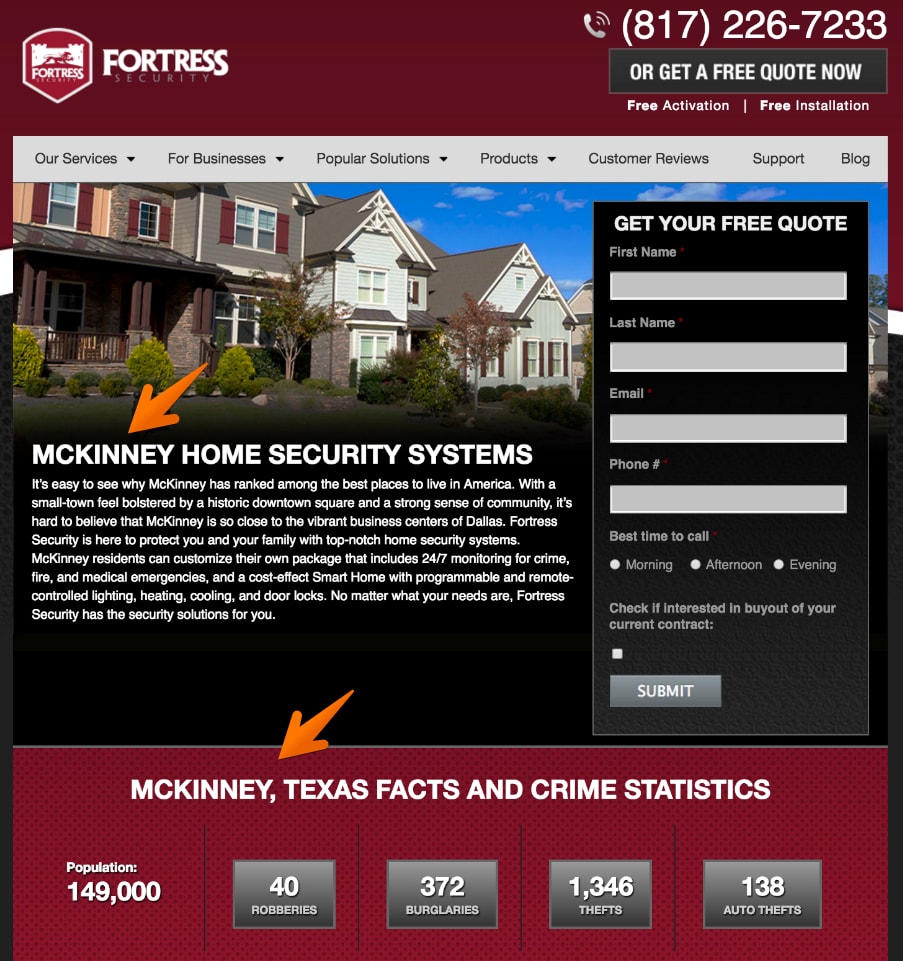 This page is obviously targeting residents of McKinney, Texas.
What type of business can use local landing pages?
Business that offer services in multiple locations from one centralized office
Service providers who come to client locations and have no office (for example – pet care providers, remodelers,
and plumbers)
What To Avoid On Local Landing Pages
Before I get into the nuts and bolts of what makes a great local landing page, let's go over a few things you should
not be doing.
By now, it's common knowledge that you shouldn't overload web content with your desired keyword.
Local landing pages are no exception.
Engaging in this practice is not going to help you. Crawlers will flag your page as spam and ban it from showing up
on SERPs.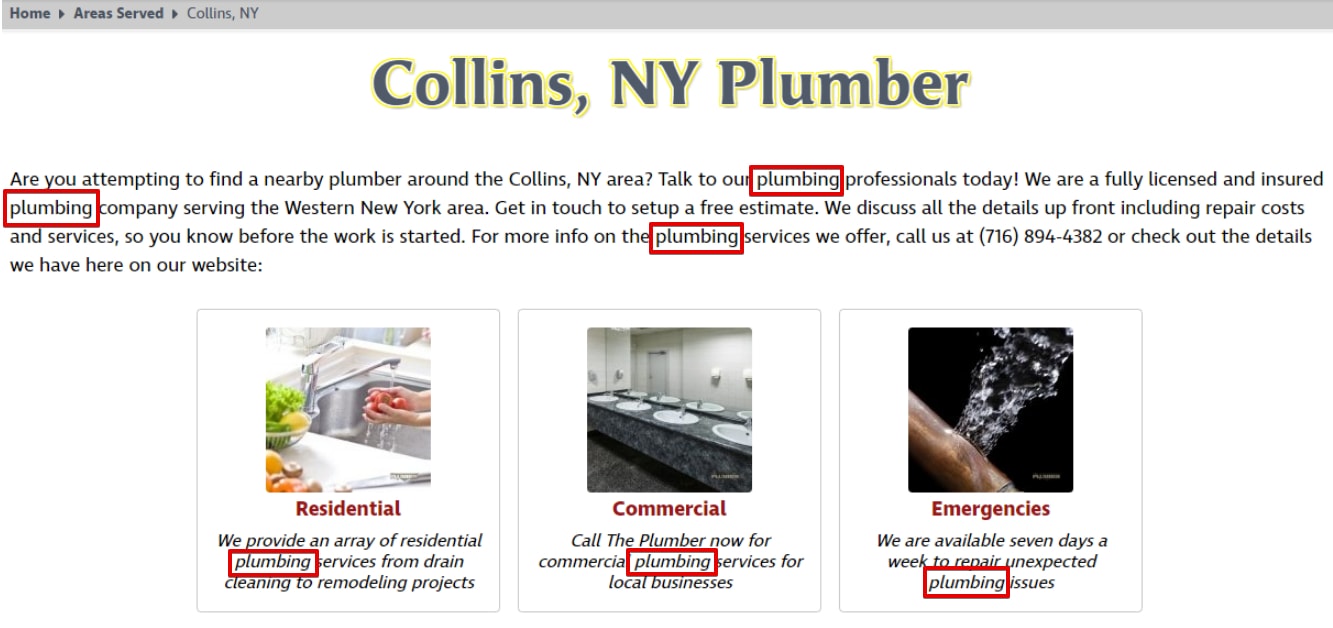 Target multiple locations from one page
Each local landing page should target one location only.
For example, if you're going after residents of San Jose, don't list zip codes or mention neighboring towns like Palo
Alto or Fremont.
Churn out too many city pages
Let's say you offer 10 different services in 10 cities.
Technically, you can create a 100 city pages to inform customers of your services in each city.
However, these pages would be nearly identical.
Having a large volume of city landing pages like this significantly reduces your ability to rank on SERPs.
Limit yourself to no more than 15 city pages.
Anything more is not only redundant but ends up cluttering your site's navigation to the point that it actually harms
the user experience.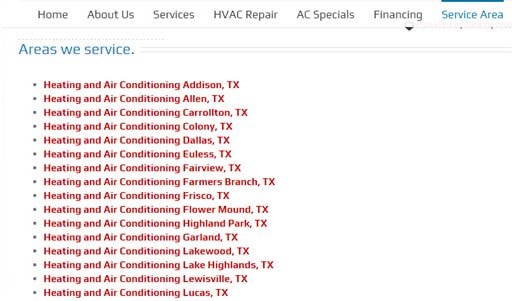 The Foundations Of A High Ranking City Landing Page
Now that you know what not to do, let's start laying down the foundation of a great city page.
If you've dabbled with landing pages or created web content before, the words on-page SEO should not be
anything new.
City pages that rank are optimized for on-page factors at their core.
These are things like meta descriptions, title tags, and URL structure.
Unfortunately, you can't apply the same practices that have worked for you elsewhere.
For city landing pages, you want crawlers to understand local intent so that search engines return your site for
searches in the desired location.
That means that each on-page factor should take on a local twist.
Let's walk through how to do this for each element:
The title tag defines what searchers see when they first encounter your brand on SERPs.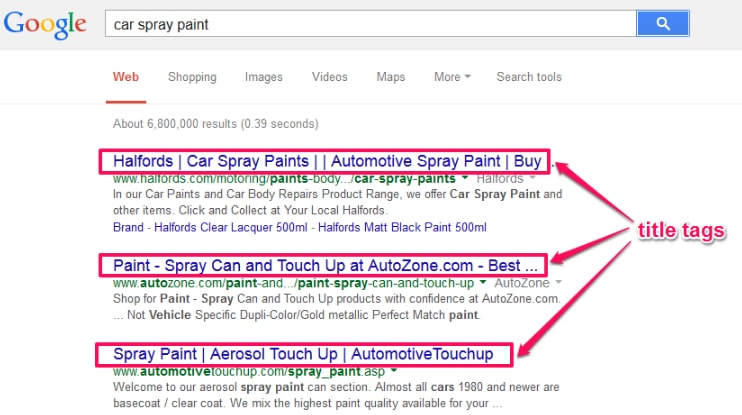 Your city page's title tag should include the following information within 50-60 characters.
Target keyword
Your location
Your business name (if possible)
For example, a title tag like "Best Honda Repair in San Francisco" can work well, particularly if your
domain matches your company name.
If your title tag does its job, the searcher will glance to your meta description next.
Use this opportunity to provide answers or describe your business and how it can help someone resolve their
problem.
Your goal is to compel someone to click-through.
For example, let's say you provide home cleaning services in San Francisco.
What do you write that will entice a searcher to click?
Type your keyword into Google and look at the paid ads section.
Since ads cost money, each ad you read has probably been A/B tested and the copy before you is the winning
combination.
Go through a few ads and reword the one you like best. This is a cool little hack that lets you use other people's
marketing budgets to your advantage.
Remember not to exceed the 160 character length or your description will be cut off. This can lead to a less than
stellar headline.
Pages with short and informative URLs are favored.
They help crawlers understand the content of your page and increase CTR since users know what to expect.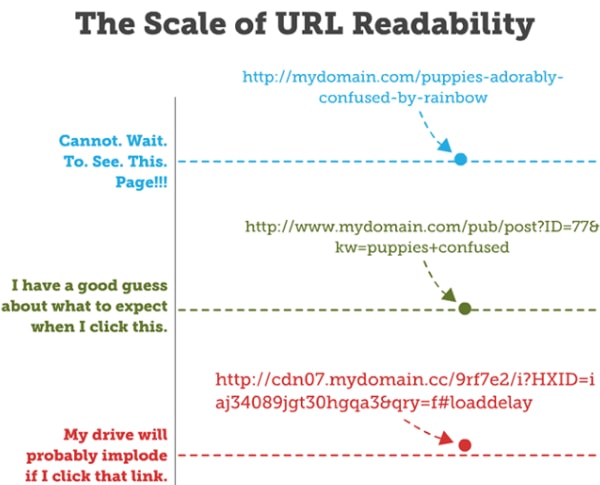 Make sure your URL structure features your keyword and location.

Once you've got the nuts and bolts of the page structured to optimize click-through potential, it's time to focus on
the user experience once they land on the page.
Make the page visually consistent
Just as with any other landing page, you want to ensure that the user isn't jarred by a disconnect between why they
clicked on the link and the content they see when they get there.
Make sure that the page content highlights the words the visitor will have seen in your title tags and meta
description.
Try to keep the length contained for best results.
If you have a super long landing page, break it down into sections to help readers better retain information.
Subheadings are the perfect tool to help you accomplish this.
Use them to mark new sections and help skimmers understand your business.
Again, don't focus your attention on keywords here. Instead, focus more on helping readers understand what you're all
about.
You don't want your city landing page to exist in a silo that nobody can navigate to.
Besides improved user experience, this practice spreads "link juice" (SEO value of a link) from your
existing pages to your city page.
But don't link to a city page from just any page on your site.
There has to be some logical sense to your choice.
For example, a blog post that showcases your work in the area you're targeting is a sensible choice to link your city
page from.
Here's how Rotorooter uses internal linking to educate potential
customers about their services.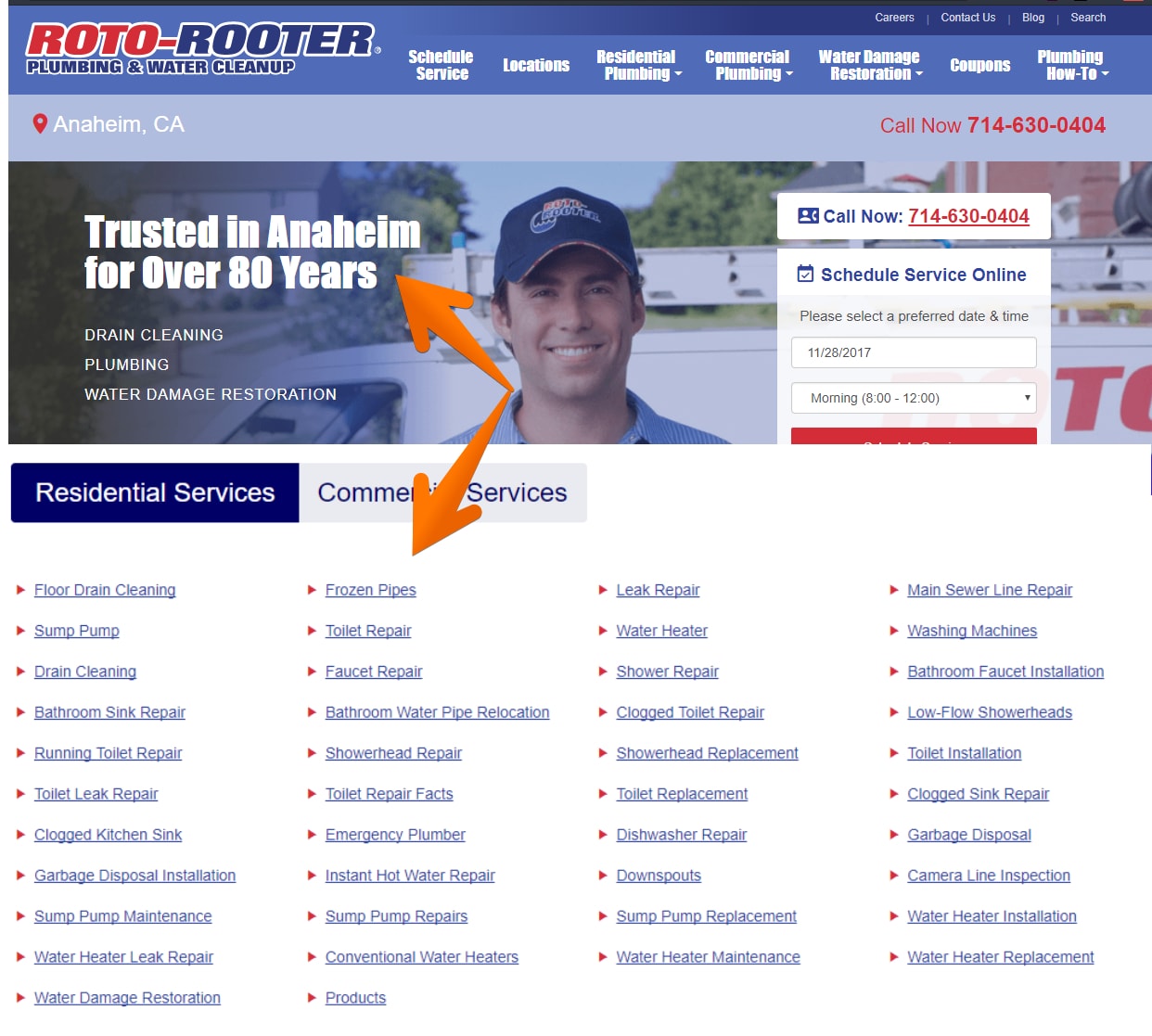 External links are just as important internal links.
But how do you link out to other websites without leading prospects to your competitors?
By sending audiences to your indirect competition.
For example, let's say you operate a restaurant franchise with a focus on locally harvested "farm-to-fork" fresh
produce.
Send some link love to the local farms you partner with.
Bonus: they may be inclined to link to your local page as well!
City landing pages should be incorporated into your site's navigational structure.
Otherwise, Google will think of city pages "doorways," created for the purpose of manipulating page rank. Google
marks these pages as spam.
Make sure to include city pages in your site's navigational flow.
Here are a few ideas on how you can do this:
Establish an 'Areas we serve' option under main navigation
Designate sub-pages under the contact us page menu
Here's an example of Baethke & Son's Plumbing from the Chicago area: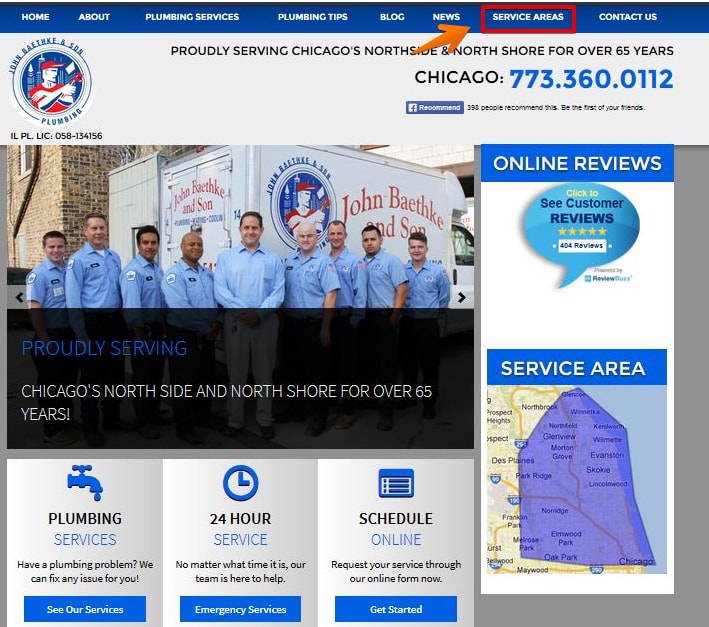 How To Win Over Prospects By Tugging At Their Hearts And Minds
Optimizing for on-page factors is a 'behind-the-scene' job.
While it has a role to play, you need to pay attention to how users perceive your city page and business. If people
can't trust you, they won't do business with you.
Here are a few foolproof ways to build trust:
Today's customers want to know who they are purchasing from.
Help people learn more about you with an engaging story. This helps you become more relatable and forges a strong
emotional bond that leads to conversion.
How can you create a great story?
Answer these questions about yourself:
When was your business established?
What do you believe in – do you have a mission statement?
How do you differ from competitors in the marketplace?
Here's a cross-section from Closet Organizer's city page that tackles these points.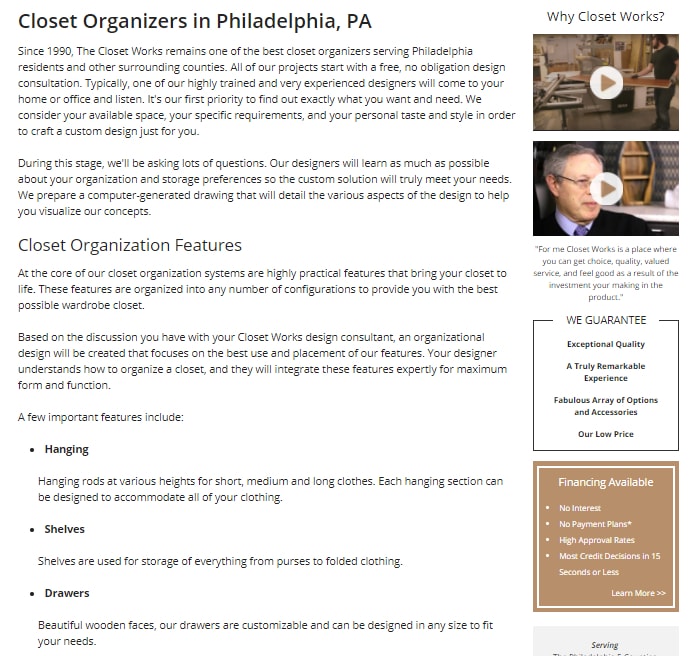 Fears, uncertainties, and doubts are all impulses that prevent people from taking action.
Fortunately, social proof is a powerful ingredient you can easily implement to put these feelings to bed.
Social proof shows page visitors that others have entrusted you with their business and had a good experience. It
creates a herd mentality, and an inclination not to be left out.
You can include social proof on your city page in a number of ways, such as:
Highlight your prior experience
Highlighting previous work done for clients in a target city is high on the persuasion scale.
It subconsciously communicates that you offer value.
You can highlight previous experience in a number of ways.
Creating a case study that walks a reader over how you helped a client achieve their goals is the most
effective.
Here's a great example from the supplement company Alpha BRAIN utilizes data to establish the trustworthiness of their product:

Other methods include showing before and after images or creating a FAQ section.
Testimonials
Testimonials and reviews are another popular option used to showcase social proof.
If you've done some work for clients in a city already, reach out and ask them to leave a genuine review for your
landing page.
Use schema markup to show stars next to these reviews and use the person's name where possible. This makes the review
seem more genuine.
More importantly, this gives you a local SEO boost.
Massage Envy's local pages do this exceptionally well.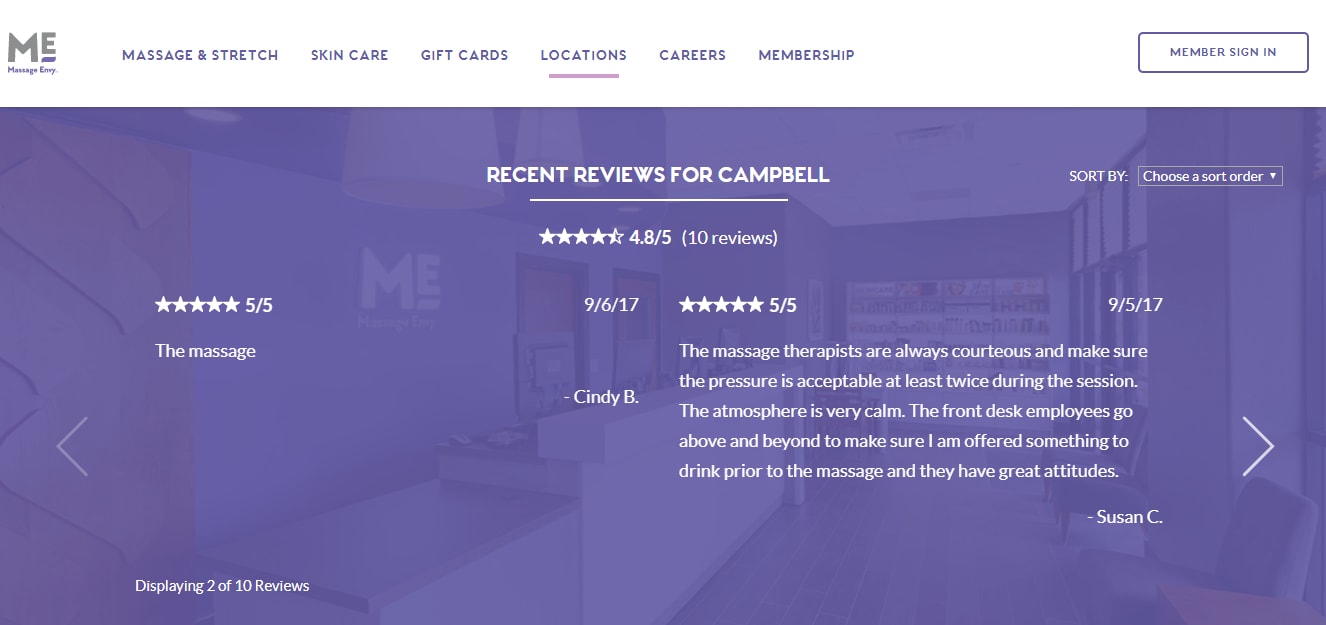 If you can't secure testimonials directly, pull reviews from 3rd-party platforms like Yelp or Google. Don't use
schema on these reviews though or you'll be penalized.
Trust signals
Trust signals are pretty self-explanatory.
These are widely accepted recognizable visual cues or marks of approval from certified third parties that people
place their trust in.
Examples of trust signals include money-back guarantees or return policies.
Include these on your city page where relevant.
If your business is part of a local association (example – chamber of commerce) or national associations, add these
logos to your page also.
Ecology Exterminators page displays not one but multiple trust badges.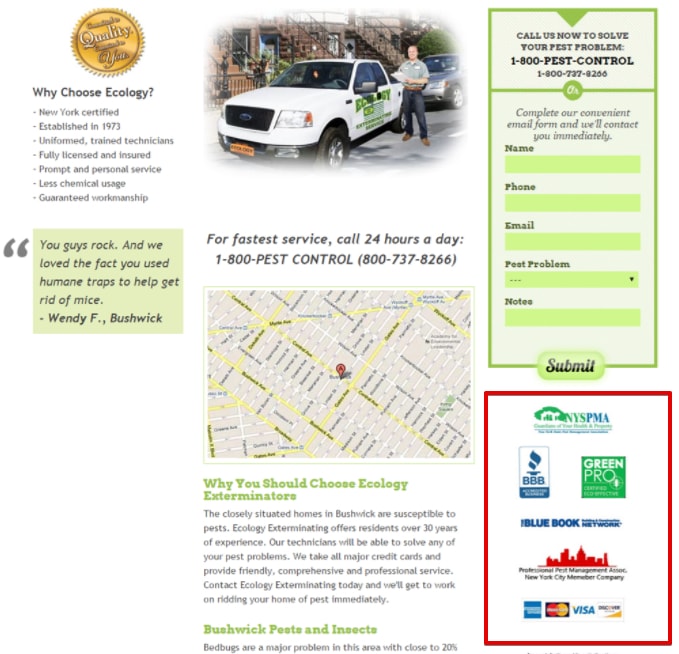 Media mentions
People trust media outlets since they are viewed as authorities.
They also don't tend to feature illegitimate or scammy businesses.
If your brand has been featured in the media, include their logo on your page. If you have multiple mentions,
consider adding a bunch of logos in a section titled "as seen on."
Better yet, post a clip from the mention – assuming it's favorable.
Make your contact information visible
There is nothing worse than a business that makes people look for their contact information.
If you want more customers, display your contact information clearly in a prominent location on your city landing
page.
The footer section is the industry-standard of where to show this information.
Make sure to show the following information:
Phone numbers
Address
Hours of operation
Social profile
Sport Clips' local pages make sure that readers know when, where, and how they can get in touch with them.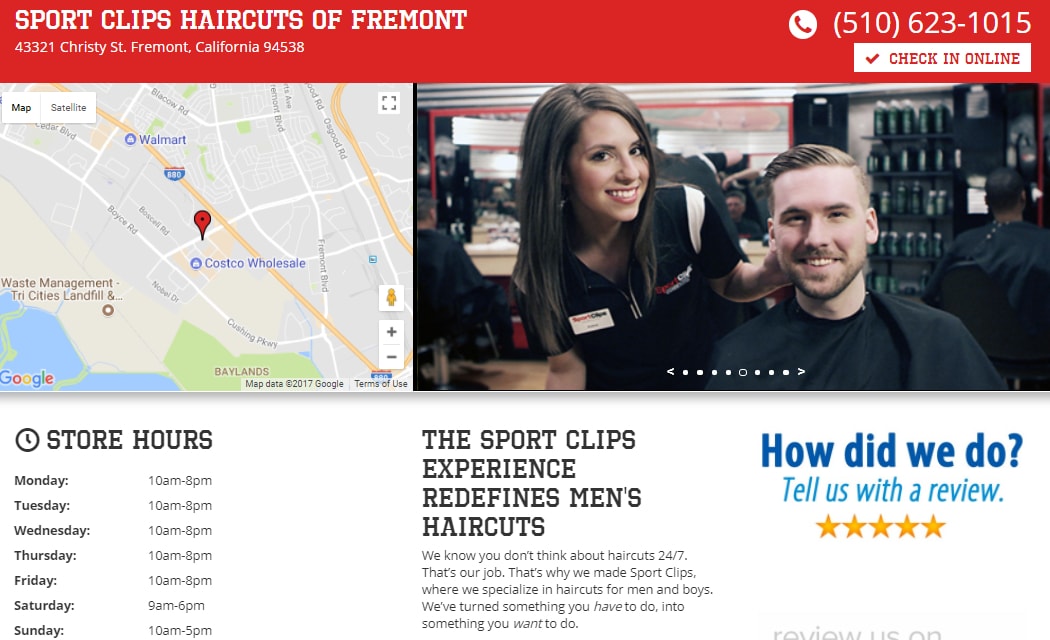 Types Of Content To Include On Your City Landing Page
When it comes down to it, content has the final say in whether prospects engage with you.
This means that your landing page needs to be all of the following:
Interesting
Informative
Engaging
Relevant
Local references are the killer punch that can help you accomplish all of this.
Here are a few content ideas that can double down as great local references:
Do you host or attend events in your target city?
If so, mention the dates and times of upcoming events so that prospects can find and speak with you in-person.
The more information you provide, the more legitimacy you gain.
Also, don't forget about community events you're involved in.
For example, if you sponsor a little league tournament or volunteer for charities in an area, share this information
on your local landing page.
This shows your dedication and commitment to the local community.
Visual content speaks volumes.
Don't just slap large blocks of text on your city page. This shows a lack of personality and makes your page
unengaging.
Instead, use high-quality images or videos to strengthen your page objective.
A few ideas of visual content are pictures of your team, images of local events you've been at, or previous work
completed for clients in the area.
Images of local landmarks is another option.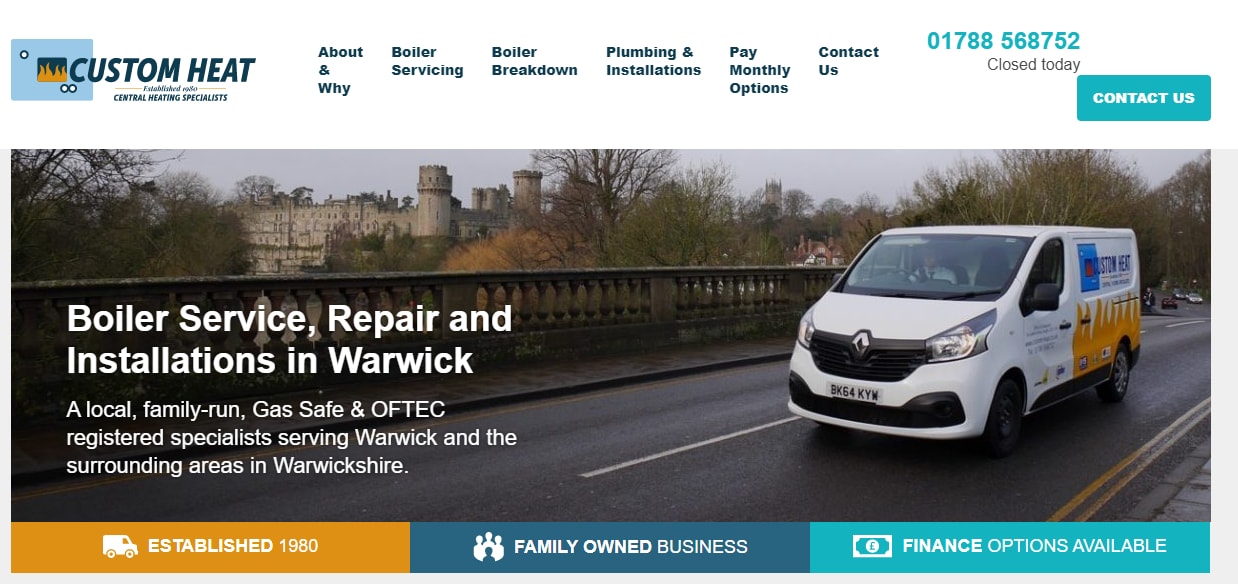 Residents of Warwick will instantly recognize their iconic castle here.
If you're taking the video route, try explainer videos to educate viewers about your brand.
Promotions are an easy way to capture a user's attention.
Who doesn't love a great deal or offer?
Create special offers meant only for residents in the city you are targeting. This way you're combining two forces
that compel people to action.
These are better known as exclusivity incentives.
Things You Should Invest In To Take Your Local Landing Page To The Next Level
Vigilance is key to minimizing risk and maximizing desirable results.
With city pages, you need to closely monitor, test, and make tweaks to improve page performance.
Here are a few things you should be aware of:
How do you plan to collect leads from your city page?
Are you having users fill out an opt-in form? Or do you have a specific (tracked) number that you ask people to
call?
Whichever option you select, have a system in place that the monitors effectiveness of your chosen channel.
For example, let's say you have multiple city pages.
A great way to do lead tracking here is to provide a different phone number on each city page so that you can easily
track which city provides you the most leads.
Callrail allows you to establish a unique phone number for any of your
specific pages or offers to track beyond click through to measurable conversion.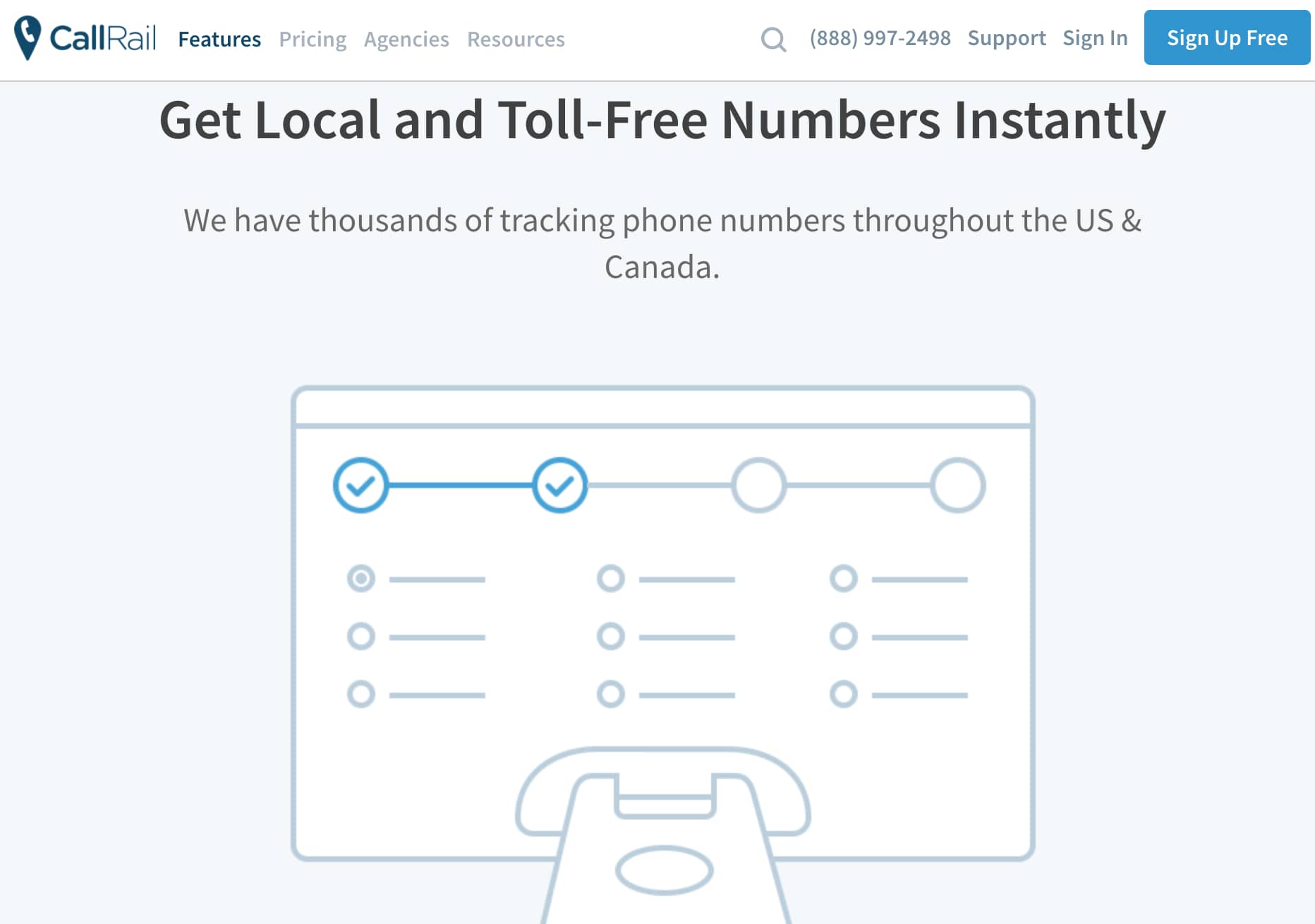 Once you can see how this page converts compared to other pages, you can uncover flaws or opportunities to take
advantage of.
Local organic results are shown below the 3-pack.
But you can use Google Ads to cut the line and have your business be the first a searcher sees.
Set up ad campaigns for your local city pages and gauge if they make a difference in providing you with new
business.
Make changes as you see fit.
Since we're trying to rank for local organic results, link building comes into play.
You'll need backlinks that point to your city page. Ideally, seek out links from local businesses in your target area
as they provide the most value in terms of SEO.
Here are a few places from where you can acquire local links from:
Local associations
Meetup events
Conferences
Also, don't underestimate local government websites.
They like to keep citizens informed about news and events in the area and often will link out to your business.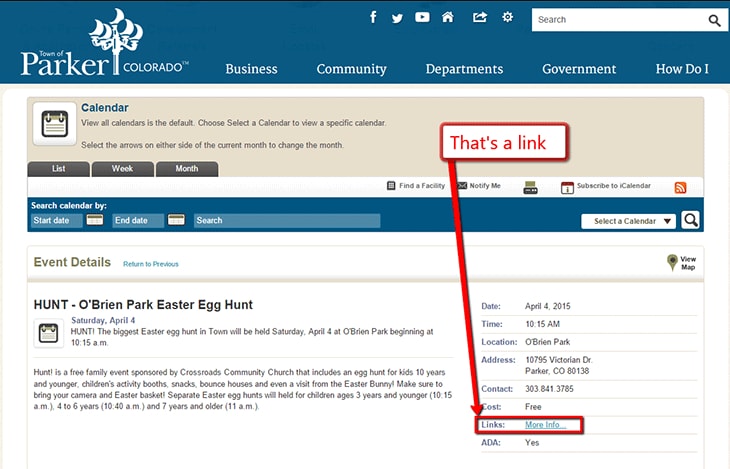 City pages are your bread and butter.
Don't risk having sub-par copy cost you customers. Make the one-time investment in hiring someone to do your
copy.
Or hire an experienced freelancer through a site like copyblogger.
The returns from leads that convert will offset your cost in no time.
Research your competitors
Competitors should not be seen as threats but as an opportunity to ensure your brand stands out from the noise.
Look at your competitor's city pages.
What are they doing right? What are they doing wrong?
Copy (and improve) things that are working for them and fix any shortcomings on their page to divert traffic to your
page instead.
Closing Thoughts
Local landing pages give you the opportunity to target potential customers in a specific geographical area, even if
you don't have a physical location.
Even if you can't make it into Google's local 3-pack, your local page in the organic search results shows searchers
that you service their area.
And it's a great way to be visible in multiple locations without having to open a bunch of offices.