Social Media Marketing
5 Instagram Marketing Secrets Successful Brands Don't Want You To Know
In its early days, Instagram was the darling of filter-obsessed adolescents.
Since then, Instagram's user base has swelled to over 600 million and the platform has become a robust
visual-marketing tool that brands simply can't afford to overlook.
If used correctly, Instagram can help build your brand image and win you new customers.
In this post, I'll reveal a few secrets that successful brands use to grow their following and convert the
toughest of leads to scale their business to new heights.
Let's start:
#1 – Link Out To a Customized Page for Your Audience
Most social platforms allow clickable-links or 'hyperlinks' on every post you make, whether it be a status
update, tweet, or a video description on your YouTube channel.
Instagram is a bit different.
Besides your brand's profile section, clickable-links are not allowed anywhere else.
The photo caption and comment areas on Instagram are strictly meant for engagement and improving user experience.
If you try to add a link here, you will seem spammy.
This makes your choice of where to link-out particularly important.
Take a look at Biltwell's Instagram page: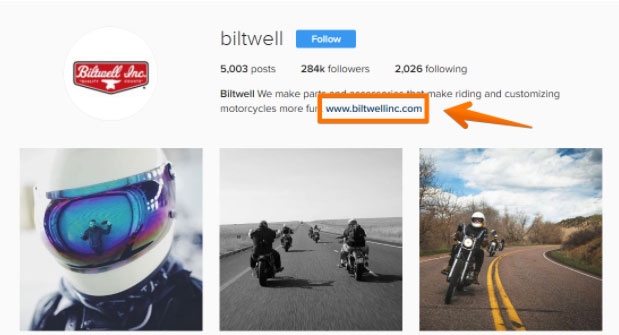 Notice how the link guides visitors to Biltwell's homepage.
For visitors, clicking on this link breaks contexts, causes confusion, and harms conversion.
A visitor effectively goes from consuming images of motorcycle accessories to a static homepage where they may
end up confused and leave.
So where should your clickable-link point to?
Here are a few ideas:
Option 1: A landing page dedicated to Instagram-content
Ideally, your link should lead visitors to a dedicated
landing-page.
On this page, you should provide additional information and context related to images or content present on your
profile.
This is especially true if you're in eCommerce or run a digital store.
Doing so reduces friction and lets potential shoppers quickly purchase items. They don't have to waste time
sifting through your site in order to find what they just saw on Instagram.
Madewell's Instagram page features high-quality images of their
products. The URL even hints that click-through will lead to a customized-landing page related to Instagram.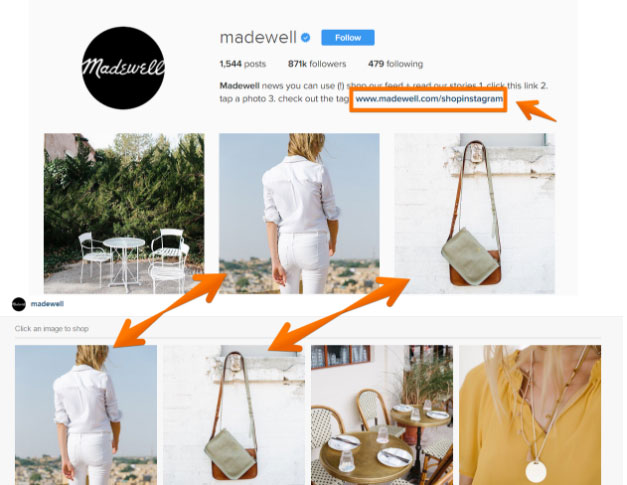 The items on their landing page are instantly recognizable.
The same products are presented to potential customers with added quick-links to streamline checkout.
Option 2: Long-form content
Unfortunately, direct purchases from Instagram are rare.
Target-audiences in most industries (especially B2B) require lead
nurturing before conversion takes place.
In such cases, your clickable-link should lead visitors to long-form
content such as a blog, newsletter, or videos that further educate and groom potential customers.
Let's focus on Hootsuite:
As a popular social media management tool, HootSuite first directs traffic to a pre-recorded webinar on social media
strategy.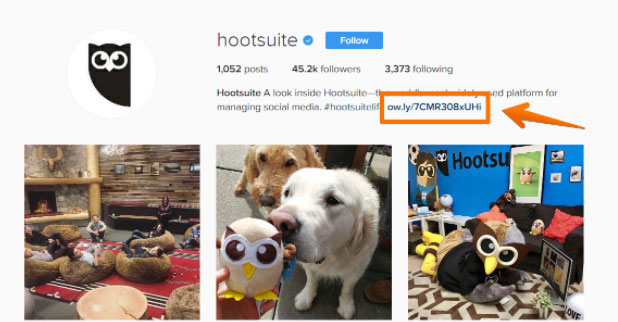 In this webinar, Hootsuite focuses on providing value rather than selling their service. A focus on social media
trends in the webinar leads
to a opt-in e-book resource.
By funneling value, Hootsuite entices readers to become a subscriber.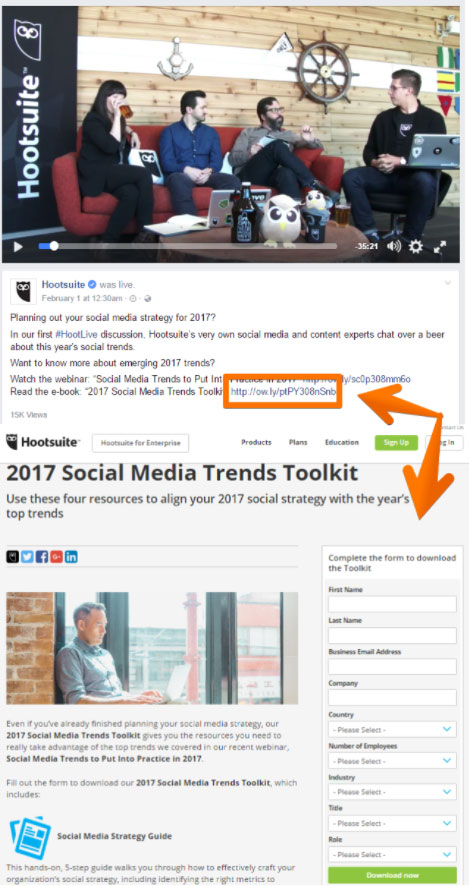 #2 – Host Contests (That Incentivize Action)
Contests accelerate the pace at which users interact with your brand.
The allure of a 'prize' taps into people's in-built competitive drive while simultaneously triggering their loss
aversion instinct, which is psychologically more powerful than gain.
In simple terms, contests drive engagement and generate 'buzz' around your brand.
There are multiple contest formats you can run depending on your product or niche.
Let's take a look at some popular formats:
Option 1: Like to Win
The "Like to Win" contest format is fairly straightforward. It requires visitors to follow your brand and 'like'
a post during a given time-frame in order to enter.
Subsequently, you select a winner at random from this pool entrants.
Check out this
contest from Student Beans: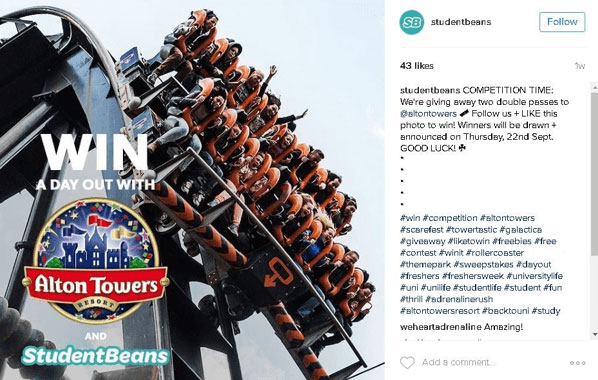 Why these contests work:
These contest have a low-barrier of entry and require minimal effort in order to enter.
The downside
Quality of entrants is low as many will 'like' in-passing in order to win a prize without having any real
interest in your brand.
To attract high-quality entrants, run these contests periodically.
Option 2: User-Generated Content Contests
A user generated content
contest gets your customers to promote your brand.
Create a unique hashtag for your contest and invite entrants to post a photo of themselves using your product in
order to enter.
Starbucks hosted a contest in which they asked coffee-lovers
to design a cup with customized-art and submit the design through #WhiteCupContest.
The winning selection would be printed as a limited-edition cup.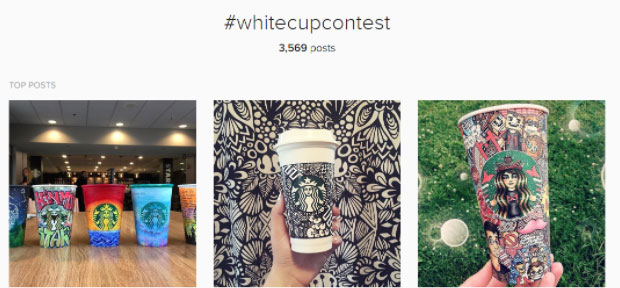 Why these contests work:
For customers, public recognition and a prize instill a powerful motivation to enter.
For your brand, each entry can be used as original content. Moreover, images of real-people using your product
doubles-down as social proof, enhancing your brand credibility.
The downside
Entering these contests can be a lengthy-process which may scare off some contestants, especially if they believe
winners are selected at random.
To attract such contestants to enter, have the public choose a winner.
This also leads to contestants promoting the contest for you in order to garner votes.
Option 3: Mention A Friend
Just as the name implies, this contest format requires users to tag a friend in order to enter.
The idea behind such contests is to get the tagged individual to become a follower.
Drinkwel runs a recurring 'mention a friend' contest in which
followers must tag
at least one friend in order to enter and win a prize.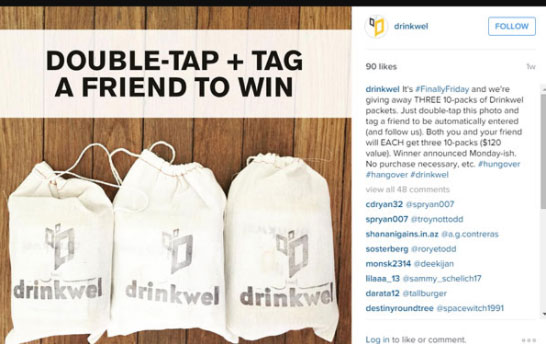 Why these contests work:
Generally, people are willing to tag their family and friends, particularly if it's a product they like and one
they think their family and friends may enjoy.
Since these are people that like you, they will pay attention to the request. This increases your brand's reach
and exposure.
The downside
Most people will only tag 1-2 people, which caps your reach beyond a certain limit.
#3 – Run Multiple Highly-Targeted Accounts
Attempting to target all your customers from one Instagram account is ineffective.
Most brands have multiple buyer-personas
to appease. Trying to accomplish such a monumental task from one account increases the risk of isolating certain
groups and adds clutter to your page.
Here's how you can solve this:
Create multiple Instagram accounts to segregate customer-acquisition into highly-targeted channels where you can
better address the fears, challenges, and pain points of each persona.
Here are some ideas on what content to host on additional accounts:
1. Highlight different uses of your product
If your brand has more than one product on offer, it's likely that each has a different purpose.
For example, in the cosmetics industry, brands tend to have multiple products specialized for unique functions
such as anti-aging, make-up or hair care.
Ideally, each singular purpose should be addressed through a separate Instagram page.
Take
a look at the diversity of L'Oreal's Instagram accounts: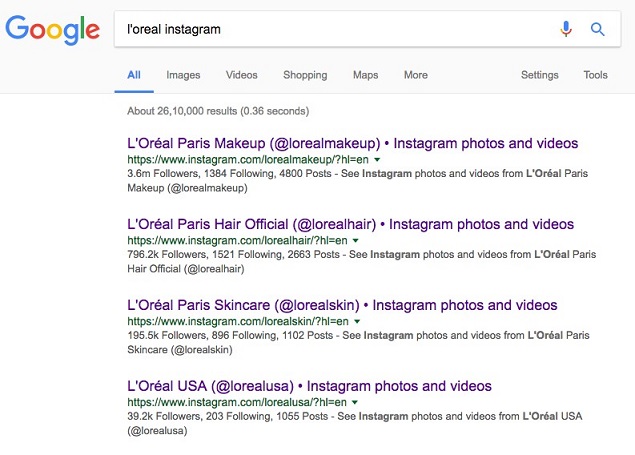 2. Target geographical spread
Unless your brand is hyperlocal, your customers will be located in different areas with different interests,
experiences, and lifestyle.
Create separate Instagram accounts to target these regional and international variations.
Whole Foods puts this technique to great use with
multiple regional accounts for their brand across the United States.
Here's their account for Miami: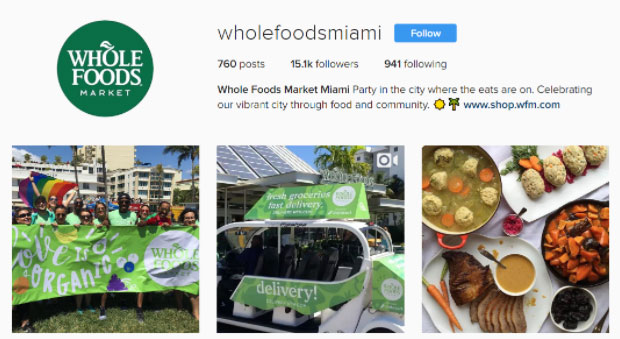 And this is their Chicago account: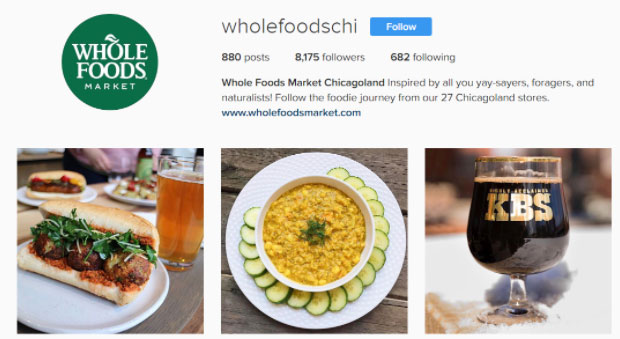 Notice how the Miami's account has a summery-feel whereas Chicago's feed focuses more on soups and ales commonly
associated with winter.
Additionally, such segregation allows Whole Foods to promote local organic products which align with its brand
character.
#4 – Serve Up Exclusive Content
People have an inherent desire to feel a sense of belonging, whether it be love, friendship, or acceptance into a
group as outlined in Maslow's hierarchy of
needs.
This desire inspires followers to take action.
Foster this feeling of belonging by making your audience feel special. This will motivate them to engage with you
on Instagram.
Here are a few ways to seduce followers:
Option 1: Offer special discounts
When you reward followers with Instagram-exclusive discounts, a few things happen:
First, you increase exposure of your brand as followers use word-of-mouth to spread your brand name to family and
friends, which entices them to become your followers.
More importantly, you build a relationship which ensures followers keep coming back.
Emily Ley hosts frequent flash sales exclusively for Instagram followers,
offering discounts on certain items.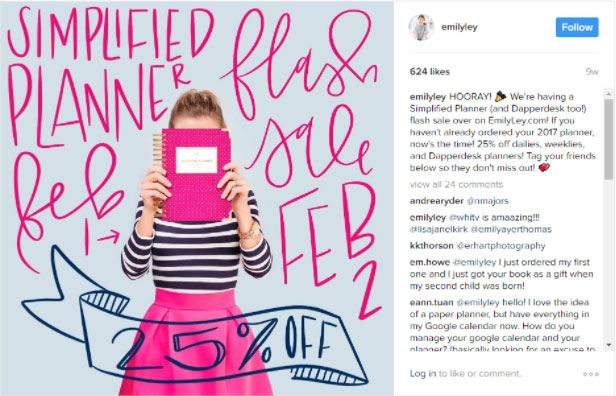 This makes their followers feel as if they have an opportunity that other's don't.
Option 2: Provide sneak peeks
Sneak peeks present another opportunity to make your followers feel exclusive.
Simply show your audience a product before it hits the market. Doing so builds curiosity, hype, and demand around
your product.
When the product is eventually released, people will rush to purchase, creating additional hype.
Alternatively, you can provide a behind-the-scenes look at everyday life in your company.
This humanizes your brand and allows followers to build an emotional connection. It also builds loyalty as
followers feel they are a part of a real and credible community.
Formstack wants its followers to realize they aren't just some
obscure form-building tool. Rather, they are real people with similar interests as you.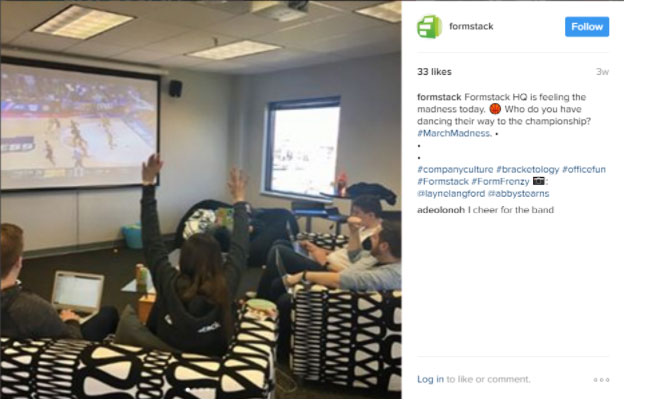 #5 – Partner Up With Supporters Who Champion Your Brand
Influencers are
authoritative-individuals with a significant following.
Partnering with such individuals to promote your business lets you cast a wide net and introduce your brand to
audiences that otherwise may have been inaccessible.
A "shout-out" for your brand
from an influencer significantly impacts conversions.
Why?
It's a result of consumers rarely turning to brands as sources of honest information or reviews. When push comes
to shove, buyers simply trust influencers more than a brand "tooting its own horn."
To more quickly find influencers in your niche, use analytics tools such as Ninjaoutreach
or TrendSpottr.
Narrow down a list of targets and send out a free version (or trial) of your product.
Make sure to ask influencers to organically mention your brand in a post if they like your product.
When fashion stylist Sania Demina was preparing for a
trip to New York, she cheekily dropped a reference to a Lo
& Sons handbag.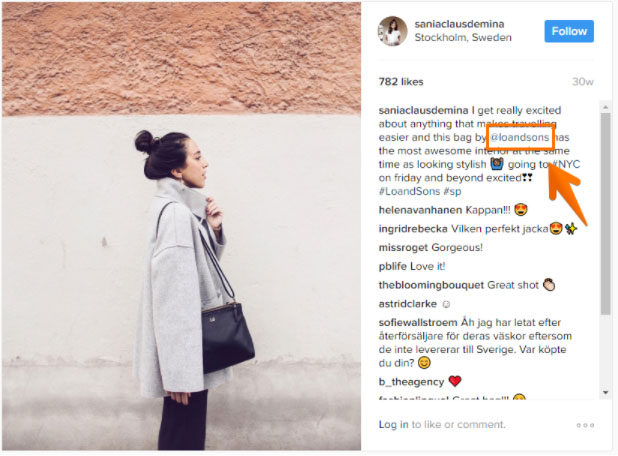 The post was framed in a way that didn't seem like paid-promotion but rather an original
and honest review of a loved-product.
Another way to promote your brand with help of others is to partner with charities.
Millennial consumers are socially aware and they like to associate with brands that are socially responsible or
have a positive environmental impact.
If your brand donates to a campaign or cause that aligns with your customer's values and mission, you will
attract their attention and be able to form strong emotional connections.
Remember, your goal here is to win public goodwill and sway opinions.
Don't try to measure engagement or ROI or you'll seem disingenuous.
Even if your brand isn't officially associated with a charity, you can contribute in other ways such as sending
employees on community service trips or holding fundraisers.
Just remember to update your followers with images.
Toyota USA partnered with Boys and Girls Club of America in which the latter would
receive $50 every time a follower posted a selfie using the #selflessie
hashtag.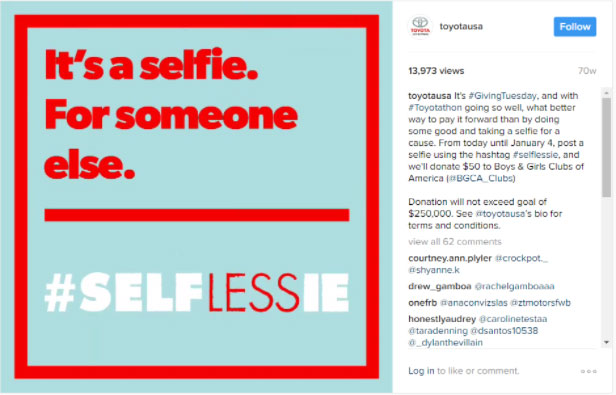 Conclusion
Marketing on Instagram can be confusing and challenging, but with the right focus and long-term dedication, you
can comfortably convert visitors into followers and customers.
Here's what you need to remember:
Create special customized-pages that provide additional value to your followers
Test various contest-formats to appease different types of followers
Allow yourself some breathing room with multiple targeted-accounts
Make your audience feel special so that they keep returning for more
Find willing-supporters who paint your brand in positive light organically