Email Marketing
Why Email Should Be A Cornerstone Of Your B2B Lead Generation Plan
Ask any marketer about email marketing and you're guaranteed an animated response.
Either they'll be gung-ho in its favor or strongly advise against it. Fortunately, the data surrounding its effectiveness speaks volumes.
A study by Marketing Sherpa found email marketing to be the primary lead generation tool for 81% of B2B firms surveyed.
When done well, emails are a strong lead generation tool and sales channel.
A great lead gen email isn't intrusive or spammy. It follows a set of guidelines – and common sense – to achieve its objectives.
I've broken this article into two parts. Here's what you'll learn in each section:
How to use email to generate business-to-business leads
How to use email to nurture a lead into a customer
So if you're ready to stop leaving money on the table, let's not waste any time.
Part 1 – How To Use Email To Generate Leads
What Isn't Going To Work
Critics of email marketing aren't entirely wrong.
If you're expecting results from email, make sure to avoid these three cardinal sins.
Cold outreach emails are sent to people you don't know well or at all.
These emails are a great way to draw prospects into your sales funnel – but only if you don't sound spammy.
What exactly is a spam email?
According to Spamhaus, it's when "the context of the message is applicable to numerous individuals rather than just the recipient".
Let's say you get an email like this in your inbox:

Though it's concise, the email screams spam.
The sender doesn't introduce herself or make a specific request. This is ending up in the trash folder in no time.
Sending an email like this is so 2005.
Minor personalization of canned messages
Even novice marketers know better than to send blatantly obvious spam.
So they try to be sneaky.
In the interest of time, a template is used in which only a few lines are changed in an attempt to fool the reader.
A templated cold outreach email could look like this: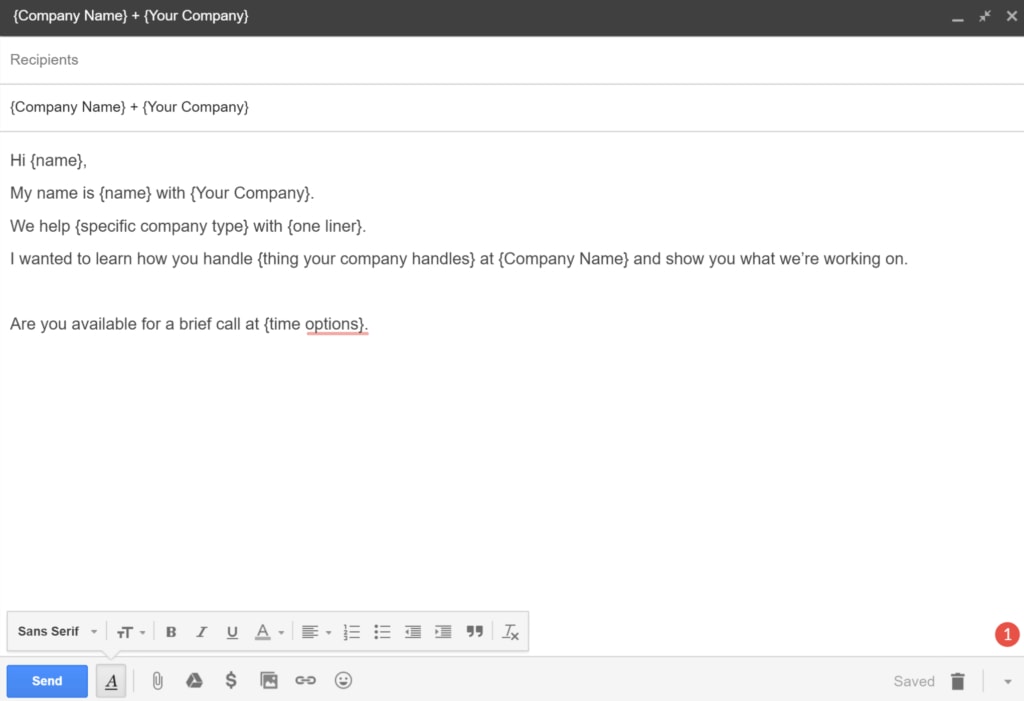 Unfortunately, people receive hundreds of emails everyday from people just like you.
They're gonna spot a template from a mile away.
You're not fooling anyone with:
"Dear XX, We are excited to see that you like xxx. We have a great product for xxx"
Using templates damages your reputation. If you waste people's time by filling their inbox with junk, they'll develop a negative image of your brand.
Poorly written and/or grammatically incorrect language
Particularly in the case of cold outreach, this email may be the first impression a prospective lead has of your company and brand.
Imagine the impression that a prospective client or partner would have of your brand after receiving this outreach email.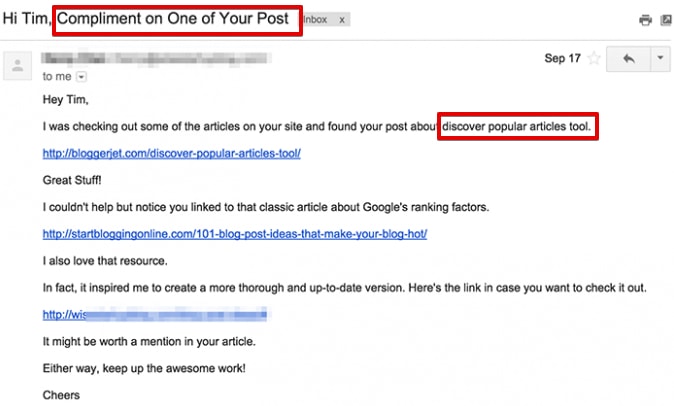 It's even more ironic that this email is trying to get the recipient to replace content on their site with a "more thorough and up-to-date version," but they didn't take the time to proofread their own subject line or message.
Not everyone can write like a college English professor, but it's imperative that you take the time to ensure that your email is properly worded, professional and grammatically correct.
If you're concerned about your writing abilities, consider using a service like fiverr to connect with a freelancer.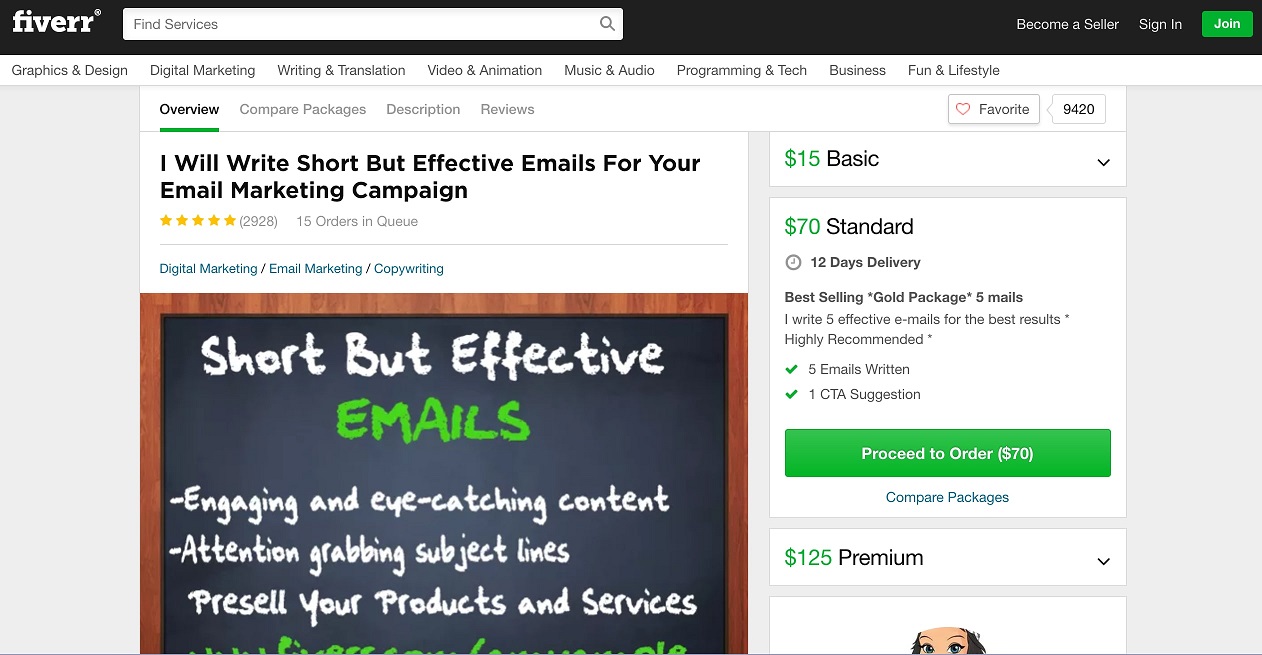 Or if you need a more detailed, lengthy campaign, CopyBlogger is a great resource for connecting with a more experienced copywriter capable of handling larger projects.
What To Do Instead:
Outreach messages that are vague or self-promoting don't work.
So what does?
Messages that address a pain point faced by your target and provide a solution.
It doesn't matter whether the recipient is an entry level worker, manager, or business owner. Everyone is looking to overcome some problem.
A great way to communicate this information is through video outreach.
Why video?
Thanks to the visual nature of humans, video content is easier to digest.
More importantly, it adds a 'human element' to your message. A video mimics human interaction, which helps build trust.
Take a look at this outreach message from Gainsight. Instead of writing a wall of text, they provide a video for quick consumption of information and engagement.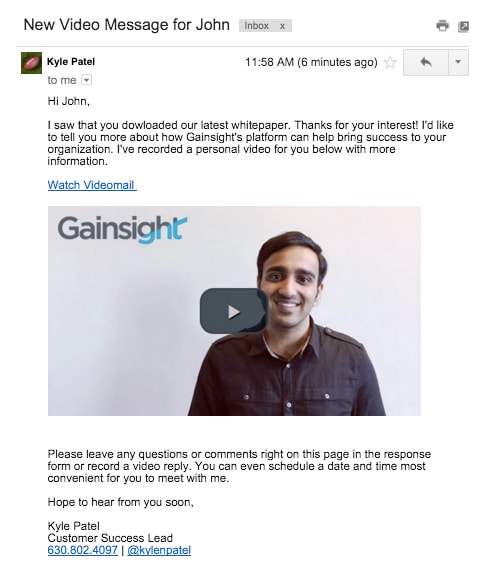 If you're unsure who your target is or what their pain points are, run an audience analysis.
For more information on this process, check out this post.
It's true that videos take time and patience to produce. You need to come up with a script, film the content and take the time to edit and perfect before it's ready to send.
However, there are shortcuts you can use to speed up this process.
Although I just mentioned templatization should be avoided, that's only if you're doing it for your entire message. You can create templates for the portions of your message that are universal.
The section where you 'sell' your product or service is a great example.
This isn't likely to change much from person to person since you're only likely to target a few personas.
This expedites script creation and filming. Most of your time will be spent editing and piecing together different segments into one cohesive video.
If you're not comfortable with editing, try out the 'one-shot' filming technique.
It's when you film your entire segment as one recording and simply edit out the gaps.
What Makes A Great Video Outreach Message
In the previous section, I glanced over the process of creating a video outreach email.
In the coming sections, I'll explore each aspect in greater depth.
Let's start with the script.
This document organizes what you're going to say and in which order. A stand out message is never all over the place.
Instead, it's one that tells a great story.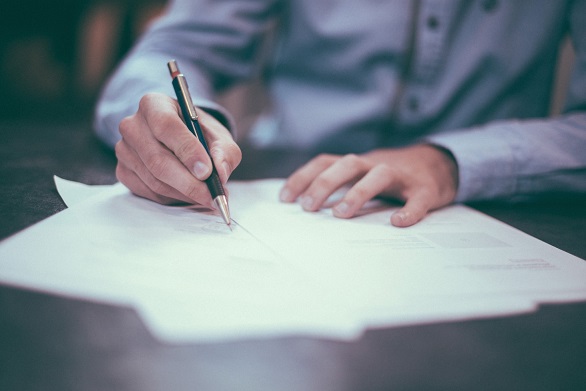 Keep in mind that the process I'm about to show can be replicated for any niche, product, or service.
Let's say that your product is an automated cloud backup solution.
With help from your audience analysis, you've chosen to target the medical vertical, specifically stand-alone urgent care facilities.
You've identified the following 'decision-makers' in these facilities:
Front office clerks
Doctors
Administrators
Each individual plays a unique role in the purchase lifecycle.
To make a sale, you'll need to create a different, personalized video for all of them.
Before you determine which 'influencer' to target first or the content of your message, figure out the following information:
Name(s) of your decision-makers
Addressing an email recipient by their name is common courtesy. Failing to do gives off a negative vibe.
If you aren't willing to put in the effort to get to know your target, why should the recipient spend any time to get to know you?
TheReederCo does this exceptionally well. The subject line and greeting mention the recipient by name and the video thumbnail includes a logo of the company being targeted.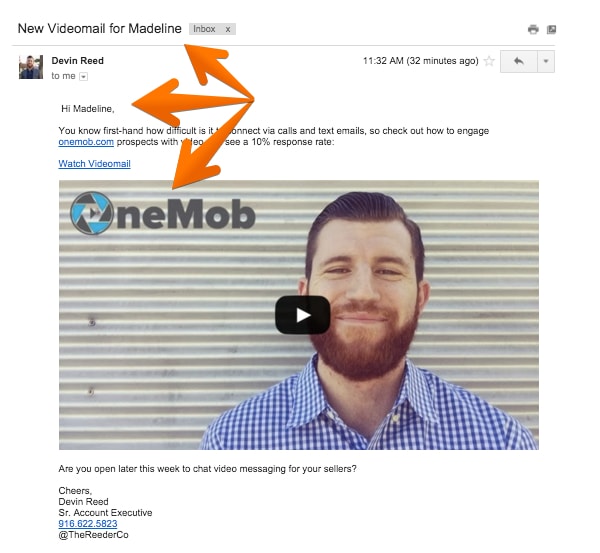 Here's how you can find information on your target:
Spend some time on social communities within your niche.
Explore networking websites such as industry blogs or forums within the niche you're targeting.
Search sites like LinkedIn for contacts at specific companies in your outreach plan.
Identify their pain point
This should already be apparent if you've run an audience analysis.
In the case of stand-alone urgent care facilities, you may have found the following pain points at each level:
Front office clerk needs easy HIPAA compliant access to patient records
Doctors need quick access to medical records in their office
Administrators want to reduce the cost of physical record storage
It's only when you're armed with this information that you can start planning your script.
Without delay, let's look at what constitutes a great outreach message.
Step 1: The Introduction
Your intro can make or break your entire message.
You have 20-30 seconds to hook a viewer. If you don't, they're going stop watching and forget about your existence.
So don't mess this up.
Spend this time to convey the following information:
When receiving an email from someone unknown, people's natural inclination is to determine who the sender is and why they've been contacted.
It's important to state who you are and mention how you became aware of the recipient.
No one cares about your academic background, professional experience, or objectives at this point, so skip this information.
At Squirrel, our video outreach messages start by addressing this immediately.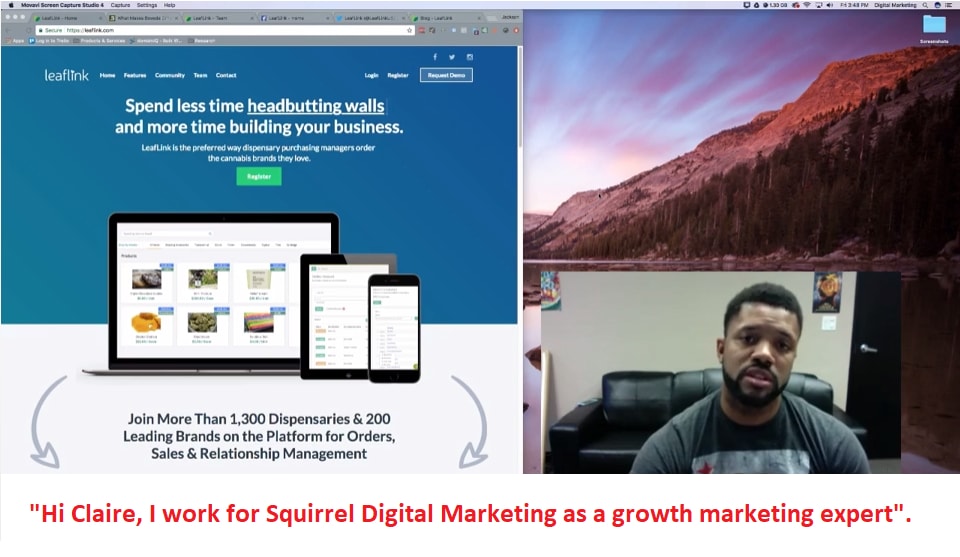 There's no fluff and we get straight to the point.
Introduce Your Personality
Make yourself relatable, naturally.
Treat this introduction as though you're walking up to this person at a networking event.
Do you share a loathing of cold calls? Is there a cool industry event coming up that you're excited to attend?
If all else fails, consider citing a famous influencer or celebrity in your niche to help you break the ice and grab attention.
A few lines are all it takes to bring down the recipient's guard and get them interested.
Why are you reaching out?
The next bit of your message should let recipients know why you're contacting them.
This is not the time to ramble or try to be super in-depth. Keep your reason brief and focus on the overall picture for now.
Continuing with the same outreach message, we tell the viewer exactly why we've sent them an email out of the blue.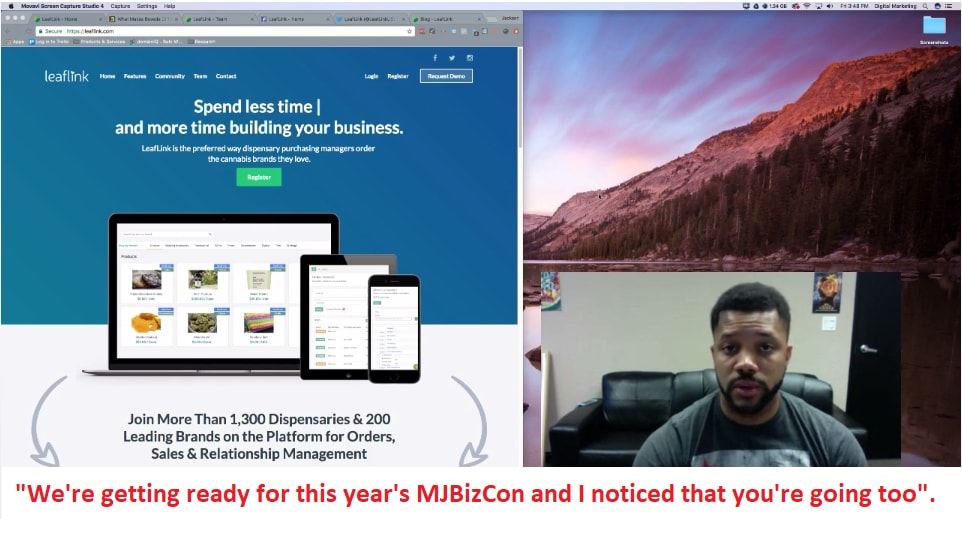 In this particular video, we are reaching out to a contact that will be attending an upcoming conference that we participate in. This makes it timely and gives us some instant common ground.
Sounds promising…maybe I should listen for a few more seconds
Hint at benefits of hearing you out
In the last part of our introduction, we give viewers a reason to get excited.
Very few people are going to jump at the opportunity to understand the intricacies of data backup or anything else technical or boring.
However, people will make time when they feel their time or money is at stake.
End your introduction by hinting at a benefit your viewers care about. This gives them an incentive to continue listening to you.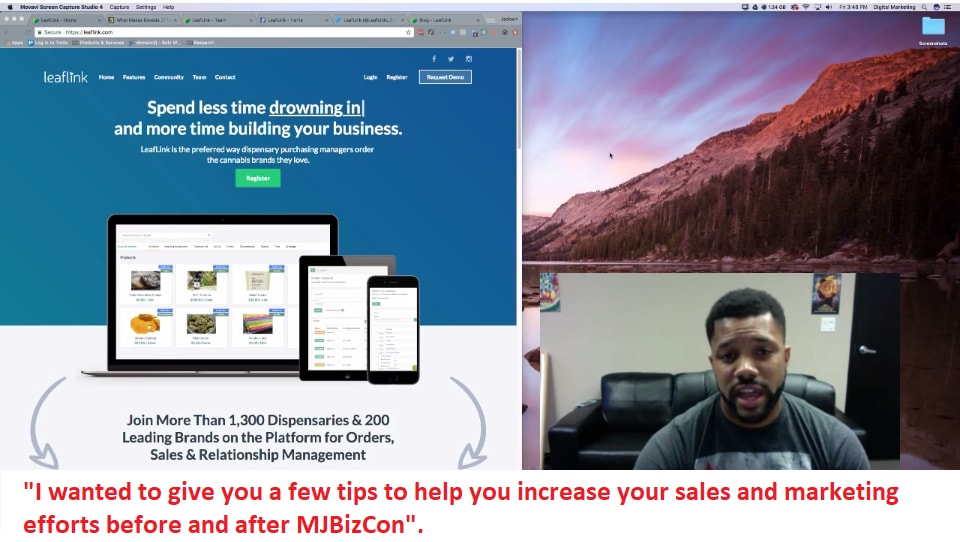 This also helps you transition into the next section – targeting specific pain points.
Step 2: Identify pain points and how your product or service can solve them
According to Adobe's Consumer Email Survey Report 2017, 61% of respondents would like to be contacted by brands via email. However, they would prefer marketing emails that are less about promotions and more about providing information.
In this section, the viewer is expecting actionable insight.
But don't dive straight into the deep end. Show the viewer how you arrived at a specific pain point and why it matters by going over their business objectives or goals.
We review the target's site at a high level and uncover 3 major end goals.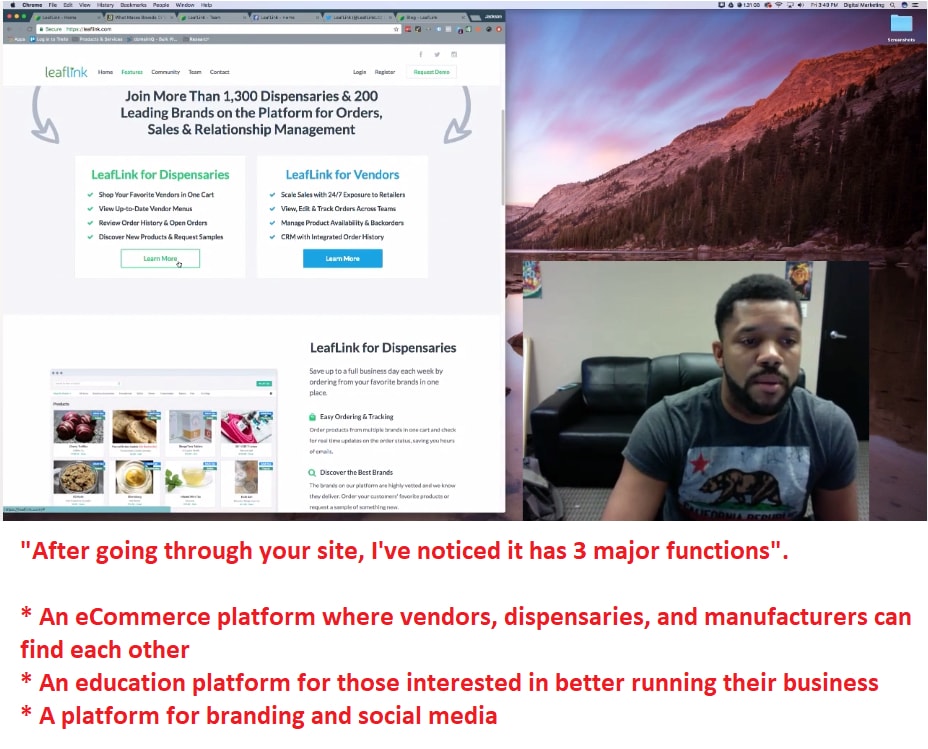 By discussing their goals, we're demonstrating that we've taken time out to understand their business.
We utilize screen share to give the recipient a sense of familiarity (engagement) and show that we aren't sending the same generic how-to video to a random email list.
Now you transition into discussing a specific pain point.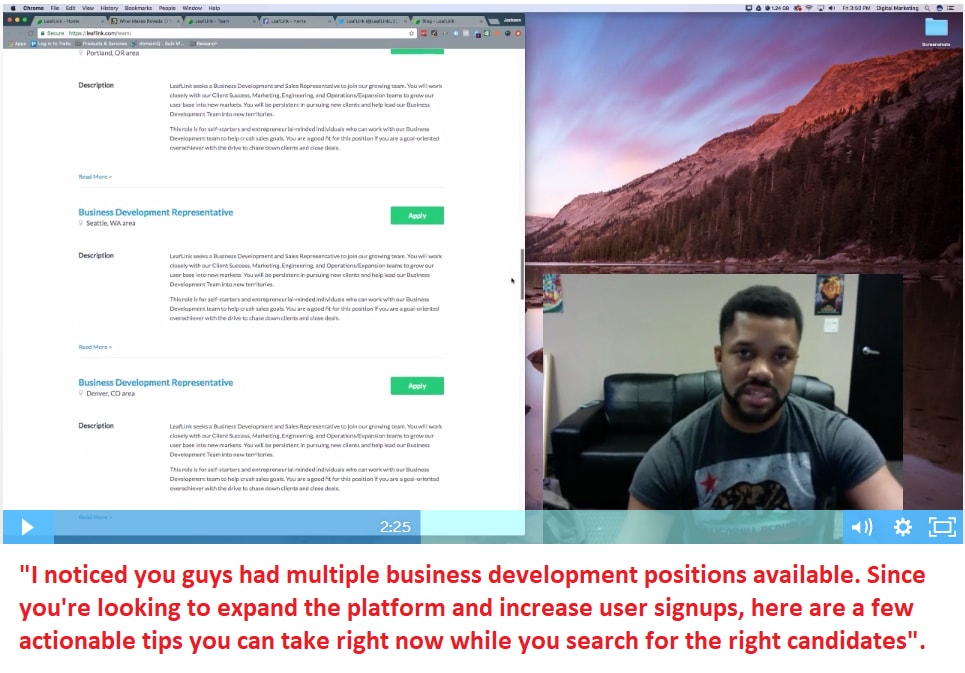 We're offering to help them solve a challenge that impacts them (whether they realize it or not).
This works because people are interested in their own success and challenges.
By making this the focal point of your video, you'll have your viewers undivided attention. No one cares about product features they can't relate to.
By now you're probably thinking, "Wait. I can't make 100 completely custom videos." You're right.
While you must make your personal introduction custom to each video recipient, and your description of the specific target's pain point custom to each company, you can templatize how your product or service fixes (common) pain points.
You can show how your own product or service works in this section, allowing you the potential to utilize the same video, screenshots (or your own site) and/or footage for solutions.
For example, you can templatize the following information for each segment from our previous example focused on urgent care facilities.
If you were a sales rep for records management company Hyland selling their Onbase Solution, your solutions are going to carry over from one target to the next.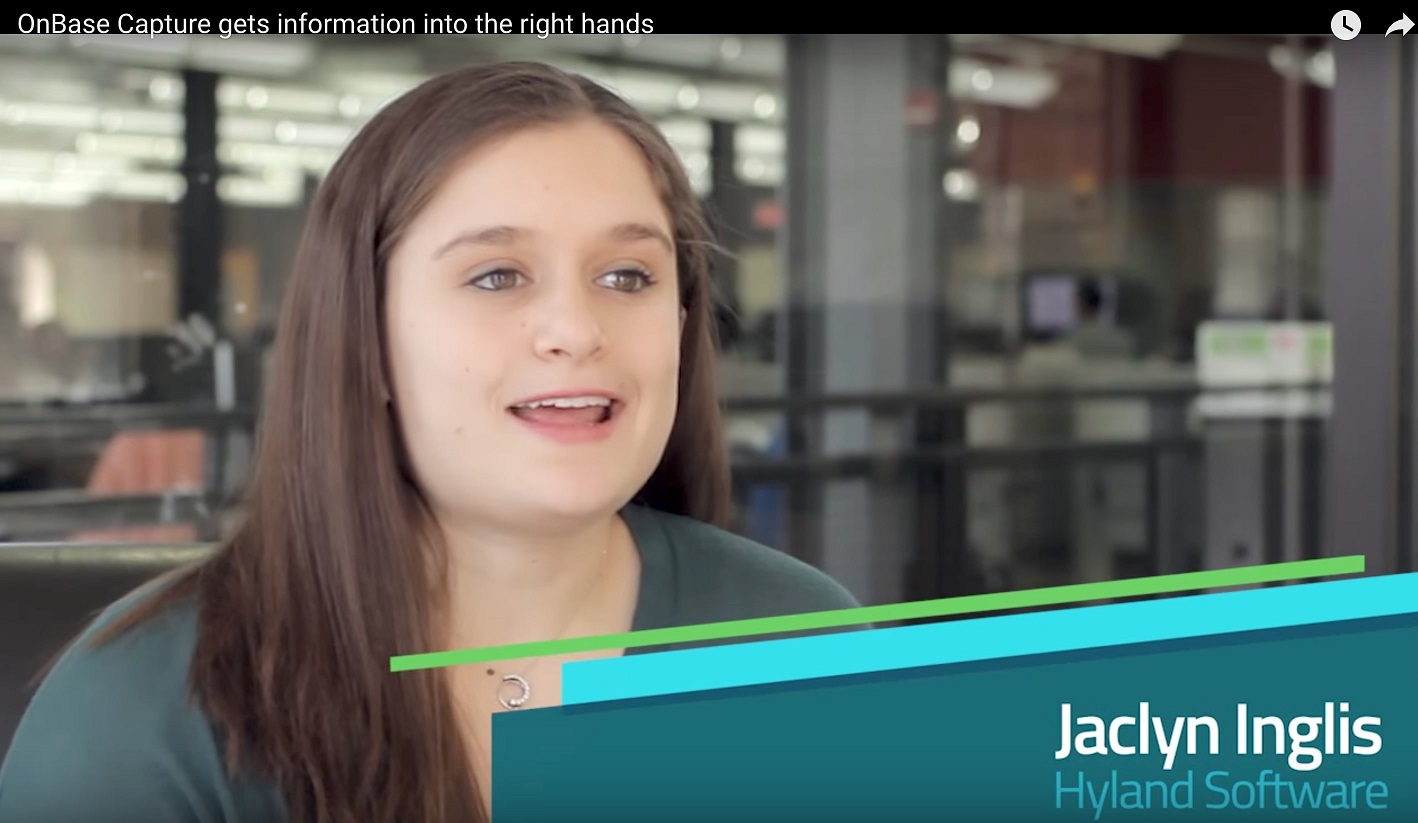 You can film your description of how your product can address their specific pain point once and then insert it into any number of your personalized outreach videos.
For example:
1. Front Office Clerks
Pain point: Require easy HIPAA compliant access to records.
Template solution:
"You're fielding record requests from all sides. When a patient you haven't seen in 3 years walks in the door, you need quick access to records that are stuck in storage. Here's how our backup solution solves this problem…"
2. Doctors
Pain point: Require quick access to patient records in their room
Template solution:
"You probably service an average of 14 patients during a shift. The longer you have to spend hunting for patient records, the longer it takes you to get them on the path to feeling better." Here's how our backup solution solves this problem…"
3. Administrators
Pain Point: High cost of physical storage
Template solution:
"Storing files onsite or online is expensive. But the time spent by your staff to retrieve data from offsite storage is an added cost that you can rid of with online storage. Here's how our backup solution solves this problem…"
This lets you quickly create video outreach emails for other urgent care facilities.
Identify Targets with Similar Pain Points.
In the previous step, I showed how our growth marketing expert reached out to a company listed to attend MJBizCon.
Conferences tend to draw like-minded companies with similar objectives.
This means that we can be fairly certain that other firms listed to attend would have similar goals and pain points.
We used this to create a template for our introduction.
Here's a snippet of an outreach email sent to Boveda: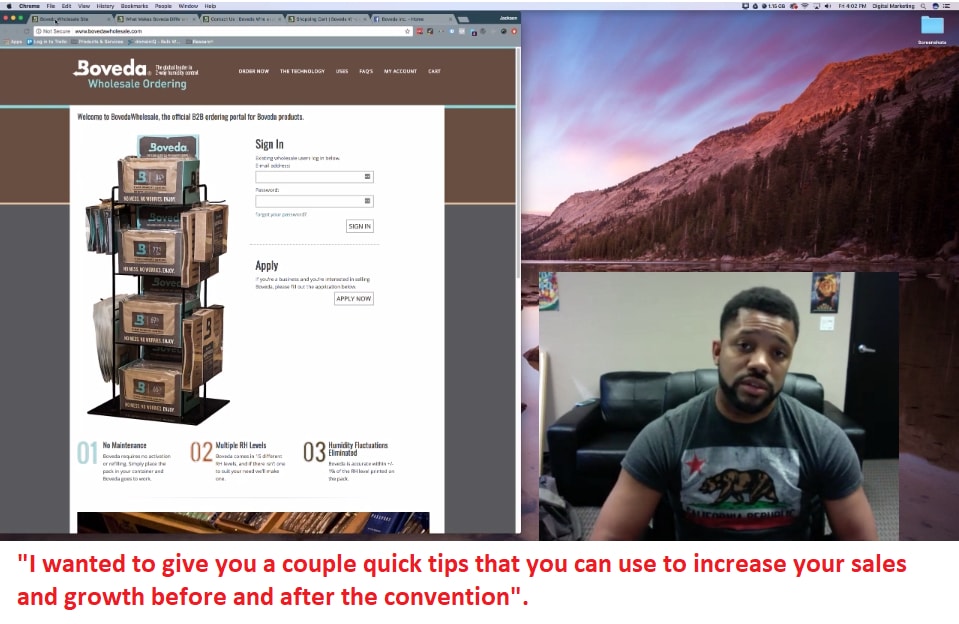 Recognize the familiar phrase?
Step 3: Give them a reason to reply
With your viewers hooked on your message, there's one thing still left to do: Provide them with an irresistible reason to reply.
You may have impressed or 'wowed' a viewer with your effort, but that's not always enough to warrant a response.
Remember that these people are busy and change is intimidating.
Even if they're interested, it's human nature to procrastinate a decision. This eventually ends with you being lost in the pile.
Go the extra mile and provide a reason for viewers to respond.
We end our message providing several reasons why the viewer should get in touch with us immediately. Think of it as a call-to-action.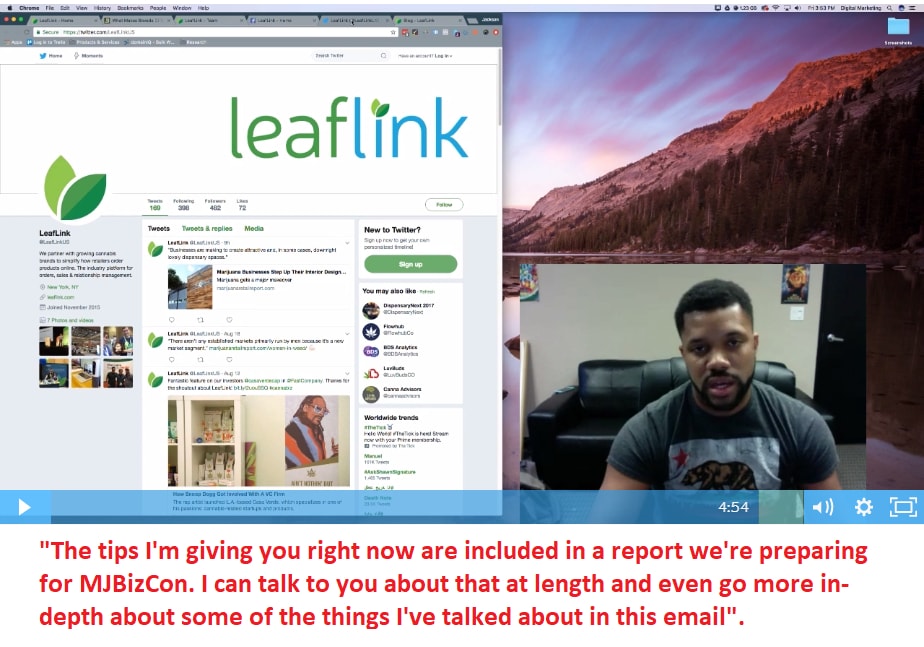 This helps the viewer realize exactly what they'll be getting by reaching out.
Resources For Video Creation
Don't have the time or resources to create videos on your own?
Fortunately, having a professional-grade video done doesn't take time or cost thousands of dollars. In fact, it's important that you don't go all out and "overproduce" your videos.
Your message should feel spontaneous. Nobody wants to feel like they're a target on some list.
With that in mind, here are a few avenues worth exploring:
Hire an editor through UpWork
UpWork is one of the largest freelancing platforms.
Head over to the site and type in 'videographer' in the search box.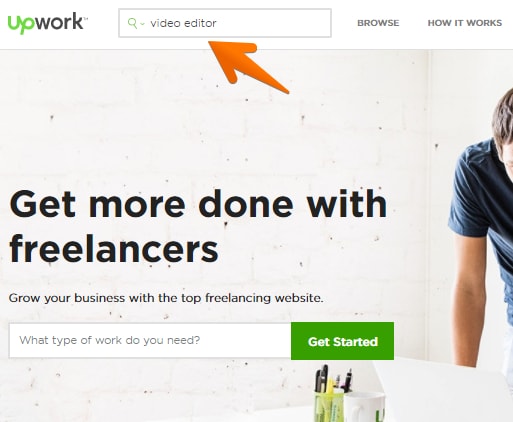 You'll be given a list of suitable candidates at many price points.
Pick someone you feel would be a good fit. You can have them handle the entire process (ideation, script creation, and editing) or outsource the editing only.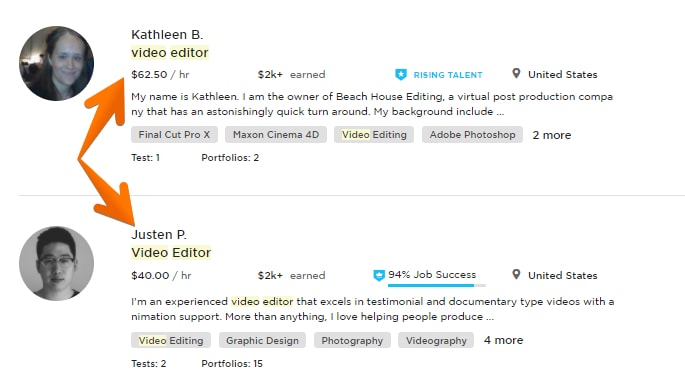 With millions of freelancers on the platform, it's likely you can find someone who is locally.
This allows you to meet your editor in-person, and gives you the flexibility to have them assist you in filming if needed (though that route is more costly).
Spread word in your network
You'll be surprised by the number of video editors within your existing social and family network.
Prepare a simple job description and spread the word amongst family, friends, and colleagues.
Any recommendations that come your way will carry the benefit of a personal connection to "vouch" for them.
Videos may seem daunting but you don't have to be a tech wiz to make them.
Feeling shy?
If you aren't excited about taping yourself talking, consider an animated solution that's still fully personalized.
Head over to GoAnimate and play around to get the hang of it. The platform is drag-and-drop so anyone can learn it in no time. And their free trial lets you master the application on their dime.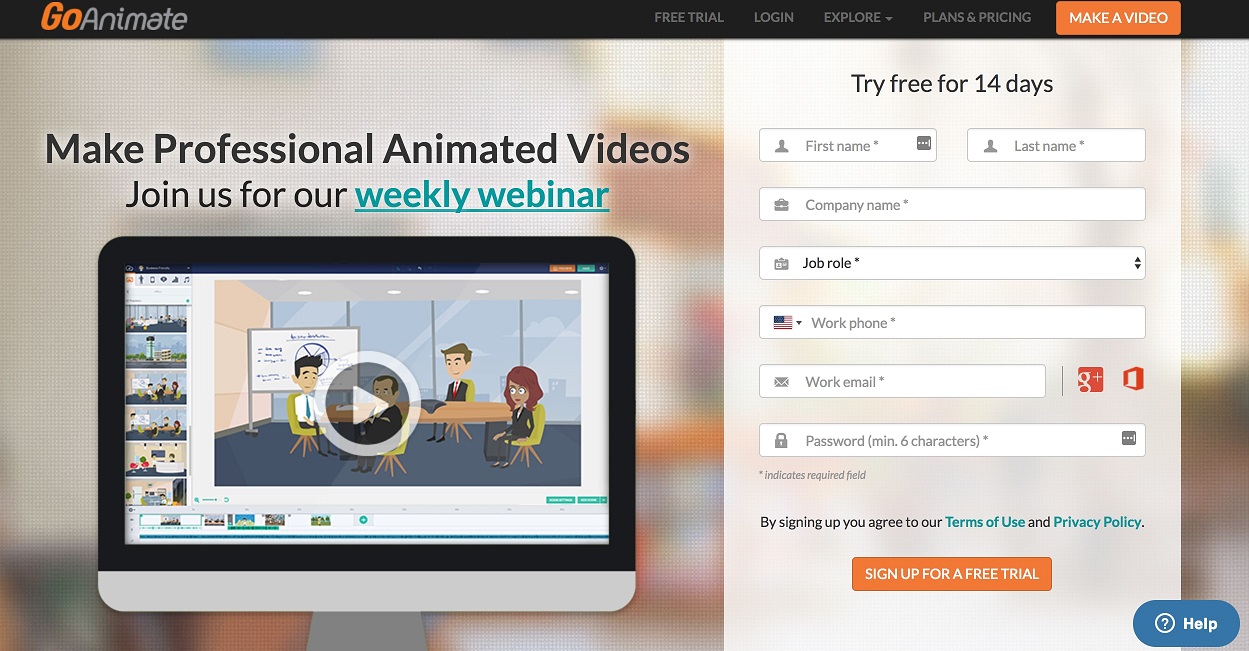 GoAnimate lets you create a video with your voice and custom avatars, so you can use your words without having to show your face.
Animated outreach videos can be just as effective if you follow the same guidelines as before. Remain personal, introduce yourself, target a pain point, offer a solution, and give viewers a reason to respond.
Track And Analyze
As with any campaign, measuring performance is fundamental to success.
To figure out how prospects are engaging with your video, use a service like Wistia.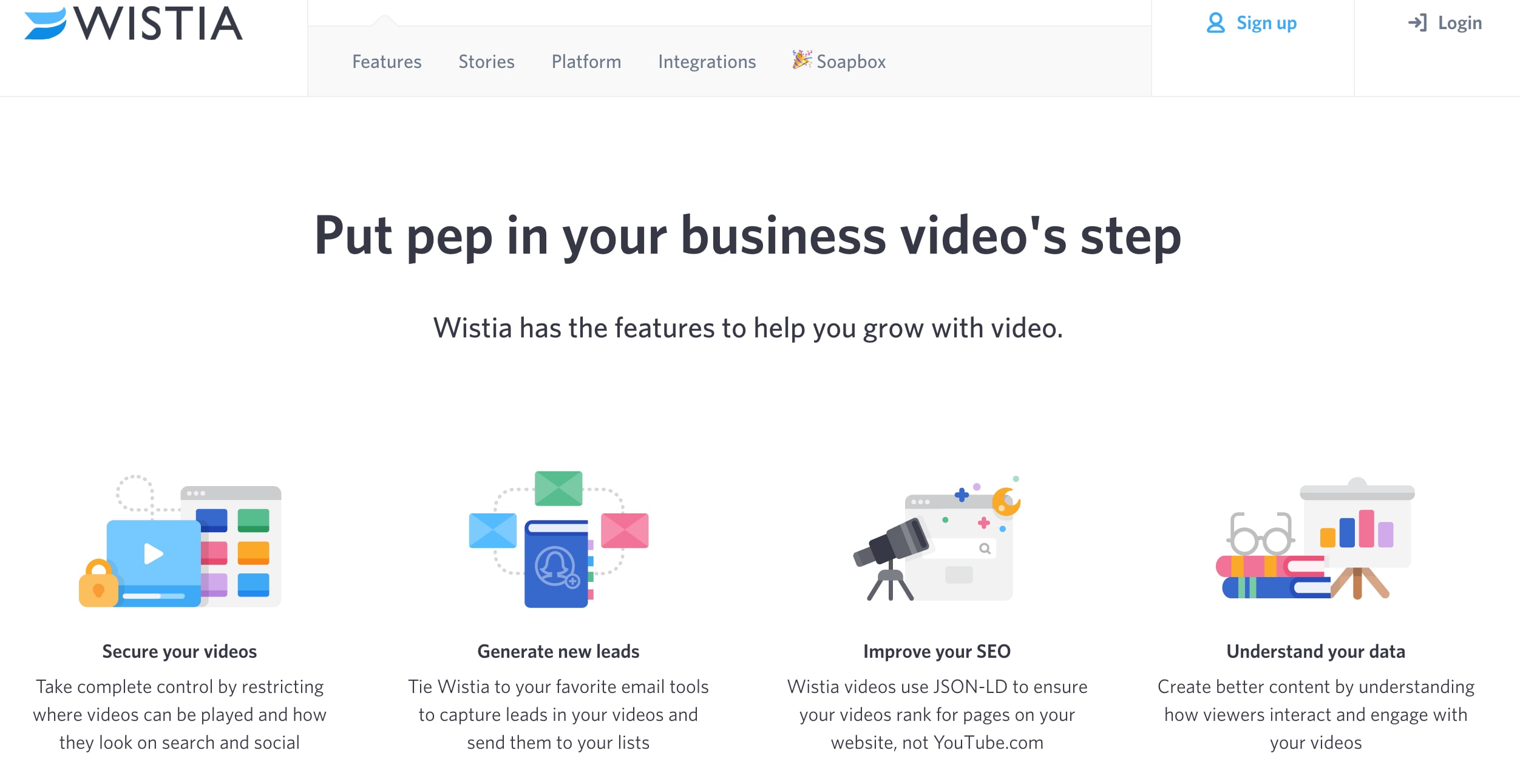 You can look at heat maps to determine how viewers watch your video. Are there any sections they skip over? Sections that they go back and watch repeatedly?
This helps you identify opportunities where you can improve your message.
It also lets you add tracking pixels to your email signature for remarketing.
If a recipient opens your email, your video message will follow them around on Facebook, LinkedIn, and Google.
Take a look at some of the great insight you can gain: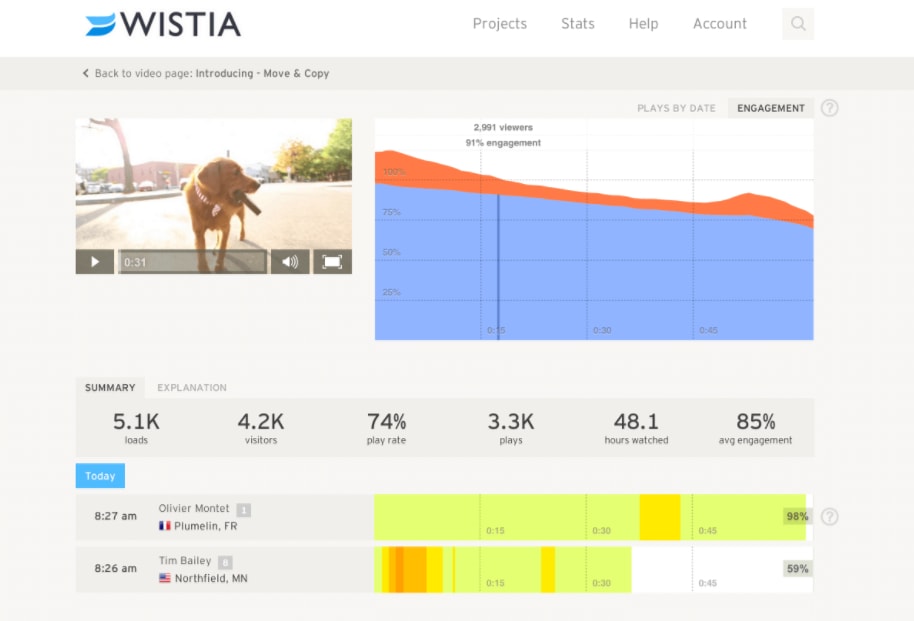 If you've followed this process, give yourself a high-five.
Your outreach emails are swelling your database with leads, which means you're ready for the next step.
It's exceedingly rare that a prospect will make a decision based on one email alone, no matter how great it is. Now it's time to engage and nurture.
In the next section, I'll delve into marketing automation tools that help you convert an existing lead into a long-term loyal customer.
Part 2 – How To Nurture Leads Into Customers With Email
You've sent out 50 optimized video outreach emails – now what?
You can sit around and hope for a response, or be proactive and take steps to ensure your leads turn into customers.
Here are some questions worth answering after you hit send:
Who opened your email and who didn't?
Who watched your video and clicked on your CTA?
If someone didn't open your email, would a different subject line work?
If someone watched your video but didn't click the CTA, would another hook work better?
If a person watched your video, clicked the CTA but still didn't proceed, what could be done to convert them?
Fortunately, you don't have to find the answers to these questions by hand.
In this section, I'll go over the structure of an effective email campaign and review how to choose the email automation platform that's right for you.
Segment Potential Leads Based On Their Actions
Email automation tools provide an opportunity to segment prospects based on the action they take after receiving your initial email.
You can initially split these actions down to open vs. not open.
Let's say your recipient didn't open your email.
It's likely that your hook (the subject line) didn't work for them. Send the same message repeatedly (no more than 10 times) with different subject lines and preview text.
Subject lines are the first impression of your email and will make or break your open rate.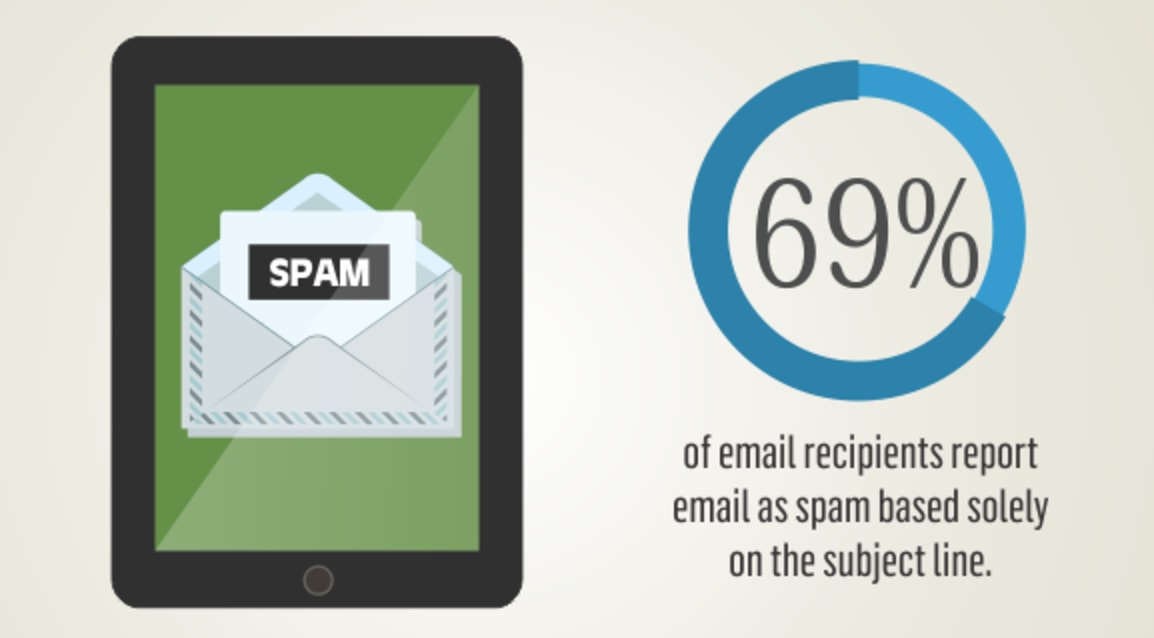 Need some ideas for email subject lines that can hook them? Check out our post here.
You can rest assured that if the recipient won't even open your message after ten different attempts, they aren't going to.
Maybe you have a bad email address. Maybe they have an exceptionally robust spam filter that you're never going to break through. Either way, after ten sends its time to move them onto your dead email list.
Ok, let's move on to the opens.
When your email is opened, add that individual to an engagement email series. This should send them a scheduled series of follow up messages with the goal of getting them to take action.
These emails target the 3 emotions which drive a purchase.
These emotions are: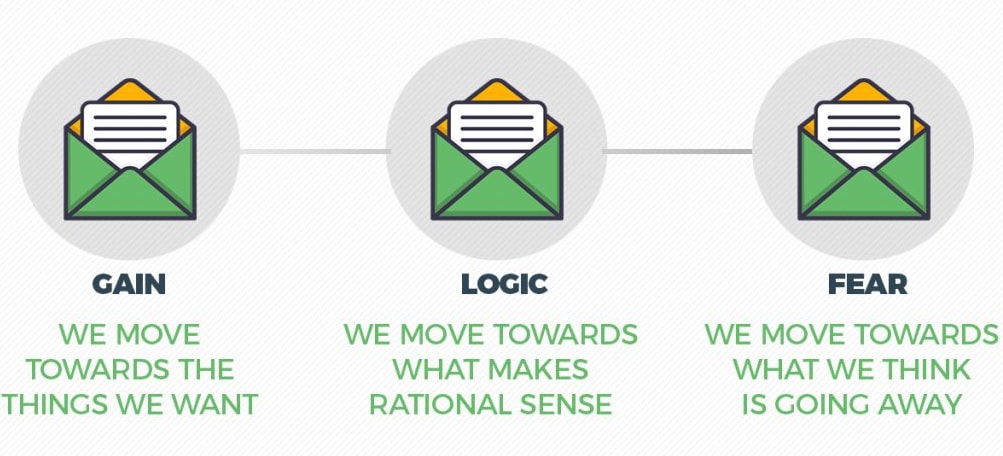 For a detailed guide to how these three steps can propel your lead into action, check out our "3-Step Email Automation Template To Turn Leads into Customers." Click here and we'll send it to you.
There are several ways you can implement the engagement series to your benefit.
Option 1:
In this school of thought, the goal is to move prospects down the conversion funnel by tapping into all 3 emotions.
A sequence only ends (and a new one begins) when a prospect opens the email.
If a prospect opens your initial video outreach message on the fourth attempt, only then should the gain sequence begin.
If the first email in your gain sequence is opened, proceed to the logic phase. Otherwise, keep sending gain emails with different subject lines and preview text.
Your email sequence could start off something like this: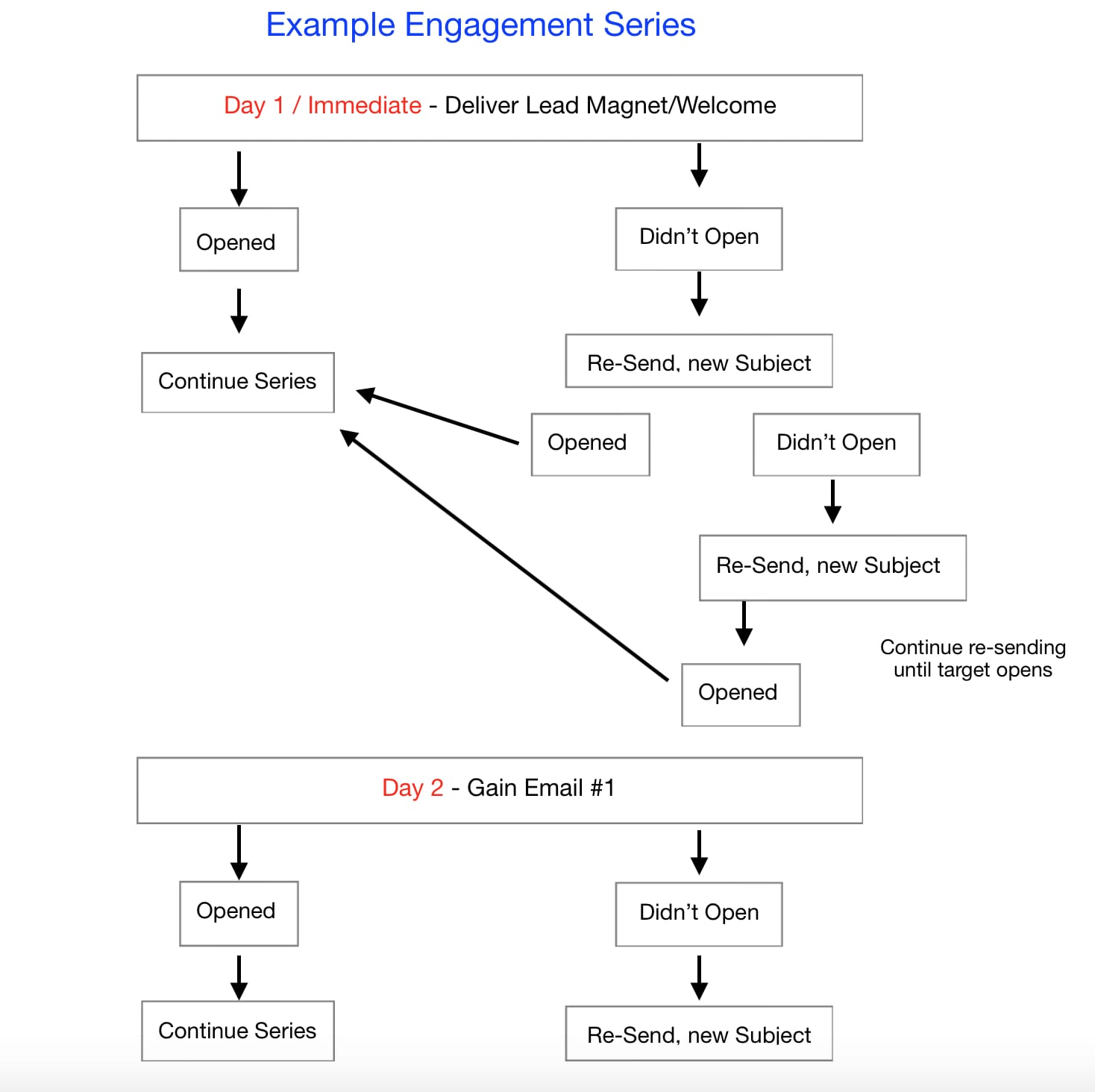 In this scenario, if a prospect opens the gain email at any point, they will be sent the logic email on the specified number of days after opening.
Option 2:
Your other choice is to keep prospects grounded to the sequence in which they respond.
To find this sequence, send emails which target any of the three emotions until a open. Let's say your recipient responds in the gain sequence.
They might not respond so well to messages in the logic or fear stage.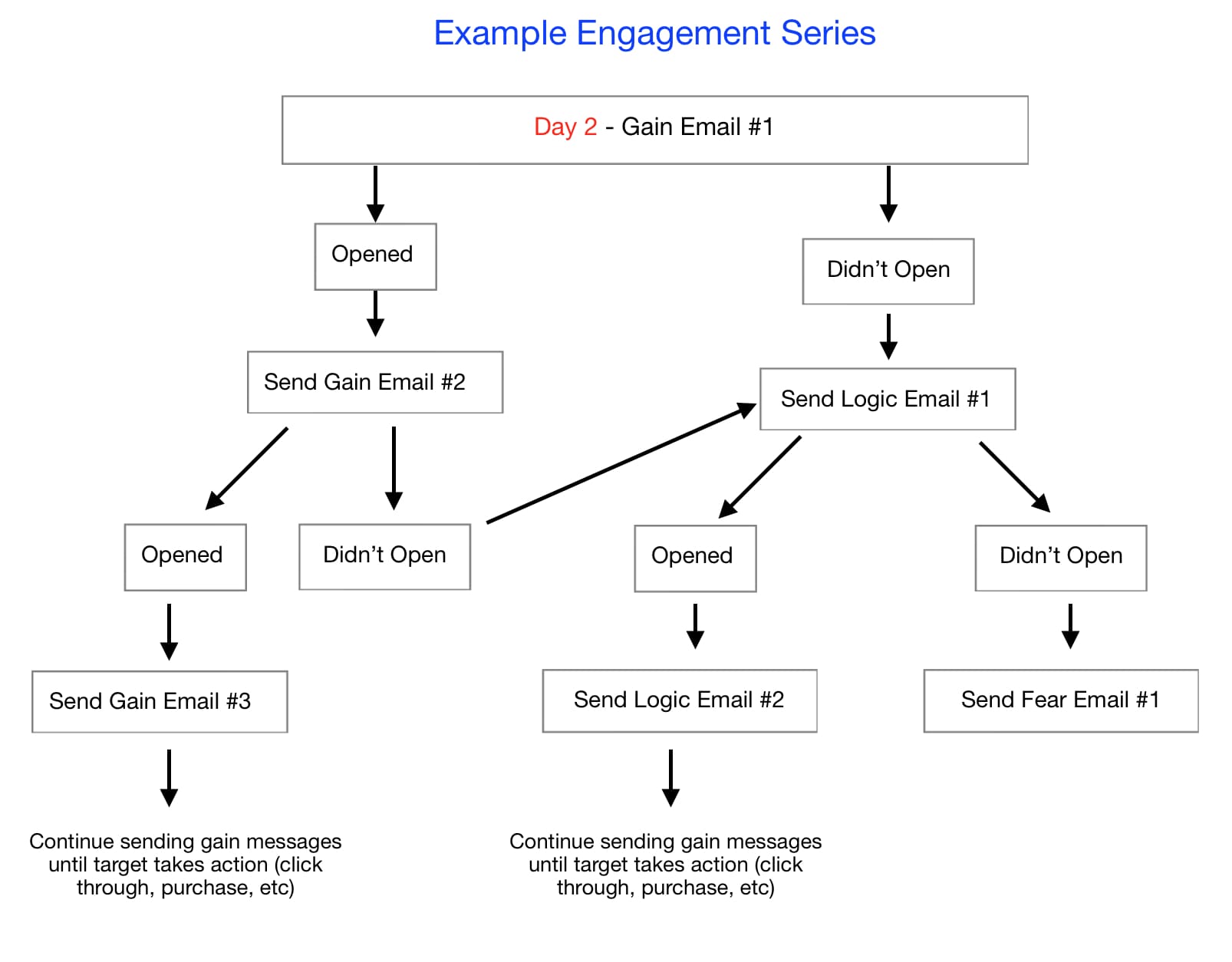 Remember the end goal here isn't just an email open, but some action (report download, click CTA, or watch video).
So keeping them in a sequence where they've shown engagement may actually increase the odds of achieving your desired goal.
Option 3:
If you don't want to leave things to chance (a big juicy client), you could always opt to handle things manually.
Pulling a prospect out of the engagement chain allows you to monitor their case personally.
If a customer engages with an opened email, it makes sense to hyper target. Just keep in mind that the more client emails you juggle by hand, the more likely one is to get lost in the shuffle.
And managing communication by hand isn't going to work if you have 30+ prospects in play.
Emotional Fair Play
To help you prepare emails in this series, let's look at each emotion more in-depth:
Your first email should focus on what people gain by taking you up on your offer.
For example, more money, more customers, or a successful product launch are all gains.
Notice the number of hints that allude to gain in this email by Ryan Deiss.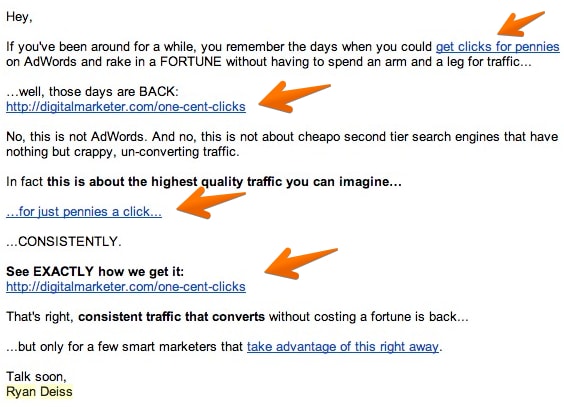 Once convinced on potential gain, hit prospects with some logic.
Tell them exactly why they want your offer.
For example, mention how your product, service or offer will lead to a huge increase in their business. And remind them that business growth means more money (or a new Ferrari).
Again, Ryan Deiss takes the prize with this brilliantly composed email.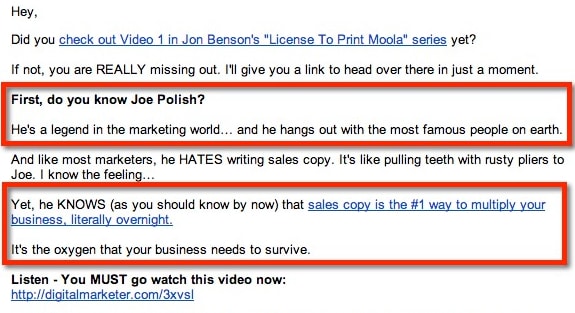 By stating that he knows the tactics of a well-recognized and successful influencer, it'd be pretty illogical not to want to follow through on his instruction and watch the video.
You're almost home with gain and logic.
The final emotion is employed to encourage action: Fear.
The thought of missing out or losing something is overpowering. Remind your prospects that this is their last chance to avail your offer before it's gone forever.
This spurs already convinced or nearly convinced people to act immediately.
Notice how CopyKraken alludes to their offer being available for a limited time.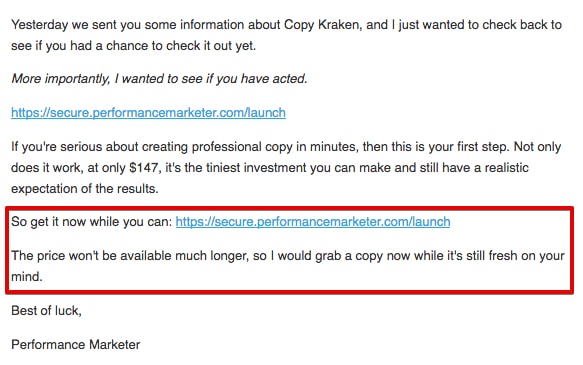 If your target doesn't bite at first, repeat the process with various offers.
Here are few ideas worth exploring:
Offer at full-price
Discount offer
Free trial
Value add-on ("we're including XX with Y for a limited time…")
Again, the goal is to have prospects take a desired action. You want to incentivize your lead, not motivate them to delete or unsubscribe. Stay focused on encouraging.
If your first few rounds of emails don't elicit any response, don't give up.
There could be any number of things not resonating – perhaps your copy or layout. Try multiple variations to see what hits home with your audience.
You're probably mumbling… "man that's a lot of emails to send someone."
Keep in mind that most people will only see one or two of your messages. The average email user is inundated with irrelevant messages – the average person is exposed to 5,000 advertisements and brand mentions each day.
When the average inbox looks like this: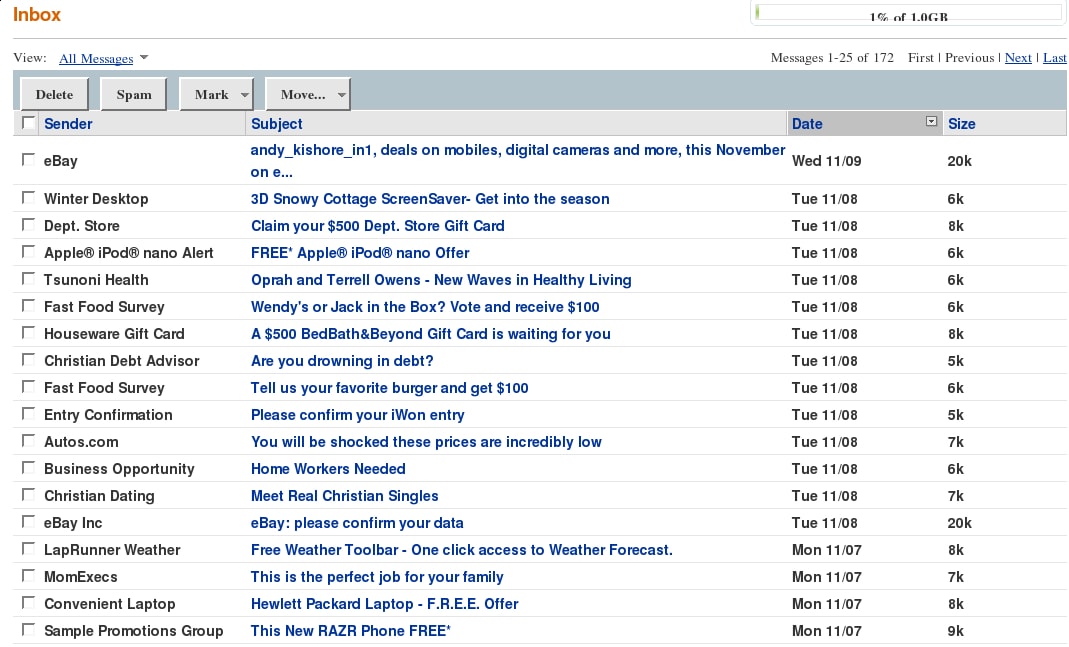 Many of your emails are likely to get swept into the trash unopened.
This is exactly why segmentation, targeting your potential lead with personalized messages, and finding the language that resonates with them specifically is so important.
You have to send multiple messages to give your target the opportunity to notice you in the sea of junk, while paying close attention to what they engage with.
Segmentation improves your email open rates.
L2's 2016 Intelligence Report: Data & Targeting found that those emails that were targeted and sent to a smaller percentage of your total email list were more frequently opened.

Send targeted emails and series based on the topics that your potential lead is interested in, and you're more likely to get them to open future messages.
Re-Engagement
Sometimes a lead that previously seemed engaged – opening your early messages, clicking links, visiting your site – stop interacting with your brand.
Consider using surveys to determine what messaging is likely to be relevant and then segment your list further.
There's no better way to gauge target interest than asking the source. Call out pain points from your audience analysis while creating questions.
In the case of our cloud storage provider, some questions may be:
Are you frustrated by the cloud storage solution you have now?
Do you have a solution you prefer now?
Alternatively, you can create questions that targets interests instead of pain points.
When it comes to file storage, what's most important to you?
Data safety
Quick access to files
Reducing the cost of data management
Whether or not the target responds to your survey, try a re-engagement campaign.
If there's still no response, cut the prospect from your list.
A large list of uninvolved contacts isn't benefiting you. It's just going to cost you more to include irrelevant emails in a massive send while a smaller send to engaged leads will garner you results.
How To Select The Right Email Automation Platform
Email sequences require automation tools.
Even if you're a fan of manually sending emails, the time it would take to manually track the actions of your recipients and send the next message by hand is time and cost prohibitive.
Unless your prospect list isn't likely to be more than 20 people, in which case you may not be pursuing the right business.
The ability to send messages to prospects based on actions and behaviors means more free time to craft the perfect message.
However, not automation tools are made equal.
With literally hundreds of tools out there catering to all types of businesses, choosing the right tool for your needs can be challenging and costly.
Here's how to make sure you pick the right one.
Automation tools can be categorized into the following classes:
Email marketing solutions such as MailChimp or GetResponse give you limited features for a lower cost.
These tools let you achieve the 'bare minimum' of automation. You can create email sequences, run A/B tests, and run analytics to monitor campaign effectiveness.
You'll likely be limited in the amount of customization your messages can have in appearance, working with design templates.
Sometimes less customization is easier as there's a lower learning curve before you start sending emails.
But your emails are likely to feel and look a lot like all the other messages in your target's inbox.
Email automation tools let you send specific messages to customers that take certain actions on your site, but they don't provide you full control over customer acquisition.
Customers aren't actually acquired in an email, but on a landing page, content page, checkout page, or through a paid search campaign.
You need to know where they go after they click on a link:
Do they watch the whole video or leave 45 seconds in?
Do they immediately head to Amazon to compare prices, never returning to your page?
Do they get lost on your blog, spending time on content but never making it back to your cart page?
This is information you need to know.
You could have a perfect video outreach message but still not win customers because your money page is a mess.
I'd recommend a marketing automation tool that lets you track leads on their entire journey.
ActiveCampaign is a great and affordable ($9/month) entry level solution. You can monitor email campaigns, run site tracking, and monitor post-sale activity.
It's great for small businesses who only have a few pages and few campaigns.
Here's a great side-by-side comparison: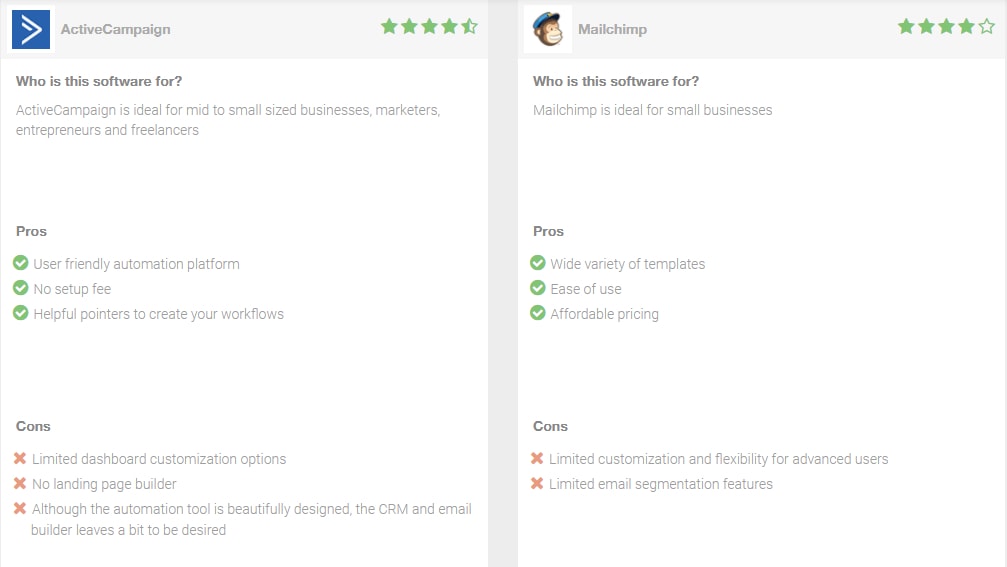 If you're not a lone wolf, you'll need a bit more juice than entry-level offerings.
Businesses with social media profiles, multiple products or services, and a full-time staff of employees need a more robust solution.
HubSpot and Act-On are two popular products in this space.
HubSpot
HubSpot is the marketing automation software of choice for small businesses, controlling a 41.6% share of the market.
Everything from marketing, sales, and CRM (Customer Relationship Management) automation is available.
The interface is easy and intuitive to use and if you're learning automation as you scale your company, you'll have access to great learning material.
Unfortunately, the price tag is steep.
Also, not all the features are well-made. It feels as if HubSpot tried to include too much and ended up spreading themselves thin.
Act-On
Act-On is another robust automation tool that goes beyond just email automation.
All your requirements from the inbound stage till CRM can be automated and tracked.
Many of Act-On's more advanced features require additional applications to achieve closed-loop CRM tracking
Check out how both tools stack up against each other: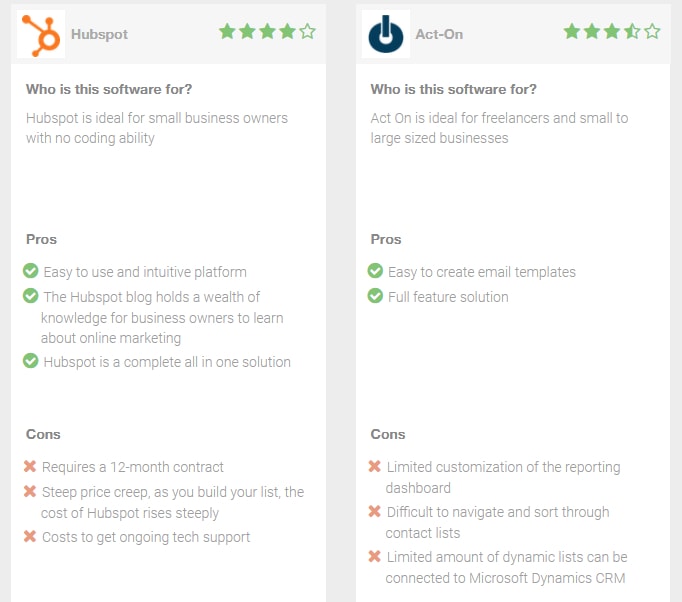 Perhaps most importantly, many Act-On users have complained about low email delivery rates. This may be due to a lack of enforcement by Act-On against spammers using the platform.
According to a comparison piece put together by Hubspot:
"Because customers on a marketing automation platform share sender scores, everyone's deliverability rates can suffer when only one customer from the group employs questionable email tactics. That means that anyone on a platform that encourages spammy email tactics can suffer, no matter how great of an inbound marketer they are."
The tools at this stage are the 'rolls royce' of marketing automation.
Large enterprise organizations with dedicated marketing and sales teams that require close collaboration are the most common users at this level.
Marketo is the de-facto leader here.
It's used by many reputable companies and is one of the more cost-effective choices. It has all the features one can imagine and much more.
Here are a just a few:
Marketing automation
Behavioral targeting
Landing page editor
Integrations
Great customer support
At this level, Pardot and Eloqua compete with Marketo.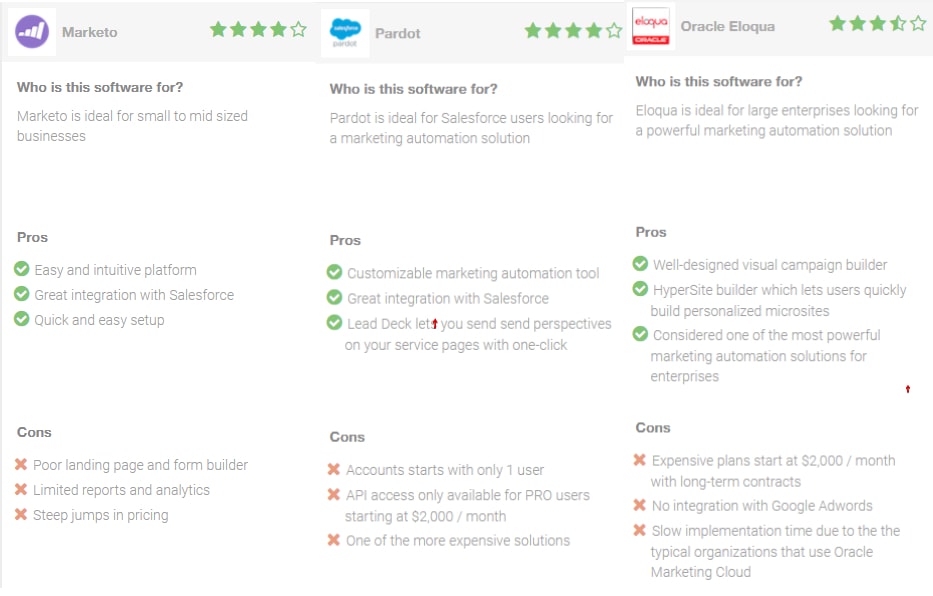 In addition to budget, you'll need to take into account:
The number of contacts you already have
The number of contacts you expect to add each week
The kinds of analytics and reporting data you want to be able to generate
The other platforms you want the program to integrate with (such as Google Adwords, Salesforce, etc)
How much customization you want to be able to achieve over email design
When you've narrowed it down to a few candidates, start with a trial so you can play around in the software before you commit to a contract.
Our Experiences
In our experience, we've used MailChimp, Active Campaigns, Act-On and Hubspot. Each has its advantages and challenges.
MailChimp is a useful tool for sending regular newsletters or one-time promotions to a large list. The platform offers a low-cost option for unlimited contacts, but it's limited in that it doesn't offer much more than email management.
Active Campaigns offers a relatively easy to learn interface with decent site integration for smaller sites built on a template format with compatible coding. You'll need to build landing pages on a different platform.
Act-On was, frankly, frustrating.
HubSpot can be challenging to get started due to its extensive features and capabilities, but offered the most custom integration for a large, existing site with custom code and a unique Point of Sale system.
Pricing requires active negotiating with the sales team and it's easy to get stuck in a contract with a high monthly cost for features you don't end up using.
Conclusion
Despite the increasing number of tactics to generate leads online, email marketing remains the most effective.
Despite the opportunity, most people still use boring cold email outreach messages.
With video already making waves on other channels like social, spice up your outreach with fresh video content that captivates your prospects.
Once you have their attention, a lead nurturing campaign will help see you home.