Social Media Marketing
Build and Sustain Online Communities: An Epic Guide
Field of Dreams was a lie. Growing a social community requires more than simply posting content and waiting for followers to come.
Whether it's running a blog or posting tidbits on social media, your online presence can help you win lifelong loyal customers.
You'll need to earn this loyalty, though.
Pushing promotions or posting content without genuine engagement can backfire, wasting your time while turning off potential customers.
You need to create an environment that fosters relationships and organic conversations. This is the basis of an engaged social community.
It's a safe zone where your followers feel like they are a part of something. They can interact with other brand devotees or reach out to you knowing they'll be heard.
A social following is not a community.
In this guide, I'll show you step-by-step how you can build (or transform) your social media channels into communities of raving supporters.
Stage 1 – Lay The Groundwork
A. Define Your Goal
Communities are built to achieve a certain goal or mission, so your first step is to figure out what you hope to gain by developing your brand's online community.
Do you want to increase revenue? Or drive brand awareness? Regardless of your aim, you'll need a goal to measure day-to-day progress.
While setting your goal, make it SMART.
Or in simpler terms:
Specific
Measurable
Attainable
Relevant
Timely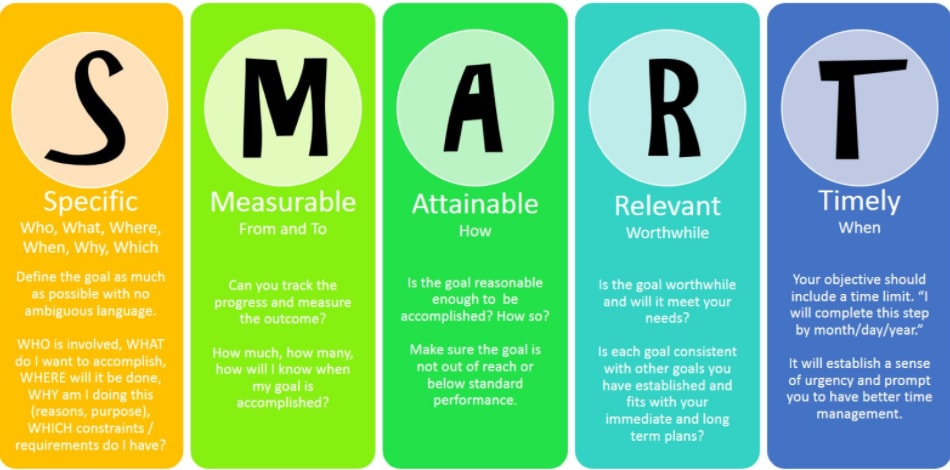 If you don't do this, you won't know when you've succeeded – or if you're failing.
For example, let's say your community goal is to increase engagement. While that's certainly a goal, it's too vague to build a community around.
Here's how you could break this goal down the SMART way:
Ask yourself how you want the engagement to increase and from whom?
Getting to the root of it, you might decide that ultimately you want more new members to engage in conversation on your discussion board.
How easily can you collect data to measure progress towards your goal?
You should have at least one strategy in mind to achieve your goal.
Your goal needs to be relevant to what you're trying to achieve.
For example, if your goal is to increase engagement but you're measuring for an increase in ROI, there's a clear mismatch in what you're doing and hoping to achieve.
Ideally, your goal should be achievable within a sensible time (weeks or months). Your community might not wait for a year in the hopes that you'll get your act together.
Lastly, setting a goal helps you identify the kind of members your community needs.
B. Decide The Metrics You'll Use To Measure Success
With your goals defined, the next logical step is to find metrics to measure.
Enter key performance indicators (KPIs).
KPIs are what you look at to determine the performance of your community in relation to your goals. It's how you justify the time and resources you'll devote to building a community.
On social media, it's easy to measure the following:
Applause (follows and likes)
Engagement (comments and shares)
Check out this table which breaks down the exact metric you should use based on the location of a community member in the buyer's journey.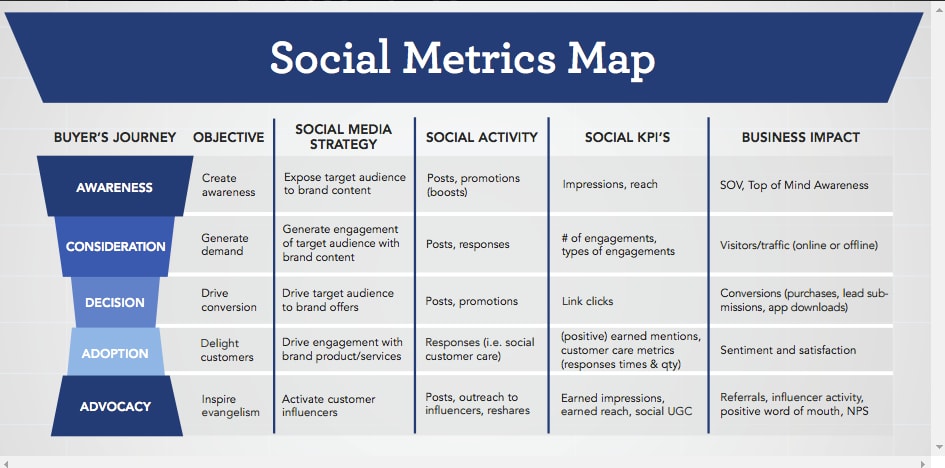 If you want to delve a bit deeper, you can also measure success by looking at:
Micro-Conversions (downloads, form completion, video watched)
Return visit (page views)
Direct conversions
Customer acquisition cost
These will be a bit harder to measure, and are highly reliant on the campaign you're running, so only consider these if you're already performing well.
Stage 2 – Identify Your Audience And What They Care About
Figuring out the purpose of your community is just the beginning.
Next, we'll add to the foundation and find a target audience to base your community around.
You can't realistically expect to target every single follower of your brand. Trying to please everyone just ends up depriving your community of a strong underlying theme.
Use Google Analytics and surveys to build and evaluate different audience personas linked with your brand.
At the basic level, you should know the following information for each persona:
Age
Gender
Location
Frustrations
Challenges
When you're done, you should have several personas that look something like this: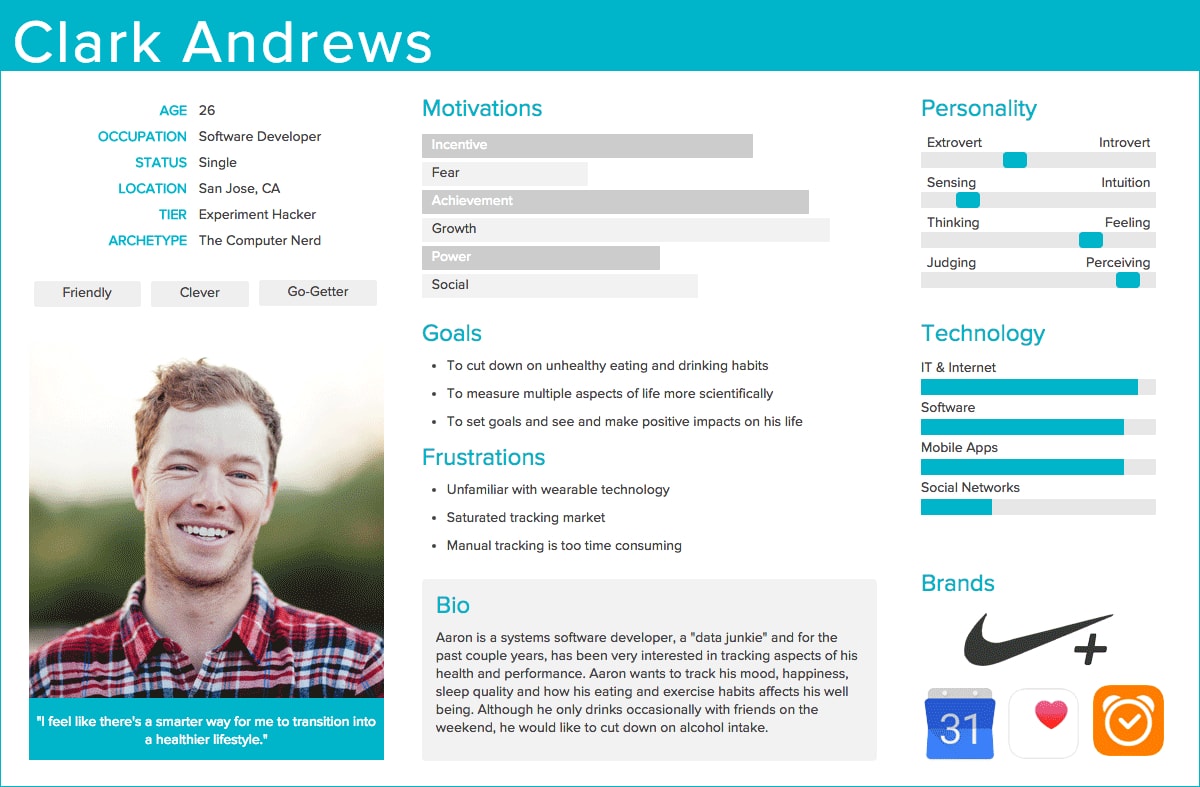 Pick one persona amongst those of your customers that you feel would benefit most from your community and offer the most returns for you as a brand.
With your core audience identified, you just need to find one more thing:
What motivates them or grabs their attention?
This is critical if you want to create content that your community actually engages with.
For example, an individual interested in running might be more inclined to learn about the training regimen of other runners than they are toward reviews of gear.
In this case, running an interview series with fellow runners will be more effective than product-focused posts.
See how this is different than just promoting yourself or talking about your upcoming sale?
Here's how you can find what your community members care about:
Facebook provides business owners with a powerful native analytics tool that can reveal a ton about your community members.
In your Facebook Ad Manager account, click on "Insights" under tools.

The first prompt will ask you to select an audience.
I'd suggest going with "Everyone on Facebook" to gain the most insight. If you already have a significant following, then go with "People Connected To Your Page."
Narrow this audience down further by entering the following information:
Age
Location
Gender
Interests
When entering an interest, avoid being generic.
For example, if you run a sports blog but most of your content and community is tailored towards runners, choose something like "Runner's World" as your interest.
The results provide a good overview of who exactly your community members are.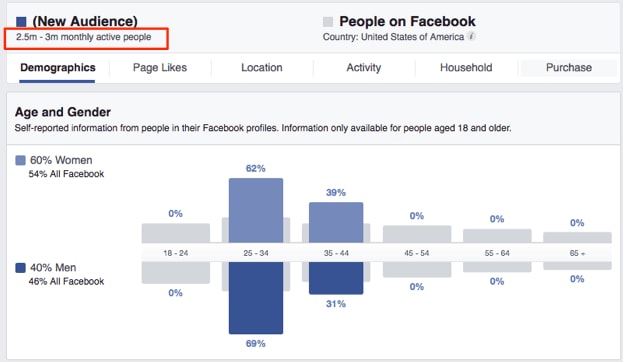 To find out what they care about, just click on the "Page Likes" tab and watch the magic unfold.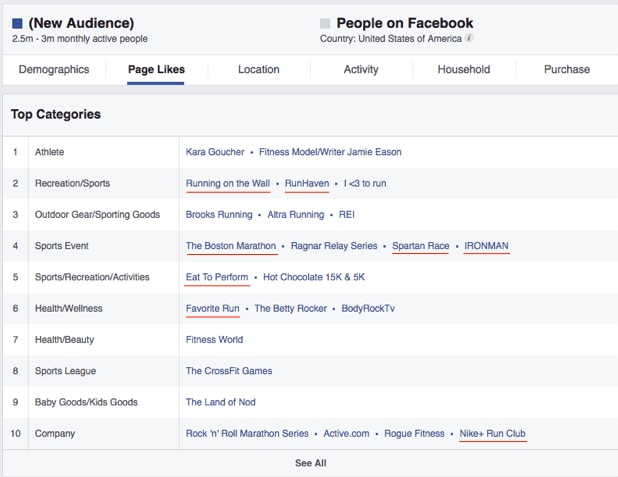 You're given a list of related categories this audience is interested in and even some of the most popular pages within said category.
This is a goldmine of content ideas for your community.
Instead of wasting time and resources developing content around the latest shoe, those looking to connect with our sample runners should create content like "food to fuel marathon training."
Twitter Followers Dashboard
Like Facebook, Twitter has its own analytics tool that's worth checking out.
It informs you of related topics (or related accounts) your existing followers find most interesting.
Here's a sample of what the Followers Dashboard can reveal: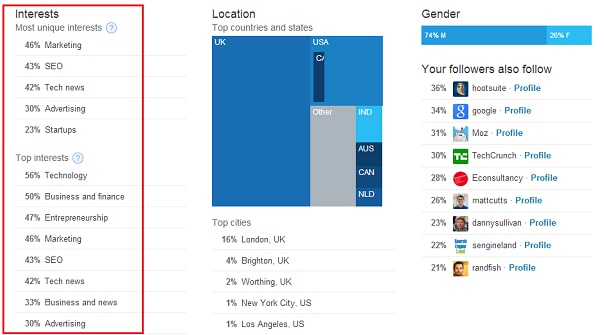 To access this information, head over to Twitter Analytics > Audiences > Your Followers.
What's great about the dashboard is that it updates in real-time so that you monitor changes in interests as they happen.
This way you'll be able to compose tweets that always resonate with your community.
Another option is to use FollowerWonk.
It's a freemium tool that lets you check up on who your competition is talking to on Twitter.
These people are potential community members that you can win over to your brand.
Choose the "Compare Users" option and plug in twitter handles of users you feel share your vertical.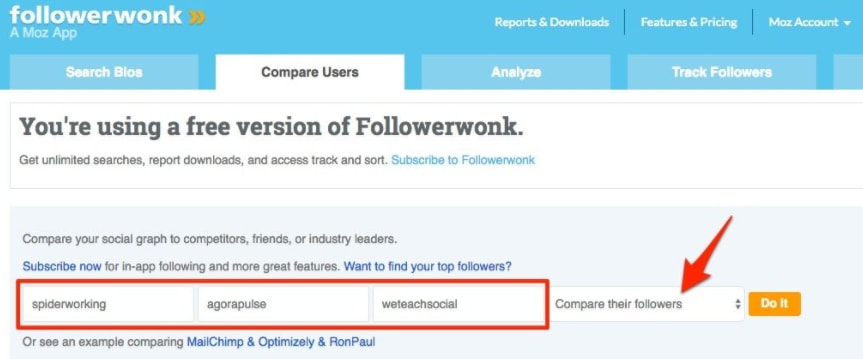 You'll end up with a visual overview that shows where different accounts overlap in terms of common followers.

You'll also get a clickable list of followers unique to each account.
Last but not least, you'll also be able to compare social authority of each account. This lets you know exactly what you're up against.
Social listening is all about tuning in to what your audience is talking about.
By paying attention to what your community members are saying about you, your competitors, or to each other, you'll be able to get a glimpse of what's on their mind.
Tools like Mention or Google Alerts let you automate monitoring.
Make sure that you don't just put your brand name here. Keywords should be related to your product or a problem you solve.
Another option is to use Buzzsumo or Scoop.it to find stories your followers are sharing on social media.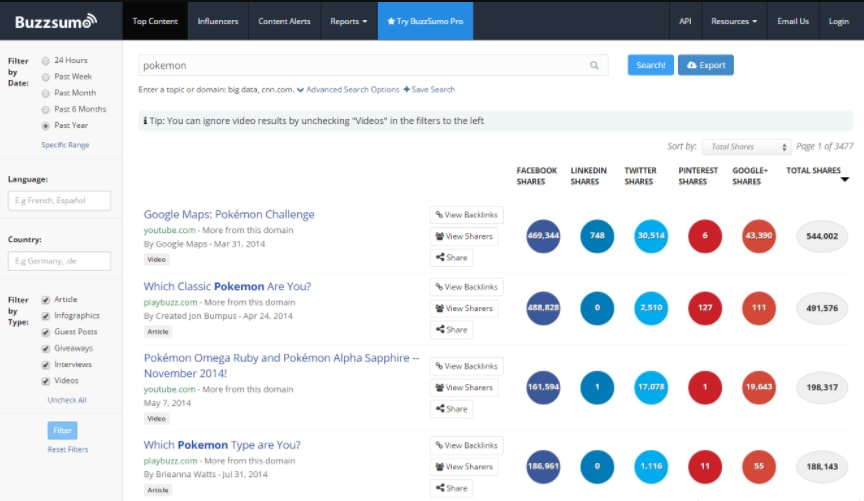 Assess the popularity of the content being shared and use the most popular ideas as inspiration for your next post.
If you really want to push boundaries, hang out on sites such as GrowthHackers, Inbound, or Reddit. Topics being upvoted in your niche are a good indicator of what will be popular in your community.
Stage 3 – Execute
Now that you've laid the foundation, it's time to build up your community and make sure it stands the test of time. Think pyramids, not ice sculpture.
Let's look at the commandments you need to follow:
Nobody wants to interact with someone who's constantly talking about themselves.
The social etiquette you follow in real-life should be applied to your community as well. So don't make your page or community all about you.
Instead, focus your attention on making 80% of your content something community members appreciate or love.
The remaining 20% can be promotional.
"Wait, I thought you said not to be promotional??"
While you can be promotional here, I'd recommend against it. Rather, use this opportunity to deliver even more value to your community.
The 80/20 ratio is not set in stone.
Feel free to adjust it as you see fit until you find what works for your community.
Regardless of ratio, you'll be off the hook for creating the bulk of the content. You can use user-generated content (UGC), run interviews, or even share your competitor's content.
UGC is simply using pictures, videos, or testimonials created by your community members as content. It's a great way to get members to be active while promoting your brand.
Designer brand MarcJacobs ran a competition on Instagram to find a model for their brand.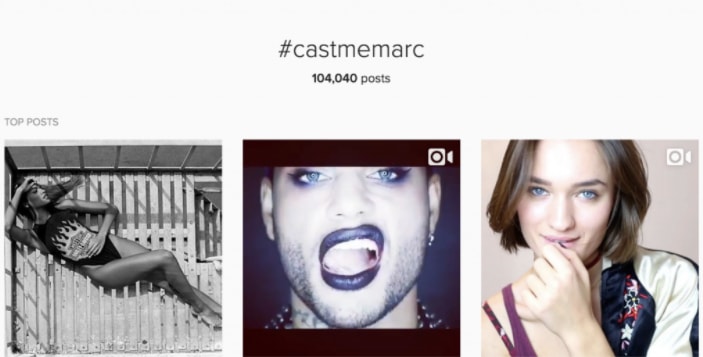 In the process, they increased engagement in their community as people followed the brand to vote with comments. They also gained a steady stream of content for their feed.
There was very little effort from their end (except selecting a winner).
A similar model can be applied to different verticals. While brands without an established, active following will likely need to entice followers with a prize or contest, once you have created an environment of follower posted content, you'll find your community requires less enticement and more moderation.
Engage, Engage, and Engage
A community requires you to do more than just provide value.
Remember back in the beginning when I said that communities are about relationships?
To establish a strong relationship with your community members, you need to actively engage with your members. Read their comments and join in the conversation.
This comment may seem silly at first, but being humorous and showing your personality goes a long way. Just look at the number of retweets this reply from Wendy's garnered.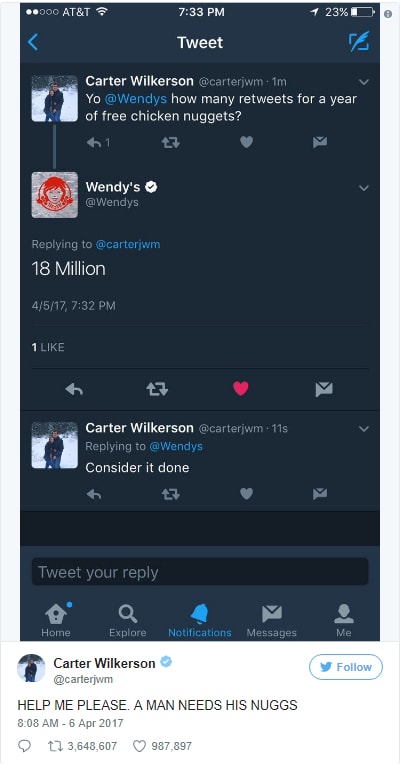 It's not enough to just respond to requests and follower posts.
You have to be proactive and create conversations by being the first one to approach your community members.
Here are some ways to get the conversation started:
Invite active members to hang out on a webinar or contribute to beta testing
Follow your community members and comment on their content
Randomly send a message to your less active members so that they don't feel left out
Host a Q&A
HootSuite regularly hosts chat sessions with their community.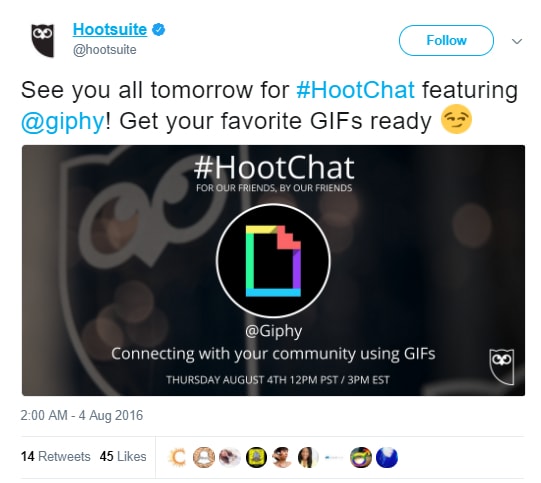 You won't make friends overnight but keep at it. You'll eventually capture the hearts of your community.
Engagement doesn't always mean conversation.
Consider suggestion 2 from the list above: follow your community members and share their content through shares, retweets, and repins.
Show your followers that you respect their thoughts and opinions enough to promote their posts and they'll be even more inclined to feel positively about your brand.
When it comes to encouraging activity among your community members, be consistent but not overbearing.
You want to seem genuine so patience is a virtue here.
It's easy for a community to be consumed by negativity.
A few bad comments or trolls can slowly consume your community and lead people away.
Negativity breeds more negativity so set the rules and don't let comments go unchecked. You can do this while being friendly.
Spell out exactly what is acceptable behavior in your community.
Here's an example from National Wildlife Federation: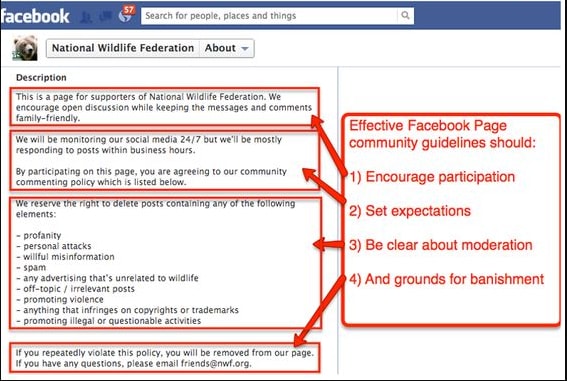 Unfortunately, you cannot assume good behavior will be the norm.
Be crystal clear and provide a behavior guideline. Include penalties for breaking the established guidelines. For example, warn that violators could be banned.
Also, don't deviate from this guideline or apply different guidelines for different community members. Everyone should be judged equally.
What to do if the rules are broken
While some users will fall in line with your established rules, others will inevitably break them.
When that happens, don't haul out the ban hammer immediately.
Rather, be gentle and kind to new offenders. A person may have been having a bad day or simply didn't know the rules.
Provide a polite warning and make sure they know what they did wrong.
If you find the same person breaking the rules repeatedly despite warnings, only then impose a harsh penalty. This will make your community better for everyone.
Your community is made by its members, not you.
Pay attention to issues your members bring to light. If it's something negative, don't pretend it doesn't exist and delete their concern.
Respond with kindness and seek to solve the root of the issue.
You'll often find members going back to retract, edit, or apologize for their initial negativity once their issue is resolved.
Not everyone is great at communication.
This is what Nordstrom found after helping a member. Notice how this gesture was acknowledged and thanked by the company.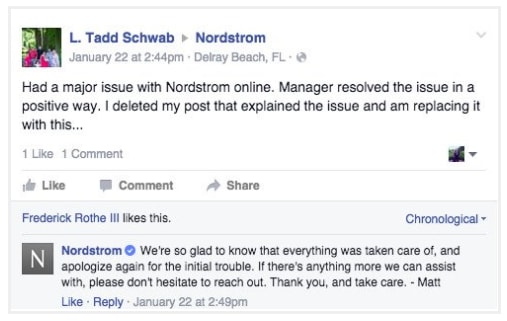 Also, this discourages trolls who feed off your reaction.
If you get annoyed or angered, you're encouraging trolls to continue their attack. However, if you simply react to them with kindness, they'll lose steam and look elsewhere to get their kick.
Stage 4 – Measure, Test, And Repeat
Like most marketing activities, you need to measure the success of your efforts.
Waiting to test until after you've 'finished' building your community is risky and leaves you with little room to maneuver around any mistake.
Create a report every month that helps you oversee the progress of your KPIs.
The report should compile data that answers important questions such as what is going right, what went wrong, and new opportunities worth exploring.
If something went wrong, make sure you understand why in order to avoid the same mistake in the future. For example, perhaps the timing of your content was poor.
Last but not least, ask your members what they liked and didn't like.
Pulling together all this data can be time consuming, but it'll help you improve your community before you begin the next cycle of testing.
Essentially, if you can keep this process going, you'll achieve your goals.
Conclusion
As we wrap up, let me again reiterate the significance of building a community.
A passive audience doesn't read, watch, listen, participate or share with others – a community does.
It's comprised of individuals who are invested in your brand. Potential champions of your ultimate success if they're properly nurtured.
So, unless you're creating the next Tesla model-S, you need to build a strong community.
After all, it's your personality that people will remember.